I consider Glad as my kitchen helper because it helps me keep our food fresh longer. I hate food wastage and by helping me keep our food fresh, we then avoid throwing out food. Glad Cling Wrap helps me seal leftover ulams in our bowls to be kept in the fridge. Glad Zipper Bags are for marinating meats and storing freezer meals.
It really is a must-have in my kitchen.
But you know what, Glad was also the partner of the street food hawkers participating in the just-concluded World Street Food Congress held at the Fort Strip in Bonifacio Global City. As thousands of diners started pouring in, Glad provided "an extra pair of hands" and helped them face the foodie rush.
Prior to the event, GLAD, the homemakers' partner in food protection and kitchen management, has provided participants with plastic food storage with tight sealing lids, allowing them to keep the food's freshness last longer and also to prevent leaks. "It's very reliable," said Isabel Sanchez-Huerta who manned the US booth that served Mexican dessert Churros Locos.
GladWare Entree Containers enabled Sanchez-Huerta of Portland, Oregon to score a sellout for her Churros Locos — a fried dough pastry with vanilla ice cream, chocolate, strawberry and caramel sauce topped with nuts and sprinkles. "Just knowing it was easy to open and close so you don't make up a mess helped us with the process. It also enabled us to lessen the number of clean ups, which sure helped us in not breaking up or clogging up the whole line of production," Sanchez-Huerta added.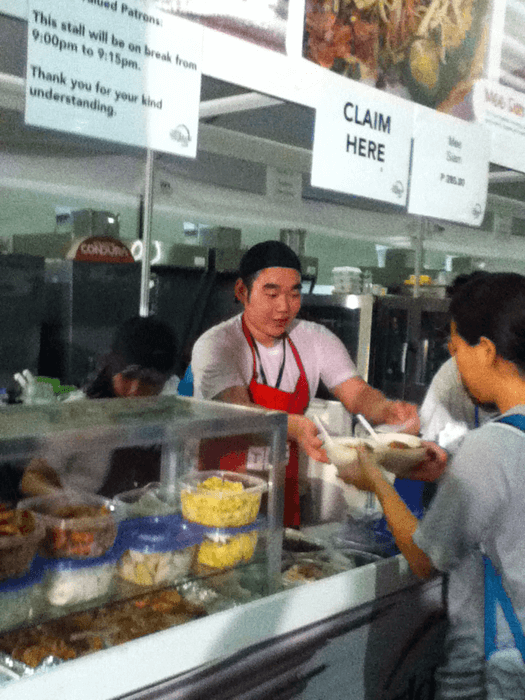 GLAD-provided products like the Storage Zipper Bag, Freezer Zipper Bag, ClingWrap, Press 'N Seal and GladWare containers were also helpful to the Mindanao street food booth, one of the five Philippine booths that participated in the event. Chef Clinton Gregorio, head of the Mindanao booth that offered the southern delicacies durian-biagsong pannacota and sinuglaw, shared how GladWare containers helped speed up their work. "Being transparent, you can see the contents right away even while they are still inside the freezer."
Both the US and the Mindanao booths were thus able to efficiently serve endless orders of eats from customers who mobbed them during the 5-day event which also offered free cooking demonstrations and live band entertainment. Another booth, Malaysia's Donald & Lily, also used GladWare containers which helped them sell all of their 'Mee Siam'. Mee Siam is a bowl of thin rice noodles served with a tangy sweet and spicy gravy embellished with sambal and topped with seafood, egg and fish cakes.
Paulo Lao, Sales and Marketing Director for GLAD Philippines which is one of the event's sponsors, said that their participation in the event forms part of their desire to teach more Filipinos the importance of proper food storage and protection. "Aside from the practical uses of GLAD products like GladWare which were made more evident during the World Street Food Congress, we also want Filipinos to know that proper food handling is vital in keeping their food safer and fresher longer."
GladWare is also ideal for storing leftover food in the fridge, for packing school lunches or transporting picnic food like sandwiches. The lids that seal tightly also prevent leaks and are interlocking to prevent from getting misplaced. The containers are sturdy, reusable and safe to use in microwave, freezer and dishwasher.
According to Javier Hernandez, assistant vice president of Ayala Land Inc. which organized the event, one of the objectives of the congress is to inspire Filipinos to start a small food business, just like this year's participants who started as street food hawkers then later on became restaurant operators.
"Starting a food business does not necessarily mean putting up a restaurant right away. You can start with a dish that your lola told you, or a specialty of your family. You can start with one or two products and sell them in a little weekend market, in a cart or in a kiosk," he ends with a smile.
Aside from bringing popular foreign street foods to the country, this year's event also featured food preparation demonstrations from world renowned chefs like Malcom Lee of Candlenut Restaurant in Singapore, Peter Lloyd of Spice Market London, William Wongso of Indonesia, Claude Tayag of Bale Dutung, JP Anglo of Sarsa Restaurant and French-trained Filipino Chef Sau Del Rosario.