By now, I'm sure you already know about Bento-making. You might be one of those mommies who constantly prepare bento baons for your kids each day. I salute you for being so creative and persistent! I seldom prepare bento baon for Ykaie, though. The patience in bento-making comes once or twice a month at most.
Bento is a single portion of home-packed or take-out meal that typically holds rice, fish or meat, with pickled or cooked vegetables. But bento-making has evolved from being a simple  meal in a box-shaped container. Moms and homemakers consider it an art and liken it to crafting a masterpiece on a blank canvas because the possibilities are endless. They prepare the food items creatively adding colorful and cute accessories that make the dishes more appealing, especially to kids.
Recognizing this, Daiso Japan, the only authorized and exclusive retailer of Daiso Industries Ltd. Japan that sells useful and cute items priced from P88, conducted a Bento-Making Demo at the recently conducted "Yummy Eats Baon Blowout" organized by Yummy Magazine.  Daiso Japan also had a booth within the Glorietta Activity Center where the event was held.
"Bento-holics" watched intently as mom, bento enthusiast and loyal Daiso Japan shopper Nikki Garcia demonstrated the basics of bento-making and showed them how to make a Kokeshi Doll Lunch using tools and accessories from Daiso Japan.
Here are some tips from Nikki and Daiso Japan to help moms out there make bento boxes that are a delight to eat:
Meals should be divided proportionally to ensure a well-balanced and nutritious baon that includes carbohydrates, protein, plus fruits, and vegetables.
Colors have to be bold to look more attractive and appetizing and can be represented by fruits and vegetables like carrots, tomato, bell pepper, grapes, berries, lemon, mushrooms, sesame seeds, and other colorful add-ons. Take advantage of the fun presentation and sneak in healthy vegetables.
Food should be packed tightly to prevent the food from shifting. The last thing you want is a messy-looking bento box.  Pack bulky or pre-shaped food first, then place more food with flexible shapes next. Finally, add some accent food like cherry tomatoes and broccoli to fill in the small gaps.
Food safety is of utmost importance.  Always wash your hands and use only clean utensils. Re-heat the food before packing and cool them down completely before closing the bento.
Separate wet food from dry food to keep them from getting soggy.  Use a different sauce container and pour the sauce when ready to eat.  Keep ice packs with the lunch pack if necessary to retain the freshness of the fruits or vegetables.
Plan ahead and make a list of your menu for the week.  A menu planner or a bento journal is recommended.
Be creative with props and styling. Add dimension, contrast and personality with accessories.
More importantly, Nikki suggests getting kawaii bento tools and accessories from authentic Japanese sources like Daiso Japan to be assured of premium quality.From basic cookie cutters, nori sheets, scissors, to more intricate rice ball shaker, rice and egg molds, silicone barans and carving knives, Daiso Japan has everything to make bento-making a breeze.  Nikki said it is every bento-holic's paradise.
Sandwiches will light up by using Daiso Japan's Toast Deco Stamp while rice molds, shapers, and nori sheets can turn into your kids' favorite cartoon character. Knives can carve fruits and veggies into interesting shapes, while eggs can be turned into hearts and animal faces, making them worthy for all kids who love a baon that is all brightened up. There is no limit to what you can do and you'd be amazed at the result –  visually appealing (and delicious) food that kids would love!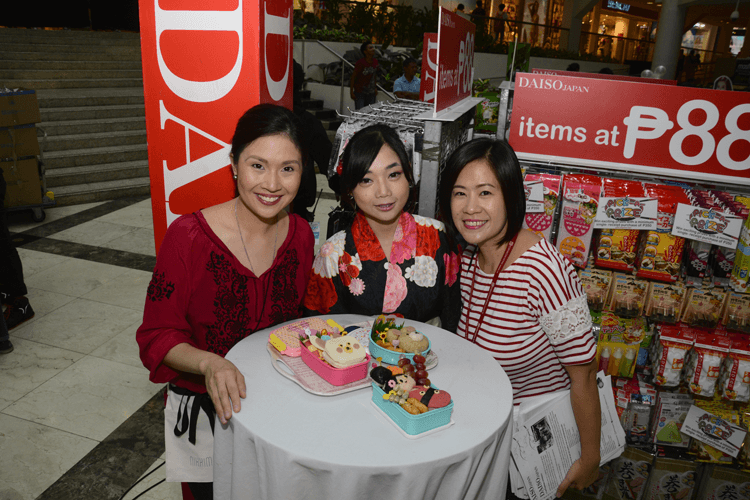 Daiso Japan has 53 store nationwide through Robinsons Retail Holdings Inc. which holds the exclusive sub-license to sell authentic Daiso merchandise from Japan and operates the legitimate Daiso Japan store concept in the Philippines.
Get kawaii bento items and accessories from any Daiso Japan Philippines near you. Follow them on Facebook at @DaisoJapanPH on Twitter and @daisophilippines on Instagram.