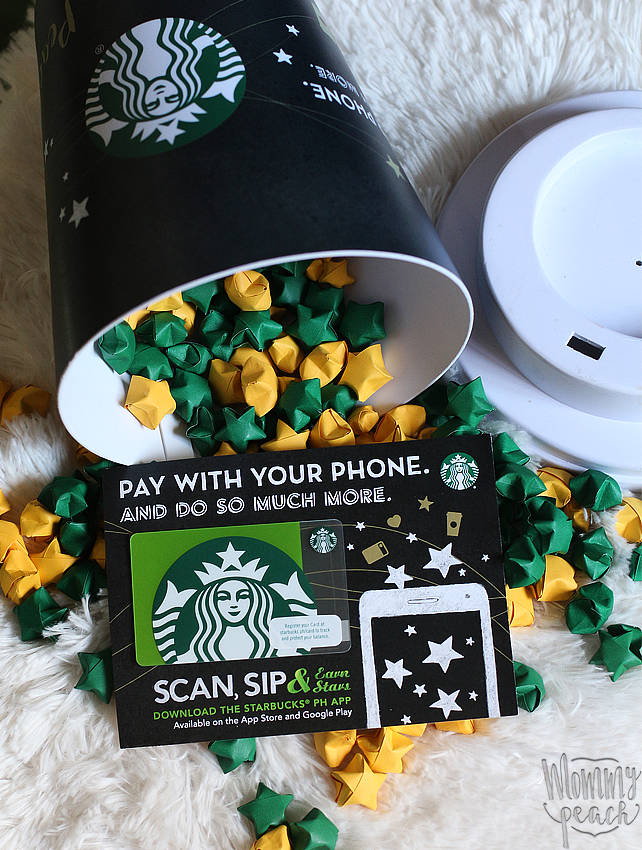 I have been a fan of the Starbucks Card ever since it was launched in 2013. peanutbutter♥ and I use it whenever we have short coffee dates at Starbucks or whenever the family goes out for coffee. Ykaie now likes coffee, aside from her regular Frappuccino order.
What I love about the Starbucks Card, aside from the design and being convenient to use is that you can also earn stars and get rewards when you use it.
Now, Starbucks Philippines have upped their game with the launch of the new Starbucks PH App which you can download to your phone. It's a mobile app providing a fast and convenient payment method for customers at more than 300 stores across the market.
Why Download the Starbucks PH App on your phone?
Aside from personalized offers and messages, you can also:
Pay for your order – A feature called "Shake to Pay" allows customers to shake their phones to bring up a barcode within the app that can be scanned to pay and redeem. The app is linked to their My Starbucks Rewards account so balances are automatically updated whenever the app is used.
Earn Stars and track them. Know your progress towards your next free bev!
Add a new Starbucks card.
Check out their menu, featured beverage and food items of the season.
The Starbucks PH App also helps Starbucks lovers enjoy their favorite beverages anytime, anywhere with its store locator feature. Here, they can be directed to the nearest store along with a list of other recommendations in the vicinity as they search by store name, Starbucks Reserve® store, drive-thru store, or stores open at the moment.
I've already downloaded it on my phone and I'm loving all its features. My stars and my favorite Starbucks goodies are now just a click away.