One of the perks of being a work at home mom is getting to be with your kids 24/7. You get to take care of them, cook meals for them, take them to and from school, and play with them. My eldest Ykaie goes to school everyday from 7am-3 and that leaves me with my bunso, Twinkle.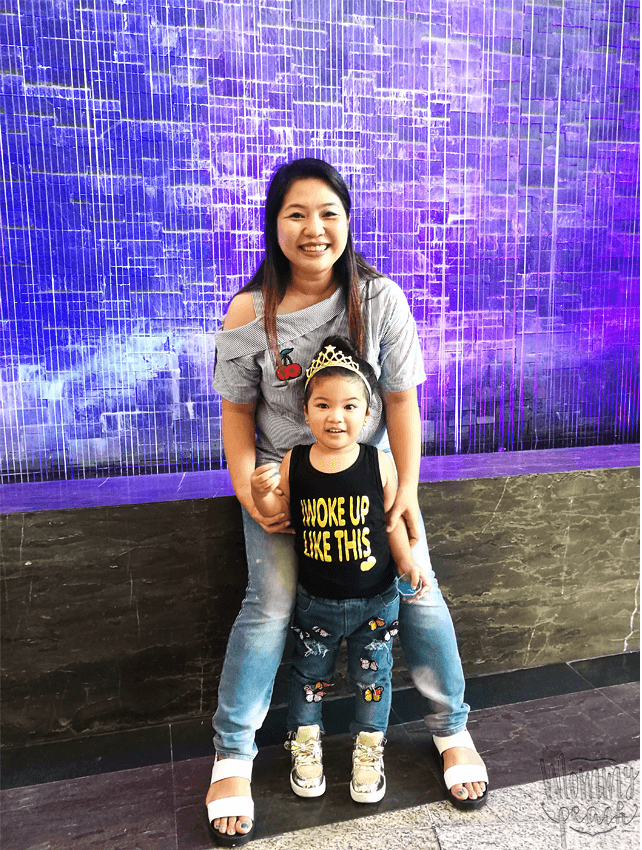 How I wish everyday is as perfect as the photo above. Notice Twinkle's shirt that says "I woke up like this"? Well, this is far from what happens here at home on a daily basis.
Twinkle is such an active two-year old. It takes a lot of energy to keep up with her from sun up to sun down. She is a toddler that is trying to explore her independence, hence, you can expect a lot of climbing, running, and reaching out to high places — most of the time for toys or candy.
Good Morning Twinkle!
It's always a good morning with Twinkle. She doesn't wake up bugnot or in a bad mood. We've been using Pampers Baby Dry since day one, (see the photo above? That's Twinkle when she was two months old) and with Pampers we are always guaranteed a good night's sleep even if don't change diapers overnight. It has a snug fit so even if she twists and turns while sleeping, you won't find it leaking. She also doesn't wake up wet because it's super absorbent. Laging mahimbing ang tulog ni Twinkle.
Bath Time
Her favorite part of the day includes bath time…She loves playing with the water. She takes a couple of her dolls to take a bath with her and would never want to leave the bathroom when bath time is over.
And when she finally does agree to leave he bathroom, she starts running around and jumping the moment she wears her diaper. Hay! Nakakapagod din maghabol para lang magbihis ha! At pag si mommy, medyo naiinis na dahil nagmumuli-task habang nag-aalaga kay Twinkle. Magpapa-cute naman si Twinkle — yun lang at wala na ang inis ni mommy.
Play Time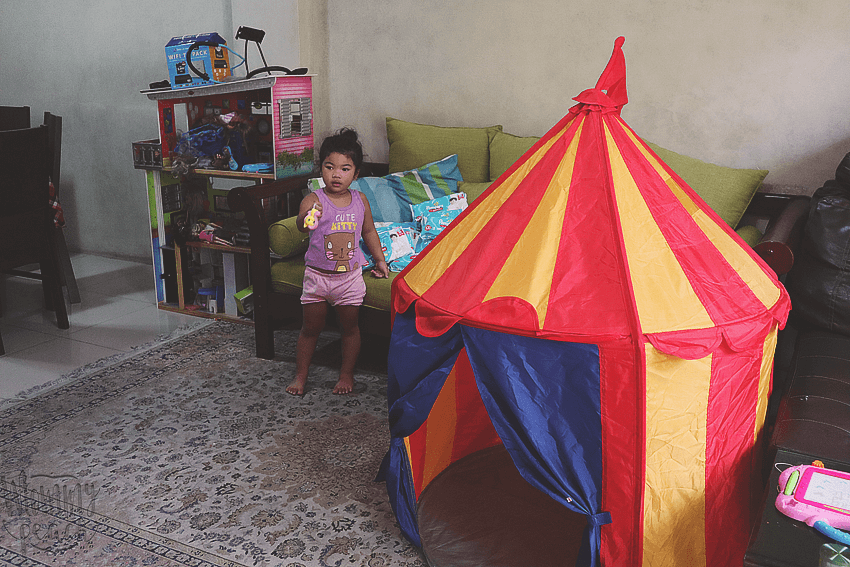 This is what makes our house a war zone but who cares — we have a tent, a doll house na maraming "boarders",a car, at toys na nakakalat (not in photo kasi nagligpit ako ng konti…LELz, kunyari nahiya ako sa inyo). As long as she's happy playing — go lang!
She'll play with the doll house for a few minutes then move to the tent, and then her other toys.
Even at Lola's house nagkakalat rin sya… Sorry Lola!
And even when we're at the mall. Twinkle and her ate Ykaie runs around, climbs, tumutulay-tulay sa hindi dapat tulayan… ganyan.
Going Out
The playtime never ends even when we eat out at their favorite fastfood place. Kasi naman, may play area rin doon. They get to eat their favorites and play at the same time. This is where she gets to play and interact with other kids and it's good for her.
And this is why I love Pampers Baby Dry. It takes the worry off of me and I can focus on more important things.
So why do we love Pampers Baby Dry?
It's thin but has good absorption – This is the number one thing I love about Pampers Baby Dry. It's not bulky but it absorbs a good mount of fluid. And even though it absorbs a lot, it keeps baby dry for 12 hours.  I never worry about frequent diaper changes.
It doesn't get saggy or lawlaw. This is very important for me because when diaper gets saggy or lawlaw, it makes our baby very uncomfortable.  With Pampers, Twinkle can move freely and actively without any hassle. Thanks to its magic Gel Channel that absorbs urine evenly.
Zero Rashes. Like what I said, Pampers keep Twinkle dry for hours so Twinkle never experienced getting rashes.
It has a snug fit.  Pampers Baby Dry fits like a glove! It doesn't get deformed so it doesn't leak.
Mommy is both tired and happy at the end of each day knowing that Twinkle is growing to be an active, healthy child. Thanks to Pampers for keeping her dry and comfortable anytime, anywhere.
Sharing with you this video I shared on Instagram several weeks ago. It's a Pampers Magic Gel Demo I performed at home.
This blog is made in partnership with Pampers, however all opinions are my own.