I finally gave in on the 20th time that ykaie has asked me to buy her one of these hermit crabs with shells that is painted with different cartoon characters.
Ykaie chose this one with sleeping beauty painted on the shell. The hermit crab+ it's home + 1 pack of pellets costs P250.
We named her Sweet-Chili.
And after getting up this morning, they immediately went to see how Sweet-Chili is doing.
Ykaie's right eye is a bit swollen due to her moluscum. I hope it gets well soon…
Sharing this post with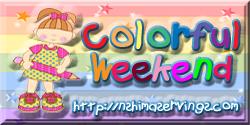 and
.