Ever since I became a mommy, one of the things you won't find me without is baby wipes. Whenever I'm going to the grocery, I check and make sure I have about five or six pieces of it in stock (OC Levels). Hey, I don't go to the grocery everyday and I don't want to find myself without baby wipes.
And ever since we had baby wipes available at home, convenient and within easy reach, we always use it to wipe just about anything that needs wiping — countertop, dirty toys, icky sticky little hands — but most of all we use it on our baby.
I'm sure you mommies would agree with me that baby wipes is the most frequent product that we use on our babies. Think nappy changes and icky sticky little hands. How many times do we do nappy changes in a day? If you have an infant, maybe four or five? For a toddler, three or four? And each time we do those nappy changes, how many baby wipes do we use on our baby's bottom? Those baby wipes may contain a lot of ingredients that comes in contact with the most delicate area of our baby's skin.We don't even wash it after wiping so I think it is very important that we choose non-toxic and safe baby wipes for our babies.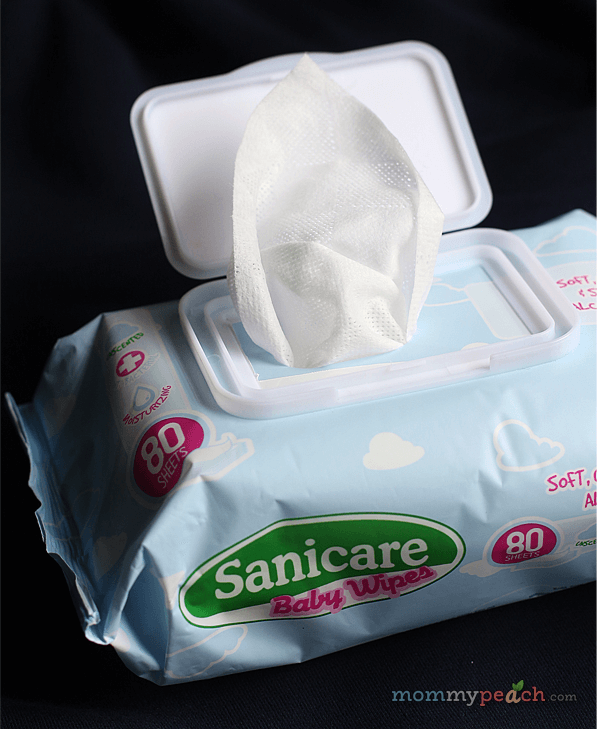 Food and Drug Administration Philippines bans butylparaben, propylparaben and other longer side chain parabens especially on products for children under three (3) years old. These are the chemicals that are harmful and can easily penetrate our baby's skin.
It's really important to carefully read the label and know exactly what goes in our baby wipes before we use it on our precious ones. Some products maybe cheap but you know, cheap is not always cheap because your babies might end up with allergies. Allergies = doctors + medicines. You might end up paying for more and some of the harmful effects are even long term. This is why we should invest in good quality products to ensure our baby's safety.
My latest baby wipes discovery is Sanicare Baby Wipes and Sanicare Cleansing Wipes!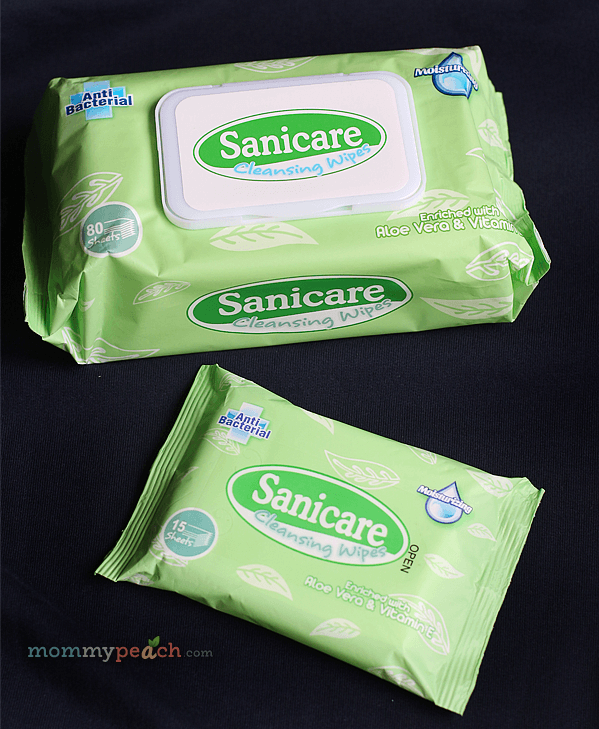 An independent studies on both Sanicare Cleansing Wipes and Sanicare Baby Wipes confirmed these products are anti-bacterial, alcohol-free, chlorine-free and paraben-free which means they are very safe to use.
Twinkle loves the feel of Sanicare Baby Wipes on her skin. She doesn't complain whenever me or her daddy wipes out her baby bum or her icky sticky little hands. I love that Sanicare wipes are soft like cotton but durable as cloth. It doesn't tear easily nor stretch until it's thin unlike other brands. It retains its size even if you try to pull it on both ends.
I love how wide each wipe is. Sometimes I need just one piece to clean up my Twinkle's baby bum. If you try to think about it, you'll also save money if you can maximize the usage of your baby wipes.
Ate Ykaie loves the convenience of bringing the smaller pack of Sanicare Cleansing Wipes (15×20 cm) to school for easy and convenient clean up. She uses it mostly to clean up her hands during recess or lunch time.
What I love about Sanicare Baby Wipes
It has a gentle, alcohol free formula that is safe even for newborn babies.
It is unscented. It doesn't contain perfume which can irritate our babies' skin.
It has skin-loving ingredients.
It has a soft, cloth like texture that thoroughly cleanses and is not rough on baby's skin.
It is very durable and doesn't tear easily.
It's chlorine-free and paraben-free.
It's available in 80's and 15's, (15×20 cm)
What I love about Sanicare Cleansing Wipes
It has a gentle, alcohol free formula that is safe for our children.
It is lightly scented with eucalyptus.
It refreshes while cleansing.
It is enriched with Aloe Vera and Vitamin E
It has a soft, cloth like texture for thorough cleansing.
It's ideal for easy clean-up of the hands and face.
It's a quick and easy way to keep our family hygienically protected at home and away
It's available in 80's and 15's, (15×20 cm)
Sanicare Baby Wipes and Sanicare Cleansing Wipes are available in supermarkets and convenience stores nationwide and soon to be available in Watsons and Mercury Drug stores.
To know more about Sanicare, you may check out their:
FB Page: https://www.facebook.com/scpainc
IG Account: https://www.instagram.com/sanicare_ph/