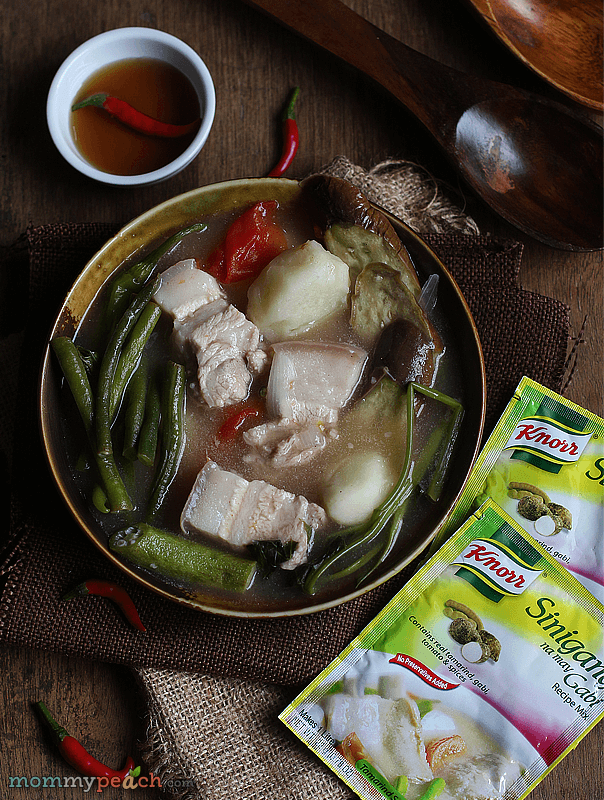 Here's a Sinigang recipe that we are all familiar with. I'm sure everyone loves Sinigang that's thick and rich and full of that gabi flavor! But before we all dive into this hot Sinigang Na Liempo Sa Sampaloc With Gabi, let me tell you why I've been missing in action last week…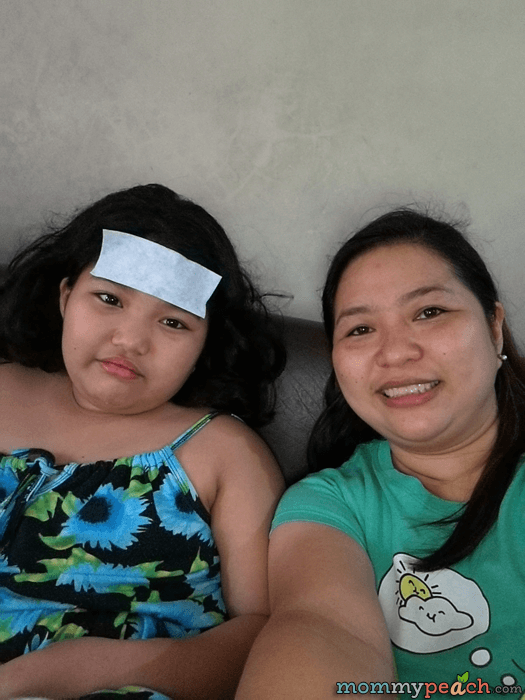 The bug has been at the Adarne household for the whole week last week. It's the main reason why I've been missing in action on my blogs. First, it was Ykaie…she had fever, tonsilitis and UTI. Being a round the clock nurse and taking care of Twinkle at the same time has left us tired, sleepless, and well, tired. Ykaie has lost her appetite and she hadn't been eating much.
I'm so thankful that her fever and tonsilitis was out on tuesday and to celebrate, I decided to prepare our favorite comfort food — Sinigang Na Liempo Sa Sampaloc With Gabi. I was so happy that Ykaie has been gaining a little bit of her energy. I went to the market and bought the freshest ingredients for my Sinigang like pork liempo, kangkong, sitaw, eggplant, siling panigang, tomato, onions, gabi, sitaw, okra…
and of course Knorr Sinigang na may Gabi recipe mix to make my Sinigang rich, thick, and flavorful!
You can tell by the look on Ykaie's eyes that she's still not feeling that much well…
But oh, what comfort as she makes her first slurp of that hot, thick, sour, an flavorful soup!!
Twinkle also loves Sinigang and what can you expect? She wants to share her big sister's food. Ykaie and Twinkle both ate a lot last tuesday and they really enjoyed this Sinigang Na Liempo Sa Sampaloc With Gabi.
Yesterday, I caught the bug and I'm now nursing a low fever…. looks like I'm gonna need the comforting embrace of this Sinigang's hot, #AsimKilig, and flavorful soup…
Sinigang na Liempo sa Sampaloc with Gabi
As seen in PanlasangPinoy.com
Ingredients:
1 kilo liempo (pork belly), sliced in 2 inch cubes
1 1/2 liter water
1 44g pack Knorr Sinigang na Gabi
1 bundle kangkong leaves
3 medium taro root (gabi), peeled and halved
3 medium ripe tomato, halved
2 medium yellow or white onion, quartered
2 cups string beans (sitaw), cut in 2 inch length
1 large Chinese eggplant (talong), sliced
12 pieces okra
3 to 4 pieces long green pepper (siling pansigang)
Fish sauce (patis) to taste
Procedure:
Boil the water in a cooking pot.
Add the tomato and onion. Set the heat to medium and continue to boil for 15 minutes.
Add the pork belly and gabi. Continue to boil in low heat for 1 hour or until the pork gets tender. Add more water, if necessary.
Add the Knorr Sinigang na Gabi mix. Stir.
Add the long green chili and boil for 3 minutes.
Stir-in the okra, string beans, and eggplant and cook for 5 minutes.
Add the kangkong and fish sauce. Stir. Cover and turn off the heat. Let it stay covered for 5 minutes.
Transfer to a serving bowl.
Serve with warm rice.
Share and enjoy!