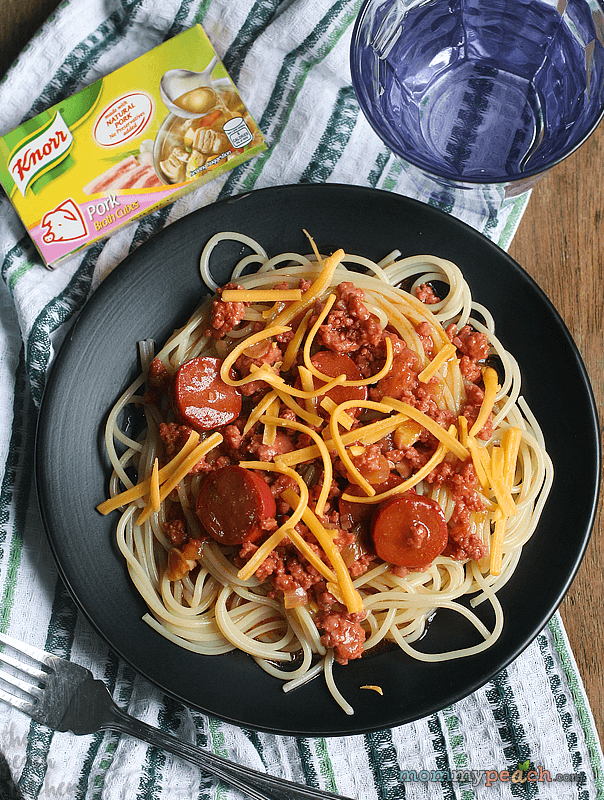 Aside from being a soup person, I'm also a spaghetti person — and that extends to the whole family. If I want spaghetti, everyone has to want spaghetti because that's what they're getting for dinner… heehee. Of course, that's because I am the designated cook and I decide on the weekly menu. They all leave it up to me but if they want something, they just request for it.
There are dozens of pasta recipes at The Peach Kitchen but Sweet-Style Spaghetti (Or Pinoy Spaghetti) is a staple. We have it twice a month regularly and on days when there's a celebration at home like birthdays and anniversaries.
I could say that Sweet Style Spaghetti is one of the dishes I can cook even with my eyes closed and one hand tied at my back…(naks!)
Today's Sweet Style Spaghetti has something different….it has Knorr Pork Broth Cubes in it.
The Spaghetti was cooked according to package direction and hotdogs were sliced and fried then set aside. Next, I sautéed onions and garlic and then the ground pork with it. Tomato sauce and tomato paste were added to make the luscious red sauce. I added the Knorr Pork Broth Cubes and it became more flavorful. There's actually no more need to add salt to it.
YUMMM!!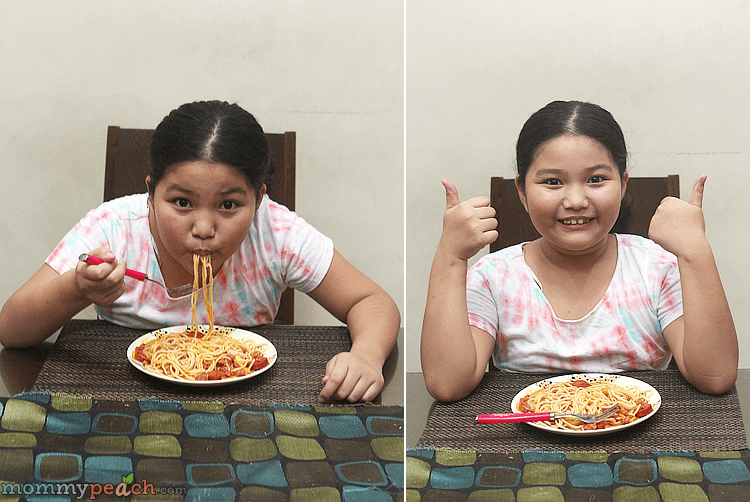 Tastier Sweet Style Spaghetti that's Ykaie approved!
Try it mommies and you'll see the difference. I'm leaving you with the recipe below…
SWEET STYLE SPAGHETTI with Knorr Pork Broth Cube
Ingredients:
400 grams spaghetti
6 pieces of hotdog, sliced
2 tbsp oil
1 pc onion
5 cloves garlic
1/2 kg ground pork
2 pc KNORR PORK BROTH CUBE
2 tbsp tomato paste
500 grams tomato sauce (Or spaghetti sauce of your choice)
1/2 cup sugar
1/4 tsp pepper
1 cup water
salt to taste
Method:
Cook spaghetti noodles according to package directions. Drain well and set aside.
Fry sliced hotdogs in oil until it turns a little brown.
Sauté onions and garlic in hot oil until lightly browned.
Add in ground pork and cook until color changes.
Add Knorr Pork Cubes and mix with the pork until fully dissolved.
Add tomato paste and sauce. Sauté for 2 minutes.
Add sugar, pepper and water. Continue to simmer over medium-low heat for 15-20 minutes until sauce has slightly thickened.
Add the fried hotdogs.
Season with salt to taste. Add more sugar if preferred.
Top cooked spaghetti noodles with sauce and grated cheese.
Serve and Enjoy.