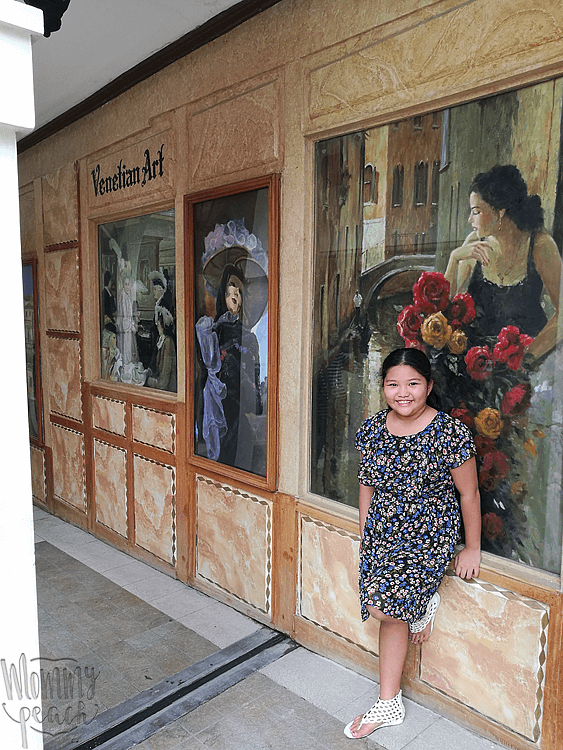 We celebrated peanutbutter♥'s birthday a little late this year. We were supposed to go someplace on the day of his birthday but something happened the night before that we weren't able to go the next day. We went out to lunch with my ILs on my SIl's birthday instead which was two weeks later.
We decided to go to the Venice Grand Canal Mall at Mckinley Hill.
As you can see, this mall is inspired by one of Italy's most romantic cities and is one of the most popular places in Metro Manila.
It wasn't my first time there but it was theirs, so we went gallivanting, looking for a place to eat. peanutbutter♥ was craving spicy Indian food and we found our favorite Indian place.
New Bombay Royale
I am thinking New Bombay Royale is a posh version of our favorite New Bombay Restaurant, as you can see with how the interior is designed. Shades of purple and gold gives you that royalty feel but the warm greetings of the staff makes you feel welcome and at home.
Of course, I wouldn't miss my favorite Paneer Butter Masala (₱325)  which is cottage cheese cubes cooked in creamy butter sauce of onion and tomato.
It is paired with Plain Naan (₱95) for dipping… plain so you can taste how creamy and flavorful the butter masala sauce is!
We also had Chicken Biryani (₱365), biryani rice with chunks of chicken that's mildly spicy but punches a whole lot of flavor. You can eat this on its own but it's great to pair this with yogurt if you order it spicy.
peanutbutter♥ wanted to try the Chicken Tikka Masala (₱335),  tender pieces of boneless grilled chicken cooked in rich tomato sauce with masala in thick gravy. He ordered this super spicy and I chickened out from eating it after one spoonful.
Since everything we ordered was mild and spicy, I ordered this Chicken Lahori (₱335) for Ykaie. It's not spicy at all and it is made with boneless chicken cooked in creamy cheese sauce with cracked black pepper and spices. I think the spices is still a bit too much for Ykaie but she ate it anyway.
Dessert was this gelato place that peanutbutter♥ couldn't stop raving about until today.
New Bombay Royale is located at G/F Venice Grand Canal Mall, Upper McKinley Hill Road, McKinley Hill, Taguig City