Iconic rice paddy fields, coral reefs, forested volcanic mountains and beautiful beaches pretty much sum up Bali, an Indonesian island which is also popular for its yoga and meditation retreats. Needless to say, Bali would make an unforgettable beach holiday destination! As regards conveyance, you cannot travel to Bali by bus or train. You have to reach one of the cities closer to Bali and then take a ferry ride. However, trains are available from Jakarta, Bandung and Yogyakarta to Surabaya's Gubeng Station. From here take a train to Banyuwangi and then you have to take a ferry ride to reach Denpasar.
The most important reason why people travel to Bali is because it is a hot destination for adventure lovers. Check out some of the best sports that you must try if you want to experience the adrenaline rush!
Go Canyoning at Gitgit
One of the best sports to explore nature is Canyoning, and Gitgit is one of the best places to experience it. Here you can discover numerous outlines of cliffs while moving through the murky and vertical terrains. You also have to cross the river streams by rafting and performing a "flying fox jump" between two rocky hills.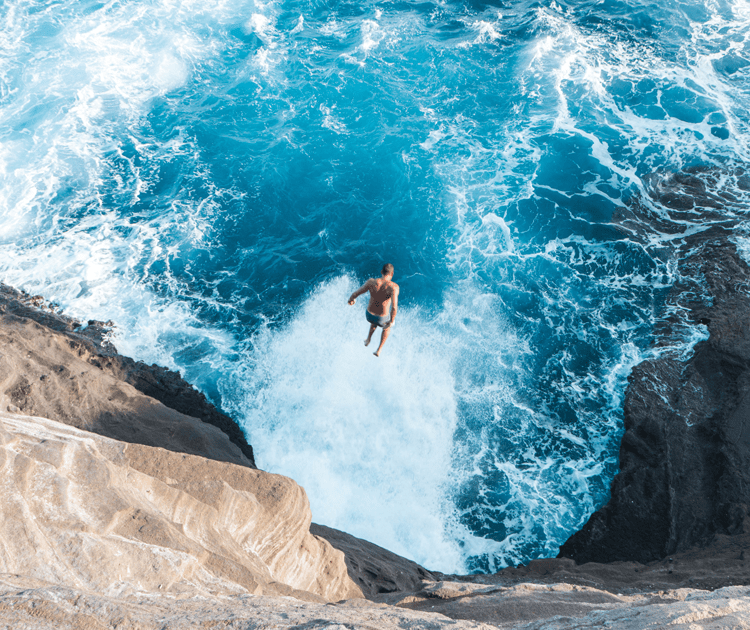 Cliff Jump and Slide at Aling Aling Waterfall
The Aling-Aling Waterfall has recently received a lot of hype. This interesting panorama consists of crystal clear water, steep hills and lush green trees. The sport requires you to jump from a height of 12 meters into a refreshing pond right beneath. You can also experience the best natural water slide here, accompanied by the crashing sounds of the waterfall.
Try Water Tubing at Payangan
This sport is very similar to water rafting, except that the boat will allow only two people. So, it is as good as being alone! The topography of the Payangan river is breathtaking and stunningly beautiful.
Head to Timbis for paragliding
Timbis is famous for paragliding. Take a tandem flight, or a paragliding course and eventually fly solo, Timbis offers the best facilities better than anywhere else in Bali! Enjoy an aerial view of the pristine beach and crystal-clear water along the south coast of Bali while paragliding.
Try out Flyboarding
Flyboarding is yet another unique water sport and Benoa is the best place to try it out. This sport involves a special board powered by 200 water pressure which will make you fly and hover above the water. Since the board is attached to a jet ski, the board will be able to make some stunning moves! Beginners may find it really challenging standing on top of this fly board. So, good luck with that one!
Every buccaneer's favorite – Water Rafting!
What can be more exciting than sitting inside a rubber boat amid the heavy flow of Telaga Waja river and experiencing the exotic scenery of the eastern side of Bali? As you move through the rapid flow of this river and plunge down the water at 5 meters, release all your exhilaration by screaming out loud!
Enjoy the ATV Ride at Ubud
Hop on in one of those ATVs and get ready for a bumpy and dirty ride! Ride past the beautiful Taro Village of Ubud with the off-road sensation on this four-wheel vehicle. Do not forget to carry an extra change since the bumpy and muddy terrains would surely highlight your trip.