Summer na nga!! I can see friends and relatives going on family outings on my feed. It's making me excited and hope we can stay near the water this whole two months of heat!
And so here goes our first Summer 2018 trip….
What's makes this Summer's trip different from the rest is that we have our nanay with us. Hay, si nanay, kung di pa magka-Alzheimer's disease, hindi pa sasama sa mga lakwatsa namin. Before, when she was still on her normal condition, she didn't like going on trips and vacation. She would rather stay at home with tatay. Surprisingly, she likes the change of scenery. She's like a kid (more like Twinkle) but she doesn't like to go swimming.
peanutbutter♥ came from from work that day so we stopped over at Army Navy in NLEX for brunch before driving all the way to La Union.
Our compulsary nanay and daughters pic….
Yes, this year's matchy OOTD's are eyes on our shirts… this is our first photo at Sunset Bay Beach Resort when we arrived at around 2:30pm.
This is our second time at Sunset Bay Beach Resort. I wasn't able to blog about our first trip ( which was around 2012, I think) because back then Cyra and Cyvrine (my brother's daughters) are still living with us and those three kids definitely made me busy.
This time around, I have a tween and a baby…Ykaie helps me in taking care of Twinkle.
Our Room
We got two Family Deluxe Rooms for ₱3,700 per night. It has a double bed and a bunk bed. Good for a family for 4.
We stayed in one of the rooms and Sis, Rome, and nanay in the other.
Ykaie called dibs on the top bunk.. Twinkle pretended she likes the bottom bed…
The toilet/bath looks like this…
Ykaie and Twinkle had their first beach photo……right before merienda..
Merienda was Mango Shake, Mixed Pancit, Baked Potato for Ykaie, and Lasagna….
This merienda actually lasted until dinner that I wasn't able to eat anymore…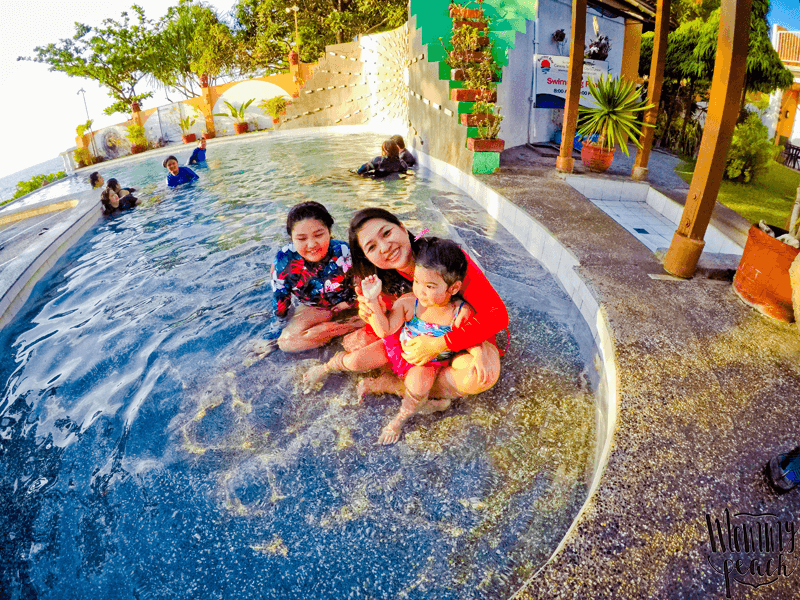 Of course, after merienda comes swimming time! peanutbutter♥ wasn't able to join us because he still had no sleep from last night's work. and while he was catching up some Zzzz's… the kids and I played in the water.
Nanay didn't wanna go swimming….she just likes watching the kids play in the water..
Sunset Bay Beach Resort has one swimming pool overlooking the beach….
The crowd here are mostly made up of families set out to enjoy the La Union waters and sunset….
(stay tuned for Part 2, I'll be sharing with you more photos…..)
Sunset Bay Beach Resort is located at Canaoay, San Fernando City, La Union.