One of the things I'm thankful we were able to do last May is that we were able to sneak in some R&R despite such a busy schedule.
This escape at The Oriental Luxury Suites in Tagaytay would have been included in the second leg of our Summer 2018 trip. If you can remember the first leg, it was in April at Sunset Bay Beach Resort and Thunderbird Resorts Poro Point. No more trips followed after that because nanay became bedridden. All our scheduled trips were already booked and we had to cancel and rebook them. We weren't able to cancel this one, though, since we got the reservation at 50% off. So we went with my ILs, instead.
Our Rooms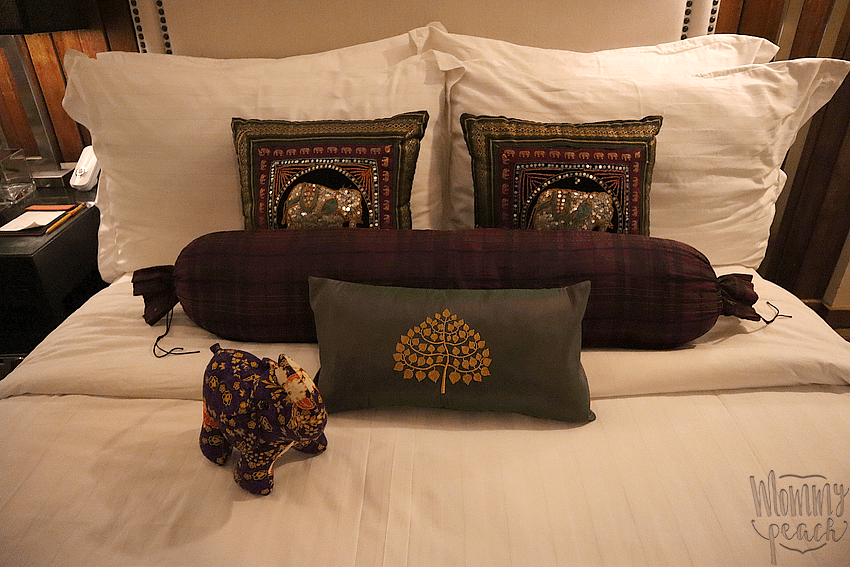 The original rate of rooms at The Oriental Luxury Suites is ₱10,000 per night — well, at least on the first level. We got it for just ₱5,000 per night. We were able to book two first level rooms that has two queen beds: Khao Sok and Phanom Rung.
The hotel asked us if we can give one of our rooms to another senior guest that night and in turn, our room will be upgraded to one of the second floor rooms at no extra cost.
This is our upgraded room: Chiang Rai. It also has two queen beds…
…and it opens up into  balcony with a nice view.
The Hotel
This is the hotel lobby…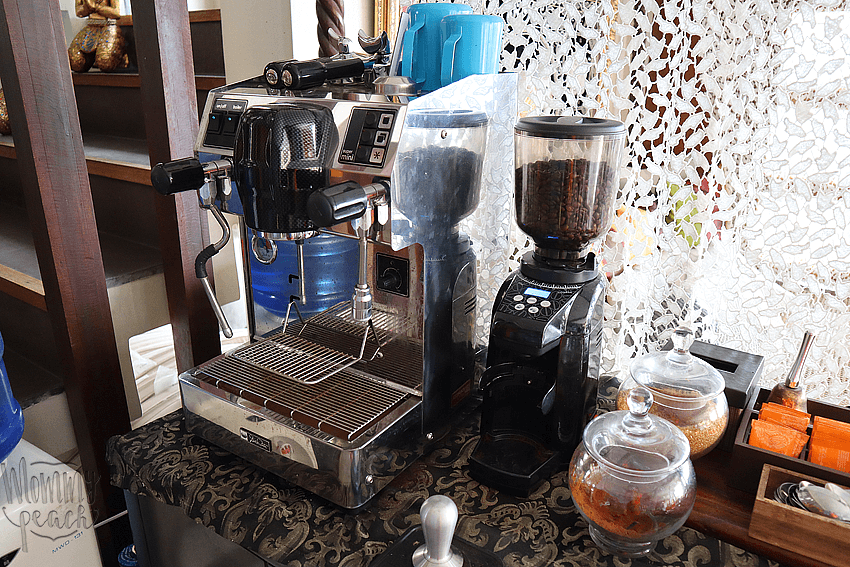 …and this is where you'll find the coffee and tea making facility. The rooms don't have it. You can prepare unli instant coffee but there's an extra charge if you want your coffee prepared from the espresso machine.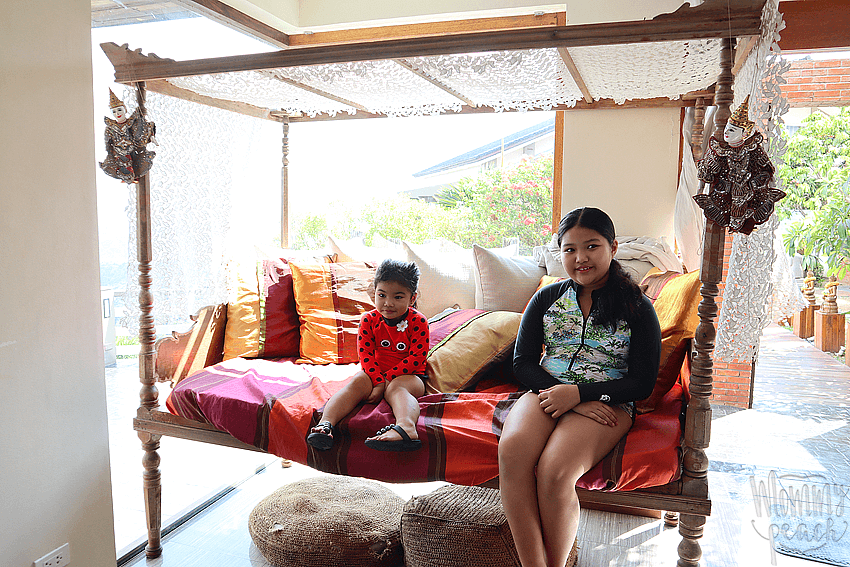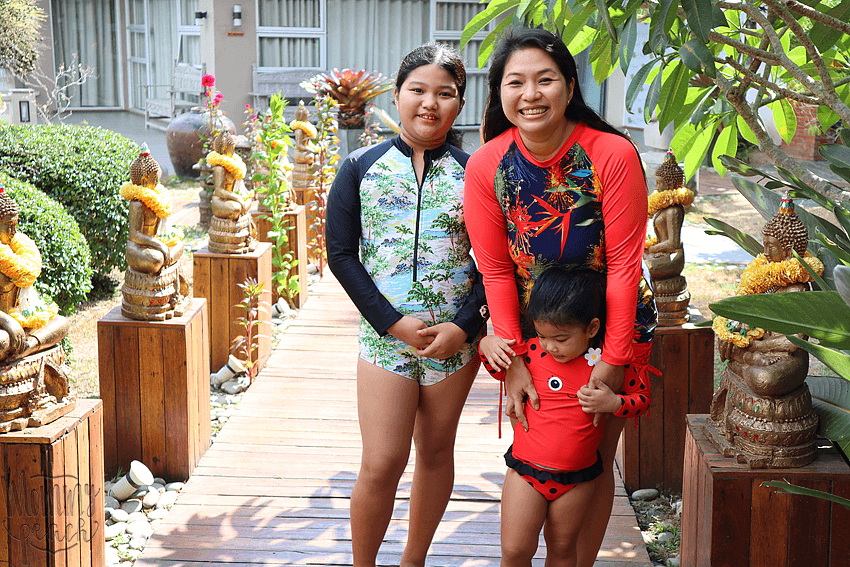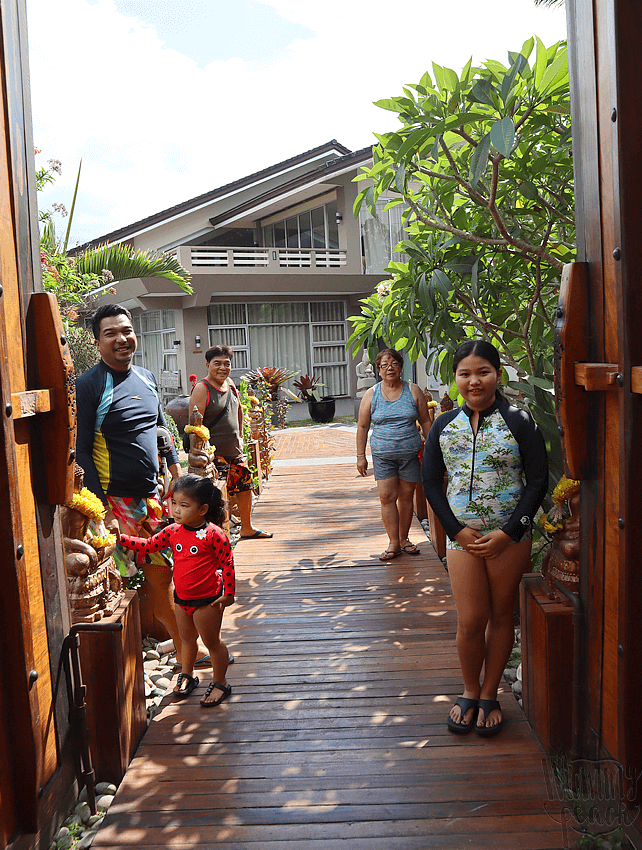 Swimming Time
The infinity pool
Swimming time came just a few hours after we arrived. Syempre, the kids are really excited to go swimming. This is what they're always looking forward to every time we go on a staycation. At first Twinkle was a bit afraid of the water but after a few minutes nagda-dive na sa knee-deep stairs..LOL.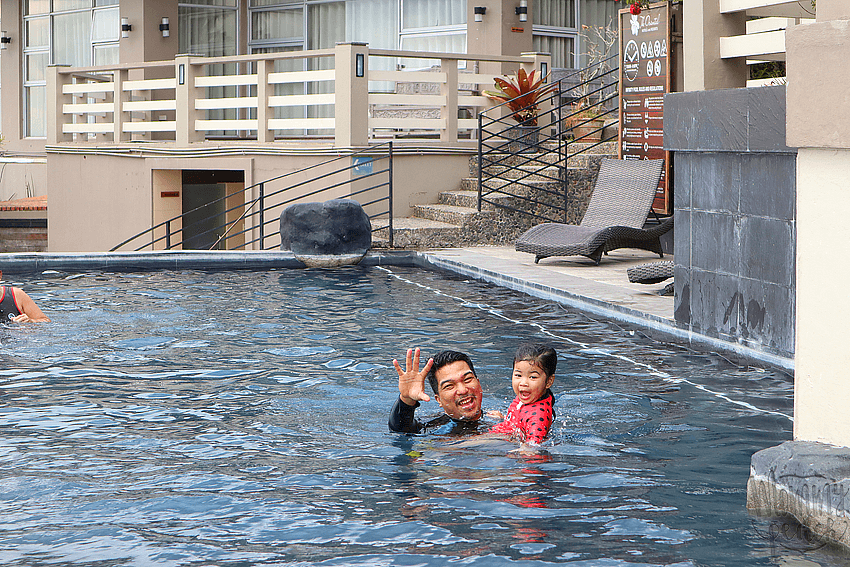 Tagaytay was a bit cold in May, would you believe? Well, maybe because it was drizzling a bit that day too. Ang #TitaOfManila  –which is, well, me — syempre hindi nakatagal sa lamig. Umahon kaagad kasabay ni Mama Lucy and Papa Sony. peanutbutter♥ remained in the pool to look after the kids…. na ayaw pa umahon at kulang na lang ay dun na tumira sa swimming pool. Good thing there's such a thing as being exhausted and when they used up all their energy, they needed a refill.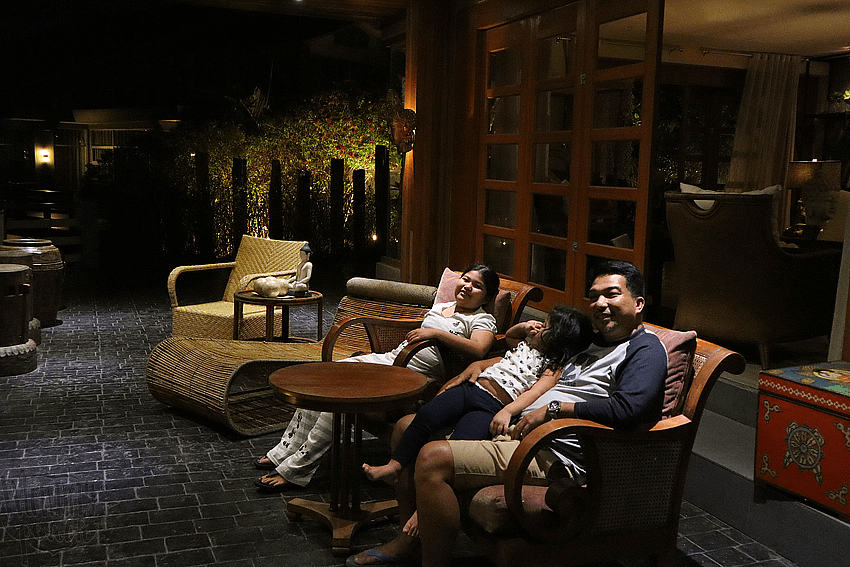 The kids were hungry after swimming but hotel didn't have any restaurant. Thankfully, we were in Tagaytay and there were lots of restaurants nearby. We went out to eat dinner and went back at the hotel for coffee before retiring for the night.
Breakfast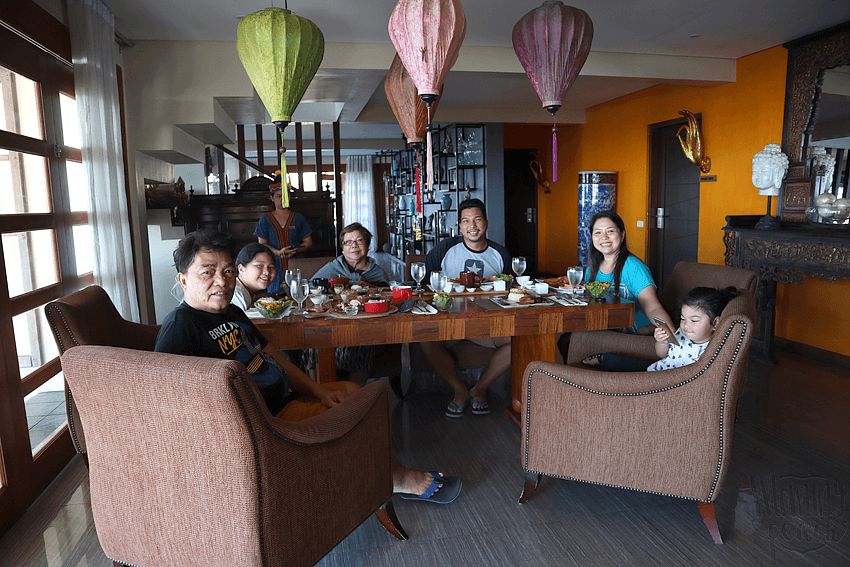 Breakfast was included in the reservation and it was served at the dining area in the lobby just outside the Phanom Rung room.
Mama and Papa had the the Filipino Breakfast which consists of a little bit of everything — parang fiesta!. There's  garlic rice in that small red container, boneless bangus, danggit, beef tapa, salted egg, and tomato and a side salad which I wasn't able to take a photo of….
peanutbutter♥ and I had the American Breakfast which is composed of wheat bread, chicken sausage, bacon, hashbrowns, two eggs, and a side salad.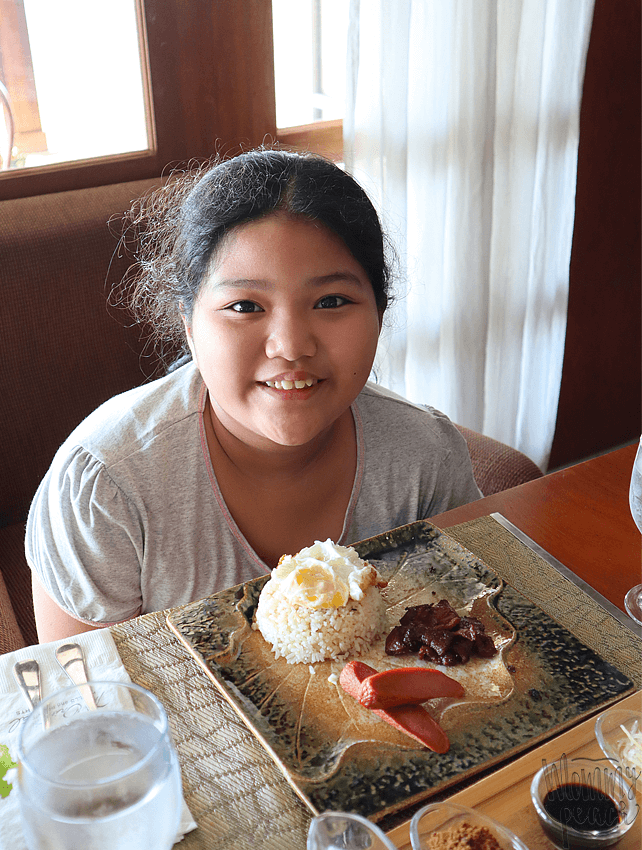 Ykaie got this..Ito yata ang "kiddie meal" nila — garlic rice, fried egg, chicken sausage, and tapa.
Swimming Again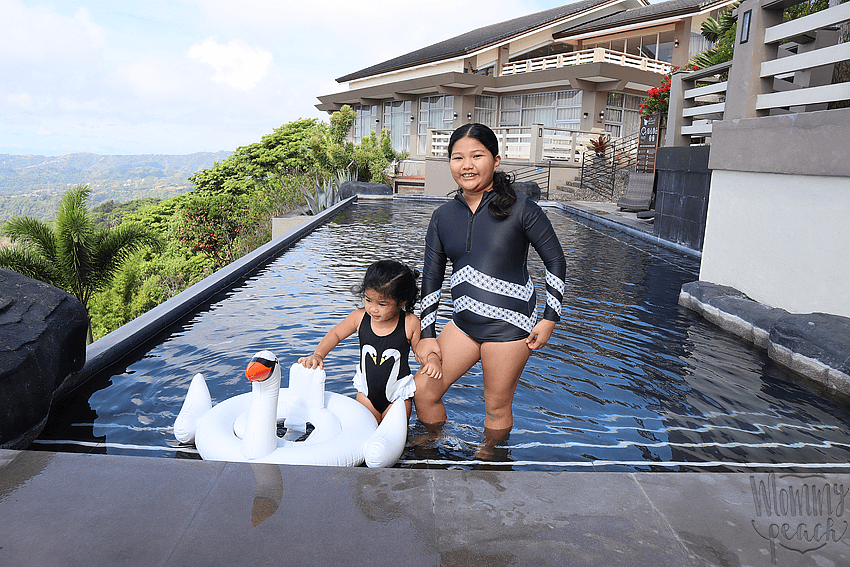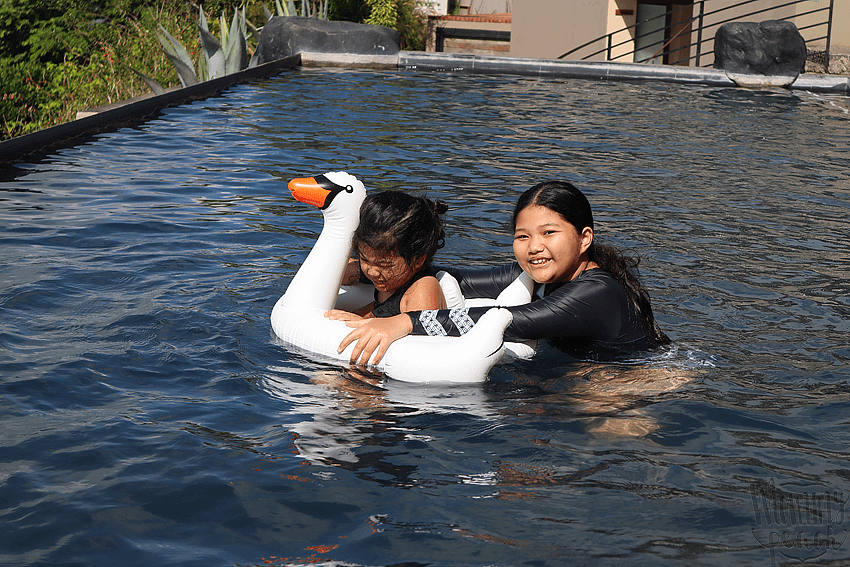 After breakfast, swimming ulit ang kids. While the lolo and lola took their sweet time to rest in the lobby and breathe in the fresh air while watching their apos play in the pool.
What I Like About The Oriental Luxury Suites:
The staff are  friendly and accommodating.
You can get unlimited serving of instant coffee and tea at the lobby.
There were lots of restaurants around the area.
The room is big, the beds are super comfortable to sleep in,  and there's fast wifi connection.
Super cold a/c and the place is beautiful.
What I Didn't Like:
The only toiletry we had was shower gel, we didn't have soap, shampoo, conditioner, and toothbrush. (Maybe because we got it at 50% off?)
The coffee and tea making facility was located at the lobby. If you want coffee at say, 4am (like me), well, you have to go out of your room to get a cup.
No phone in each room and you have to use a bell to call a staff for help.
No room service because there's no restaurant in the hotel.
Over all, it was a nice break from our everyday hustle. I just wished we were on vacation for two days…
The Oriental Luxury Suites is located at 001 GS Gen. Emilio Aguinaldo Highway Luksuhin Ilaya, Alfonso, Cavite