We've all been spending a lot more time at home lately with an increase in work and school being conducted from home due to quarantine. Many people spent this adjustment period in small quarters, often as small as a one-bedroom apartment. Check out these apartments for rent in Tulsa, OK . This may have made the bedroom a refuge and all-purpose room where you spend a lot of time
If your bedroom is functional, but not exactly exciting, it may be time to consider making some changes and give your living space a new look. The good news is, refreshing your bedroom's environment doesn't need to break the bank.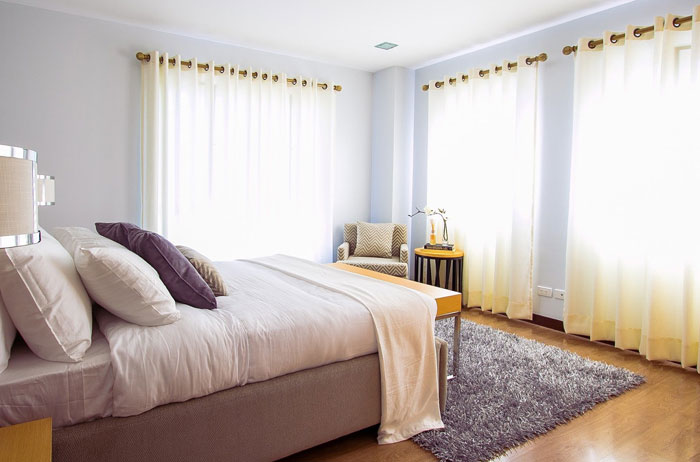 Get Rid of Things You Don't Need
It can be hard to focus in a crowded room, so the first step of a bedroom refresh is to find the things causing clutter and junk them. This will not only create a more harmonious environment, but it'll free up space for useful items. Professional organizer Marie Kondo encourages people to ask themselves if items spark joy and, if not, out they go. Make sure not to limit yourself to what you can see immediately—tackle the closet and drawers too.
Rearrange Furniture
Does your room's setup make sense? Do you consistently find yourself bumping into things or tripping when you're moving in a hurry? If the layout of your room isn't easy to maneuver, it may be time to shuffle some furniture.
Beyond obvious problems, it can also help to swap certain items, so they're more easily accessible when you do need them. For example, make sure any reference items are easy to grab from your workspace. Your room should be set up for your convenience.
Get Green
There are many reasons to bring a little bit of the outside into your interior space. Plants may seem like a decorative accent, but they have the potential to be so much more. Studies indicate that plants can improve the air quality and have a positive impact on overall mental health.
Experts think that having something to care for and watch grow is a change of pace from focusing on what's weighing on your mind. Just be careful not to add more stress. Look up plants that are easy to care for and add a nice aesthetic touch to your room.
Do Your Research Before a Purchase
There are many small purchases that you can make to enhance your room, but you may want a more drastic change like new furniture or a mattress upgrade. Make sure you know your budget and use it efficiently. Click here for mattress coupon codes and discounts to find the perfect mattress for your sleep needs at a price you can afford.
Fill the Room With Memories
A room can be a haven in tough times and part of that is reminding you of good memories and better days to come. Incorporating photos, artwork, and other mementos that remind you of family, vacations, and celebrations are a great way to add positive energy to the room. You can devote an entire wall to this or keep it scattered around the room. If you have a lot of pictures up on the wall, you can incorporate different colors and styles to add a more decorative touch.
Lighting Is Key
Do you want more light in your room? Are you looking to keep the light out of your eyes when you're trying to work? You can accomplish both of these by adding curtains.
Not only do high curtains add to the atmosphere of the room, but they can be adjusted throughout the day for the maximum effect. If the room gets too dark during the night, lamps are affordable and easy to buy. You can also add a dimmer to help you find the perfect atmosphere for your room.
A Pop of Color
There are countless ways to change the appearance of your room, but one of the most tried and true is to add some color. If you're up for a bigger project, give your room a paint makeover—either on one wall or the whole thing. If you don't want to devote a day to a paint job, why not add some color with a few simple items? A piece of furniture in a contrasting color or even a few throw pillows can massively influence the atmosphere.
Your Room is a Canvas
Your room can be whatever you want it to be. The process of giving your room a makeover doesn't have to be a major project. Small steps can make a huge difference in how you feel when you set foot in your space. A transformation begins with a single step and, from there, the options are limitless.