These days we can never have too much air purifiers! As I've said over and over again – health is our number one priority. That means from the food that we eat, to getting physical activity, to inhaling fresh , clean air all the time. Plus, we have lots of pets at home pa and they sleep with us in our bedroom as well.  Daddydoodledoo has allergic rhinitis din — so an air purifier is a must have. We have one in our bedroom, one in Ykaie's room, and I put this in the living room is extended na up to our kitchen.
Before I changed to desktop computers, my last two laptops were from acer, so I was really happy when I got this acerpure Cool from acer Philippines. It's a brand I already trust and love so I know that having this at home would be beneficial. And I really love how it looks! It's aesthetic, sleek, and a space saver. But most of all, I love it because it has a 2-in-1 function – it's an air purifier + a circulation fan.
PRODUCT SPECIFICATIONS:
4-in1 HEPA Filter, Four-layer Protection
Pre Filter, HEPA, Filter, HEPA 13 Main Filter, Activated Carbon Filter
10 speed Circulator & 5 speed purifier
DC Motor expect high performance of purification at a low energy cost
Smart Censor and LCD Display , Acerpure life Smart App Compatible
Power Consumption: 65W
PRICE: P14,999
Unboxing, this comes with a manual, power cord, and a remote control.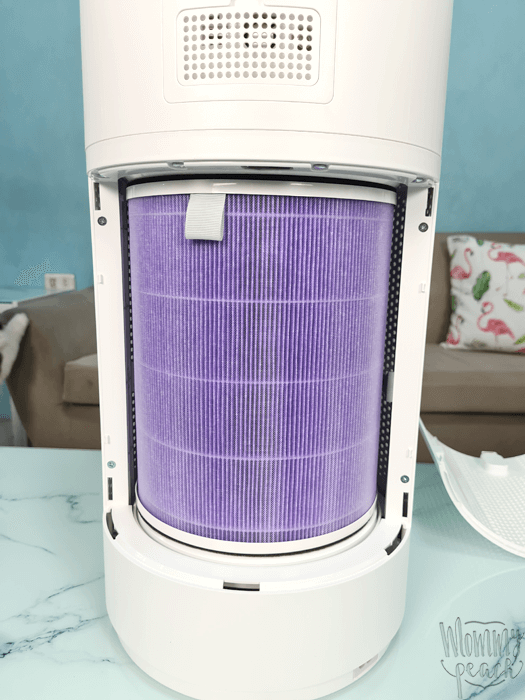 This is the 4-in-1 HEPA Filter that provides four-layer protection. It eliminates up to 99% of airborne bacteria, 99.97% of ultrafine dust, PM1.0, and allergens. The HEPA Plus+ has been certified by the 3rd party research center to be effective against 99.9% coronavirus (229E)  and influenza A (H1N1) virus activity.
Although you can download a smart app and control it using your mobile phone, I like that it has a remote control that you can use to regulate the purifier speed, circulation, swing, and the quiet mode. It also has a Smart Sensor that automatically regulates the purifier speed (gusto ko to kasi isang click lang) and you'll see in the LCD display the air quality in the room. Purple means Poor, Orange means medium, and Green means good. As you can see, the air in our living room is now of good quality. Purple yan when I turned this on.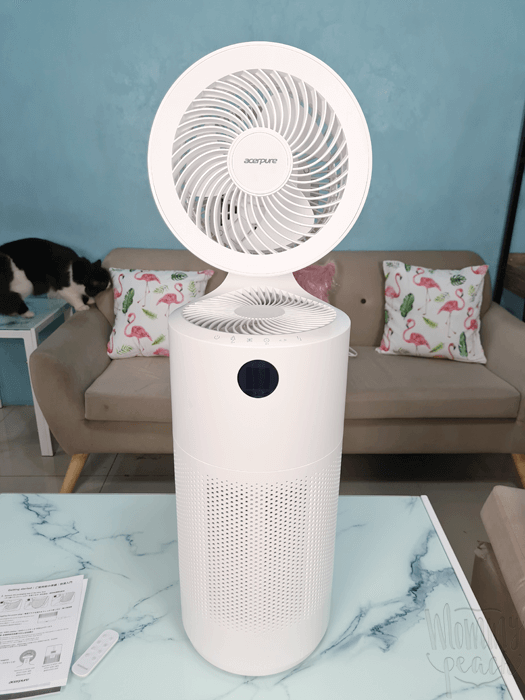 The acerpure cool is good for a room that 45sqm in size and the air circulation fan can generate constantly spiral airflow to over 12 meters away to circulate and recirculate the air all over the room. It's energy efficient din — it has a DC motor, which gives high performance of purification at a low energy cost.
I told you I put this in the living room because this is where we are most of the time — kaming family and the pets. At kapag nandun kaming lahat, air circulation is very important. Not only because of odor elimination but because of virus and allergens. Lalo na ngayon that we are in the middle of Covid-19 pandemic, it's really something that we need . Mommies, pandemic is not over yet so we should really be careful and take care of our health. I'm happy that the husband is not sneezing as much as well.
Mommies, if there's one thing that you're thinking of buying for your family — dizizit! Ang sarap huminga sa bahay because you're breathing fresh and clean air all the time.
What more do I love about the acerpure Cool?
It has Quiet Mode – Reduced noise and turned-off display make for the perfect environment for a good night's sleep.
It has a safety lock – With safety lock , so you don't have to worry about the mistaken touch by children and pet.
The acerpure cool is available at https://store.acer.com/en-ph/acerpure/ and at Lazada.