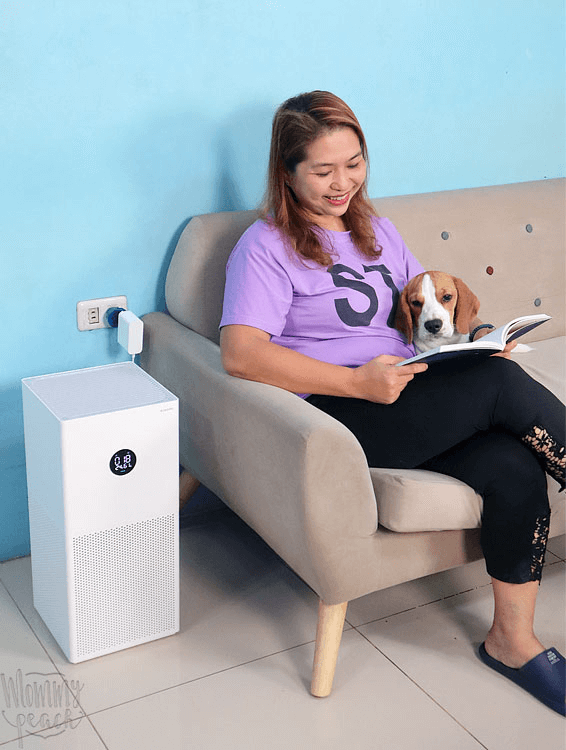 These days, taking care of our health should be our number one priority and it's not just about eating a healthy diet or being physically active. We should also take into consideration the air that we breathe. The air is filled with pollutants that pose a risk to our health especially because of the pandemic, so an air purifier will help to make sure that we breathe clean air that is pollutant-free.
I was really happy that we got this Xiaomi Smart Air Purifier 4 Lite. It has a room coverage of 25-43m² and a 360°All-round air intake. I did a little reading about it and it says that it is able to deliver 6000L of clean air per minute and it has a powerful purification speed that can keep the air in our home cleaner for longer.
The filter is made of large-area high-efficiency filter and large volume high-quality activated carbon which can lasts for last 6-12 months so there's no need for frequent filter replacement. This means we can have everyday freshness with a long-lasting filter because the filter is good enough for one year's usage.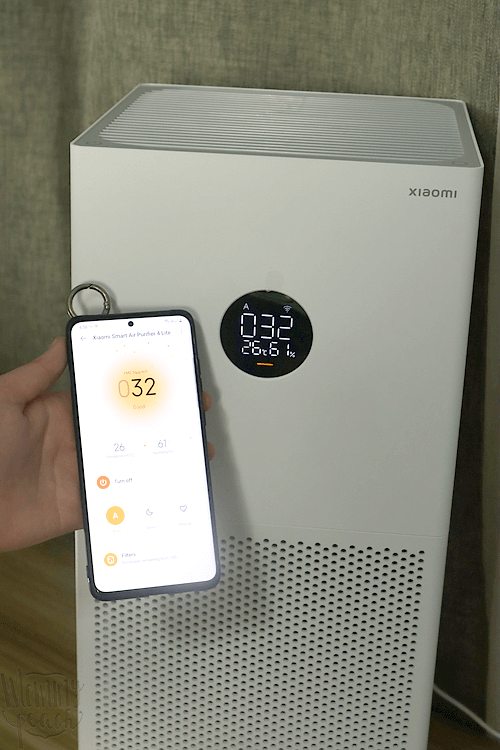 Smart Remote Control
I downloaded the Mi Home/Xiaomi Home app in my mobile phone and I can access the Xiaomi Smart Air Purifier 4 Lite from there. So even if we're not at home, I can always ensure that it is always working and we can return to a home filled with clean, fresh air. It has three modes nga pala — Automatic, Night Mode, and Favourite mode. I always use the automatic lang.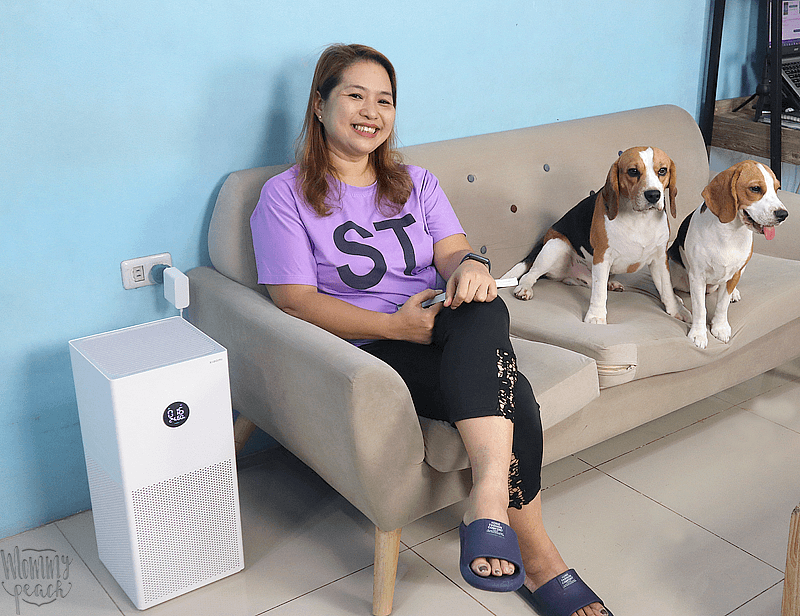 As you can see, I am a furmom — we have two beagles and three cats. One of the advantages of having the Xiaomi Smart Air Purifier 4 Lite is that it has Triple-layer filtration which helps in the filtration of pet hair and a powerful odour elimination. Syempre, marami kaming pets — so it really helps not only in keeping the air clean but also in keeping it fresh.
The triple-layer filtration also helps in filtering pollen, dust particles, dander, cotton fiber, and smoke. The activated carbon naman not only helps with eliminating pet odors, it also helps in eliminating cooking odors. Alam nyo naman, food blogger ako, I'm always cooking — so goodbye cooking odor..hihihi.
What I love about the Xiaomi Smart Air Purifier 4 Lite?
It has a unique, sleek, beautiful design – pang Home Buddies.
It has a small base area — you can easily store your air purifier in small spaces.
It has a low noise and Night Mode* allows the display light to be turned off. You can sleep or take a nap with no disruptions.
It has energy-saving purification. Meaning it consumes less electricity — so matipid sya.
Breathe clean and breathe healthy with The Xiaomi Smart Air Purifier 4 Lite is available at Lazada for Php 7,599.00. You can but it here: https://tinyurl.com/XiaomiSmartAirPurifier4Lite