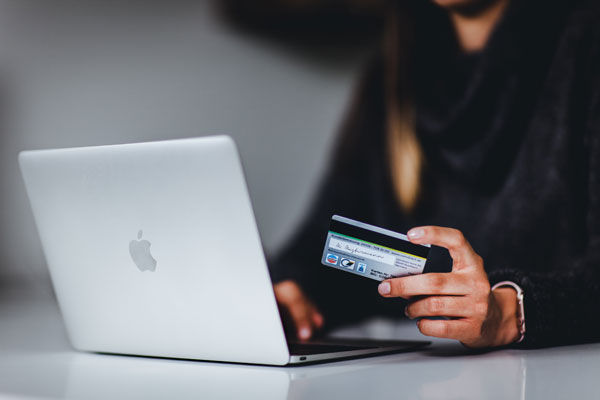 If you're looking for a convenient way to purchase both your needs and wants, then online shopping is the answer. Wherever you are and no matter what you want to buy, all it takes are a few clicks to add to cart, check out, and make a payment.
Speaking of payment, you have several methods to choose from for further convenience. Listed below are some of the most popular payment options, which you can use in most online marketplaces and independent stores.
Credit Card
One of the best and most secure ways you can pay for your online purchases is through a credit card. This is because you don't have to shell out cash upfront, which means you can save your money for more urgent matters.
What's even more important is that credit card providers have fraud-monitoring services. If there are any suspicious activities in your account, you'll receive notification text messages or even a direct call from the credit card representative. You also have the option to require an OTP or one-time password to approve transactions. In case of fraudulent charges, you can file a dispute to reverse them.
Of course, using a credit card also lets you earn rewards points. In fact, some credit cards award bigger points for online purchases.
Debit Card
If you don't have a credit card, another good option to pay for online purchases is a debit card. The biggest difference between the two is that with a debit card, you're directly using the money in your bank account instead of a credit line. What's good about this is that it can prevent you from overspending since you can only spend what's in your account and nothing more.
For more efficient (and responsible) online shopping, it's a good idea to have separate accounts for your emergency fund, savings, and day-to-day expenses.
E-Commerce Digital Wallet
Some of the biggest online marketplaces have their own branded digital wallets. This allows them to streamline payments, so that they can process payouts to their merchants faster. To use this type of digital wallet, you have to link it to your debit or credit card and then transfer funds. You can also top up via over-the-counter methods, such as in convenience stores.
What's great about these branded or "in-house" digital wallets is that they allow you to earn exclusive promos and vouchers. From discount promos to free shipping, you can enjoy a lot of good offers and save more money with this payment method.
Of course, for your peace of mind and safety, make sure to set up all the security features available like PIN and biometric log-in, as well as two-factor authentication.
E-Wallet
If you don't like to manage multiple accounts, most online shops now accept payments via e-wallet. Usually, there's no need to register or link your e-wallet to your online shopping account. When it's time to check out, simply choose the e-wallet option, input the OTP to confirm the transaction, and then log in using your PIN.
One big benefit of this payment method is that it can help you save money—after all, if you don't have any money in your e-wallet, the transaction won't push through. It's also a great way to manage your finances, since you can exclusively use your e-wallet for online shopping.
Gift Certificates
If you'd rather not use your bank or e-wallet accounts for shopping online, gift certificates or GCs are also a viable option. Their denominations are usually in the hundreds or thousands—e.g., Php 200, Php 500, Php 1,000—and have a direct monetary value. Simply put, a Php 200 GC is worth Php 200. Just remember that online stores don't issue change for GCs. If you're buying an item that costs Php 180 using a Php 200 GC, the supposed Php 20 change will be forfeited.
Most online stores have their own GCs, although there are also those that accept generic vouchers. What's great about gift certificates is that you can use them yourself, or you can give them to someone else.
Special Vouchers
A lot of online stores nowadays giveaway special vouchers to attract more customers. These include the above-mentioned discount promos and free shipping, as well as other offers like buy 1 take 1, cashback, and discounts for specific brands or a category of products.
Of course, these vouchers don't cover the entire cost of your purchase. However, sometimes you're allowed to use multiple vouchers at once so you can stack on the savings. Make it a habit to review the purchase conditions as well. For example, there are some discount vouchers that only apply for orders that reach a certain amount. Last but certainly not least, check the validity dates. When you plan your online purchases accordingly using these details, you can save a lot of money.
As you can see, when it comes to payments for online shopping, you don't have a shortage of options. You can use just one or all of them, depending on your needs and what's currently available to you.