As you all know, we have three cute but makukulit na beagles at home. They are Coffee, Chocnut, and Cookie. Cookie is just one of Coffee and Chocnut's many pups. We love these three dearly kahit na hindi na naging maayos ang house dahil sa kanila.. hehehe.
Ayan, may solo pix si Coffee kasi hindi sya nakatingin sa above photo.
When it comes to keeping our furry friend healthy and happy, it's important to be mindful of the foods we give them. While there are many human foods that are safe for dogs, there are also several that can be harmful or even toxic to them. To protect our furbebes, here are some foods you should avoid feeding your dog:
1. Chocolate
Chocolate contains theobromine, a stimulant that can be toxic to dogs. Even small amounts of chocolate can cause symptoms like vomiting, diarrhea, rapid breathing, increased heart rate, seizures, and in severe cases, it can be fatal. Keep all chocolate products, including cocoa powder and baking chocolate, out of your dog's reach.
2. Grapes and Raisins
Grapes and raisins can lead to kidney failure in dogs, even in small quantities. Symptoms may include vomiting, diarrhea, abdominal pain, lethargy, and decreased appetite. Make sure to keep these fruits away from your four-legged friend.
3. Onions and Garlic
Onions and garlic, whether raw, cooked, or powdered, contain compounds that can damage a dog's red blood cells, leading to anemia. These ingredients are often found in a variety of foods, so be cautious and read ingredient labels carefully.
4. Avocado
Avocado contains a substance called persin, which is toxic to dogs in large amounts. It can cause vomiting, diarrhea, and pancreatic inflammation. Keep your pup away from avocado and ensure they don't have access to any avocados, including the pits and skins.
5. Alcohol
Alcohol affects dogs differently than it does humans. Even small amounts of alcohol can cause intoxication, leading to symptoms like vomiting, disorientation, difficulty breathing, and even coma. Ensure that alcoholic beverages are always kept out of your dog's reach.
6. Xylitol
Xylitol is a common sugar substitute found in sugar-free products such as gum, candy, baked goods, and certain medications. It can cause a rapid release of insulin in dogs, leading to low blood sugar levels, which can be life-threatening. Be vigilant and keep xylitol-containing items away from your pup.
Remember, this list is not exhaustive, and there are other foods that can be harmful to dogs. If you suspect your dog has ingested something toxic, contact your veterinarian immediately for guidance. By being aware of the foods that are unsafe for our furbabies, we can help keep them safe, healthy, and happy!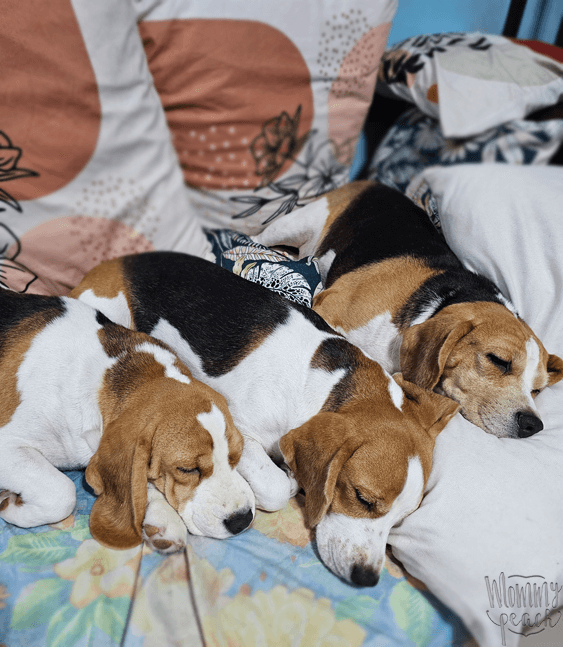 Look at how safe and happy they are! Ang himbing-himbing matulog!
Note: While this information is reliable, it is always best to consult with your veterinarian regarding your specific dog's dietary needs and restrictions.