This happened a couple of weeks ago. My niece, Chellie, had her 6th birthday and sis gave her this basket of toys full of fruits and other goodies as a present. Ykaie was very jealous that she stole one of the fruits and ran crying.


I ran after her only to see her put the fruit inside her small basket…
The poor girl was a little heartbroken but the situation was funny too…
I consoled her and explained why her ate Chellie got that basket of toys.
I guess she understood because she stopped crying after a few minutes and just played with her ate Chellie like nothing happened.
All is forgotten.
an entry for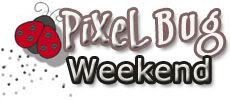 and
.