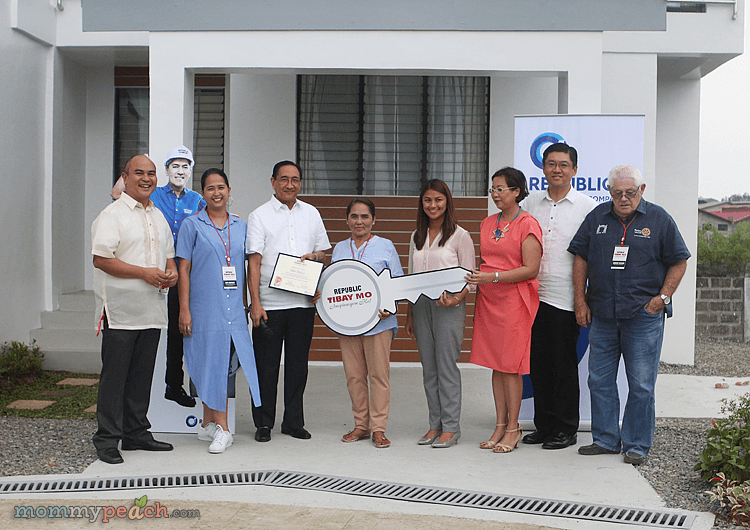 I was a bit down and needed an inspiration when I attended this event. I instantly had an inspiration boost not 20 minutes into it. Thanks to Delia Balonzo, a mother to 13 children and a grandmother to several grandchildren who is an incredible inspiration amidst the hardships and struggles of day-to-day existence. An incredible inspiration amidst the hardships and struggles of day-to-day existence.
"Republic Tibay Mo, Inspirasyon Ko!" salutes the Tibay Hero in every Filipino and their courage to persevere against all odds for their loved ones, community, and causes they believe in. Delia's tibay ng loob epitomizes the same tibay in every single bag of REPUBLIC® Cement, the only cement in the Philippines with Tibay Enhancers®, a special technology that makes concrete more compact and more durable from the inside.
Delia often juggles multiple jobs to make ends meet—she tended a sari-sari store and a small canteen, and occasionally serves as a manghihilot and laundrywoman. She grabbed every opportunity to earn money and support her family. She was resilient, bouncing back after every challenge she hurdled.
Delia's tibay ng loob has inspired her children to finish school and succeed in life; one of them is now working in Austria and raising her own family. Her selflessness and steely determination in the face of extraordinary challenges left a big impact on the judges of "Republic Tibay Mo, Inspirasyon Ko", and contributed to her win as the Republic Tibay Hero.
Delia, whose story was chosen from 1,671 entries, was forced to rent a cramped, single-room apartment in Valenzuela City when fire razed her old house a few years ago. This June 28, she and her family can start anew as they move into a safer, flood-free and more comfortable home in the city. The new two-storey house was made to last using REPUBLIC® Cement, and was designed by a leading architecture firm, Palafox Architecture. Space, lighting and ventilation were carefully thought of to suit the needs of Delia's family.
Robert Nelson, who nominated Delia, said that she is more than just a mother, she is a hero who is raising future heroes, changing their fate and inspiring them to make a change in others' lives.
"She's our superhero. She taught us that as long as there is life, there is always a way to take care of your loved ones." Delia's sixth son, Abel, says lovingly of her. Adolfo, the youngest, tearfully describes her as "irreplaceable."
Republic Cement & Building Materials, Inc. (RCBM) President Renato Sunico said the tibay ng loob that Delia personifies and the tibay that REPUBLIC® Cement gives to builders nationwide will be passed on from generation to generation. "This tibay is our legacy, Delia's legacy to her children and everyone who had witnessed her story—and our legacy to every Filipino family who builds with REPUBLIC® Cement."
The entries were screened by an esteemed panel of judges that included RCBM's Sunico, GMA Network Senior Vice-President for Radio Mike Enriquez, Habitat for Humanity Chief Executive Officer Charlie Ayco, Yahoo! Southeast Asia's ­7 Modern-Day Filipino Heroes awardee Jay Jaboneta, Palafox Architecture Managing Partner and Senior Urban Planner Karima Palafox, Real Living Editor-in-Chief Rachel Medina, and Leo Burnett Philippines' Manila Executive Creative Director Kat Limchoc.
REPUBLIC® Cement with Tibay Enhancers® has a special technology that fill in concrete voids—making concrete more compact. This minimizes water and chemical penetration into concrete that causes steel bar rusting—leading to concrete cracking and deterioration. REPUBLIC® Cement makes concrete more durable from the inside. It can be used for general concrete construction, and is recommended for foundations, columns, beams and slabs.
Watch Delia's story on www.facebook.com/RepublicCement.