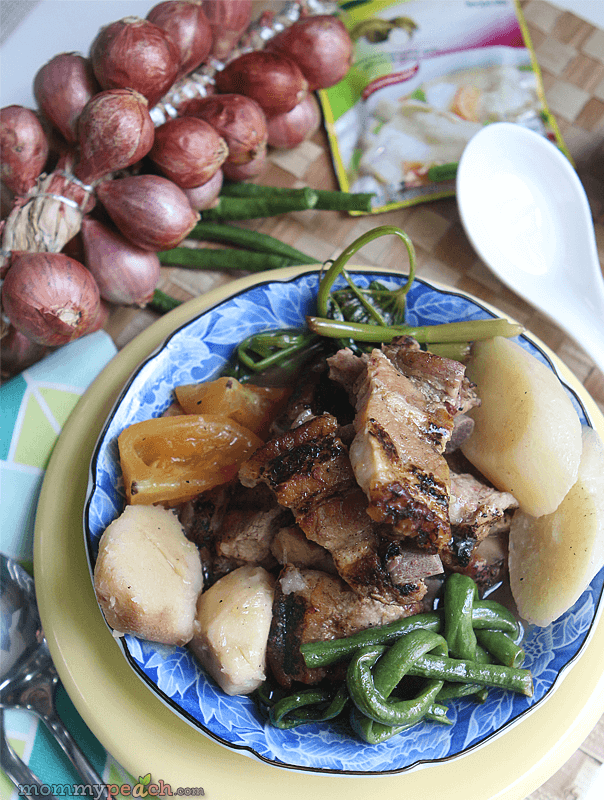 Happy Friday mommies!! It's almost the weekend. Have you got your weekend menu planned out? Here's a new and exciting  Sinigang recipe that the whole family will surely love: Knorr Sinigang na Grilled Liempo.
You know how we always have backyard barbecues or Ihaw-Ihaw planned out during the weekend for family get togethers, right? I don't know about you but here at home, we usually have a lot leftovers which we just reheat the next day and eat as is.
Instead of reheating it, why don't we just turn it into an equally satisfying dish that's also great for rainy days!
Sinigang na Grilled Liempo combines the smoky flavor of your grilled meat and the savory sourness of the classic sinigang. It's a flavor combination that's definitely going to be a hit with the family!
I'm sharing with you the recipe I've learned  at the #LutongNanay event last July 4, 2016.
Sinigang na Grilled Liempo
INGREDIENTS:
2 L rice washing
3 pc onions, quartered
4 pcs tomatoes, quartered
2 pc gabi, peeled and quartered
1 kg grilled liempo, cut into serving pieces
2 pc sili pansigang
1 pc radish, peeled and sliced
4 pc okra, sliced
2 (20g) pack Knorr Sinigang sa Sampalok Mix Original
1/2 bundle sitaw, sliced
1/2 bundle kangkong, sliced
METHOD
Boil rice washing, onions, tomatoes and gabi. Reduce heat to simmer and cook until gabi is tender.
Add grilled liempo, sili pansigang, radish and okra.Continue to simmer until the vegetables are cooked.
Add Knorr Sinigang Mix. Allow to simmer for 2 minutes.
Add sitaw and kangkong. Let cook for 1 minute. Serve.