A lot of people would probably call me a make-up newbie. It is just recently when I became interested in make-up. Although I use make-up sparingly and only on special occasions, I am conscious on the fact that make-up can sometimes dry out or grease up the skin. This is where skincare comes in. I've been paying extra attention to my skin ever since I reached my 30s and one of the first brands of skincare I used is Celeteque.
I am glad that Celeteque came up with the Celeteque DermoCosmetics line. Now women can have access to products that even out skin tone, highlight lips or eyes or cheeks, and bring color and drama to our looks AND also help ensure the health of our skin, the basic canvas we have to work with.
Celeteque DermoCosmetics are all dermatologically tested and hypoallergenic, perfectly blending the enhancing effects of cosmetics with the nurturing benefits of expert skin care. Now, the fave dermo-grade brand has expanded beyond its original offerings to include seven more all-NEW makeup products that offer a "perfect combination" of skin benefits: protects and nourishes your skin, as well as make skin look radiant and beautiful.
Learn more about the new products below:
Puckers and Flushes: Lip and Cheek Products
The bloom of youth and health can be enhanced with Celeteque DermaCosmetics' lip and cheek products; the Matte Lip Stick, Blush & Face Contour Kit, and Cheek Color Stick have become must-haves in womens' kikay kits, but now you may want to consider the convenience of Moisturizing Lip & Cheek Duo or the luscious effect of the Ultra-Nourishing Lip Lacquer.
If you're on the go and need a one-stop-shop solution to add some bloom to your look, you may just find the Céleteque DermoCosmetics Moisturizing Lip & Cheek Duo (₱665), available in Rosy Blush and Soft Berry, is a lifesaver. This oil-free and streak-free mousse contains Tocopheryl Acetate (Vitamin E), which acts as an antioxidant that protects your lips and cheeks from free radicals that lead to dryness, as well as Sodium Hyaluronate and Glycerin, which help your skin retain moisture better, making it firmer, softer, and smoother for a more youthful appearance.
For an extra-kissable pout, you'll definitely want to carry around the Céleteque DermoCosmetics Ultra-Nourishing Lip Lacquer (₱545), which is lightweight, smooth, and non-greasy and comes in three shades: Natural Nude, Soft Pink, and Velvet Red. This gel-based lip moisturizer will keep your lips soft and supple all day, thanks to a formulation that includes the hydrating and moisturizing Tocopheryl Acetate (Vitamin E), castor seed oil, and Panthenol, all of which contribute to softer, smoother lips.
The Celeteque DermoCosmetics CC Micro-Hydrating Powder (₱930) comes in light porcelain, classic natural, and deep beige shades. It hydrates your skin while controlling oil and shine and has SPF 30 to provide double sunscreen protection—a must-have in climates like ours! The pot containing the powder features an autogrinding technology that gives you an ultrafine and hydrating powder that evens out your skin complexion and is easy to blend. With a few twists, it provides just the right amount of product you need. It contains Hyarluronic Acid to replenish the skin and help it retain moisture, Silica to reduce excess oil and give your skin a silky-soft finish, and Tocopheryl Acetate (Vitamin E) to hydrate and nourish the skin even further.
Eye: Eye Products
If the eyes really are the windows to the soul, you'll definitely want to make sure they look gorgeous. Celeteque DermoCosmetics' 24-hr Lashes Volumizer and Eyebrow Nourishing Serum can go a long way to helping you pretty up your peepers, but they'll be even more effective when you add the all-new Eyebrow Defining Kit and Long-Wear Eyeshadow Palette to your beauty arsenal.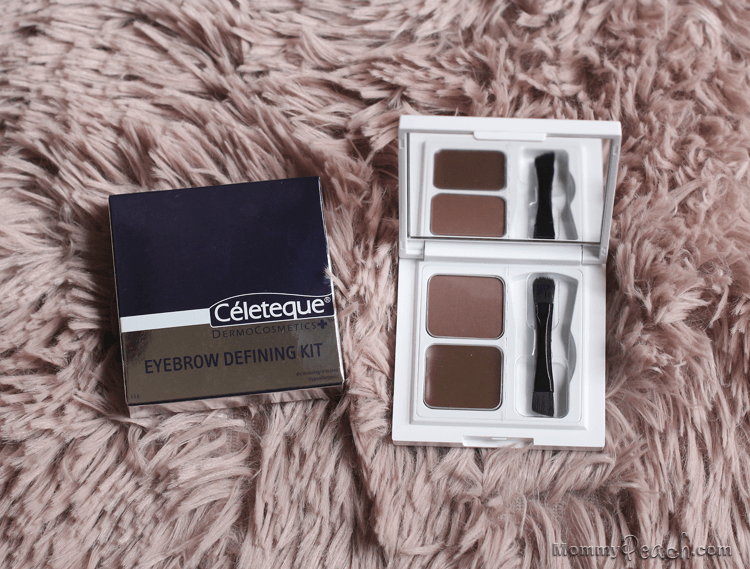 The Celeteque DermoCosmetics Eyebrow Defining Kit (₱600) is a 2-in-1 formulation of Tinted Wax and color-complementing Eyebrow Powder containing Shea Butter and Tocopheryl Acetate (Vitamin E) to moisturize and smoothen your brow area, as well as Argan Kernel Oil to ease the blending process. The overall effect is easy-to-achieve definition for your brows.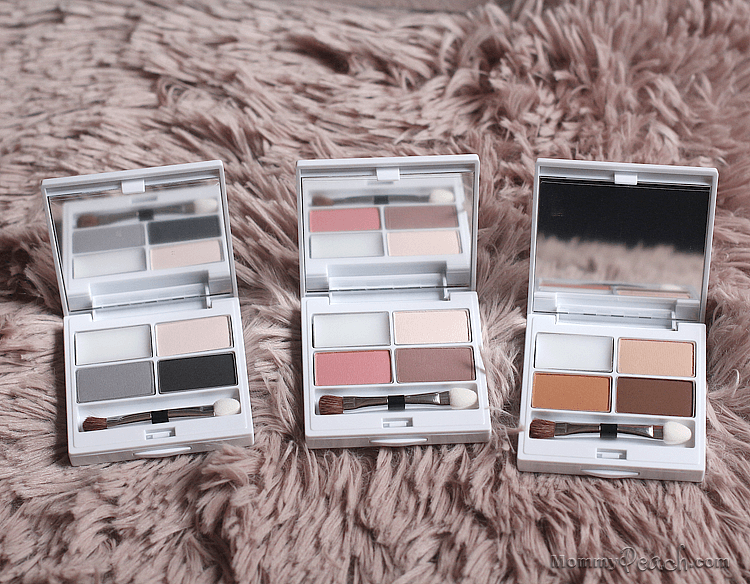 Get those peepers to pop with the easy-to-blend lightweight Primer and naturally toned eyeshadow found in the Céleteque DermoCosmetics Long-Wear Eyeshadow Palette (₱725). The product contains Shea butter, Tocopheryl Acetate (Vitamin E), and Evening Primrose Oil, all of which help keep your lids moisturized and smooth and make the elements easy to blend.
All About The Base: Base and Face Products
Joining the Matte CC Powder, Dark Spot Concealer Stick, and 24-hr Photoready Foundation in Céleteque DermoCosmetics' all-face products line are the 24-hr Photoready Matte Primer, CC Micro-Hydrating Powder, and 2-in-1 Eyebag Miracle Kit.
The Céleteque DermoCosmetics 24-hr Photoready Matte Primer (₱825) helps your makeup look flawless for longer, thanks to its silky, weightless formula that minimizes the appearance of pores and fine lines and reduces shine for a smooth, flawless look. Four components help this happen: Polymethyl Methacrylate to minimize pores, fine lines, and wrinkles; Silica for oil control and to give your skin a silky-soft and matte look and feel; and Dimethicone and Dimethicone Crosspolymer, which work together to form a protective barrier on the skin and helps your makeup last longer.
Say goodbye to raccoon eyes with Céleteque DermoCosmetics' 2-in-1 Eyebag Miracle Kit (₱745), which is a two-component solution to the dark circles under your eyes that may be caused by poor sleep, allergies, hormone levels, or even the food you eat or the genes you're born with. The kit contains an Eye Balm to reduce puffiness under the eye and an Eye Foundation in light, natural, and beige shades to cover and lighten your eyebags. Ingredients include the trademarked Cytobiol Lumin-eye to reduce puffiness and under-eye bags; Tocopheryl Acetate (Vitamin E) to nourish, hydrate, and firm up the skin, minimizing lines under the eyes; and antioxidants like Ubiquinone, Squalane, and Ginkgo Biloba leaf extract, all of which help prevent further skin damage.
Celeteque DermoCosmetics are available at all Watson's stores nationwide or you may check out its complete line of products at www.celetequedermo.com/cosmetics/.