It's officially SUMMER!!! Ang init na mga mamshies! Because we couldn't stand the scorching heat wave, my kumareng Levy and I had some Llao Llao the other day to cool us down.
And because frozen yogurt with chocolate sauce is not enough to beat the Summer heat, we dropped by Watsons to shop for suncreen.
Watsons has a "MakeYourSummer" campaign that will help you conquer this year's sunniest days. Watsons knows how important it is to be protected from harmful UVA and UVB rays.
That's why they are offering all the sun-proof tools you need for a safe and awesome summer. Defend your skin from burning and sun damage with amazing sunscreens. Think: Nivea, Vaseline, Banana Boat, Beach Hut, Solstice, Biore, Sunplay, Belo, Neutrogena, Cetaphil, Celeteque, Kojie San, Hawaiian Tropic, Dermplus, Ponds, and Olay.
The MakeYourSummer campaign was launched with an event that led us to the different products booths.  We et a stamp after checking out what they have to offer.
Some products like Biore offers freebies.
While others like Belo offers discounts…
I also got to see myself via Watsons UV Cam… Yikes!!! I have to take better care of my skin! Can you see me??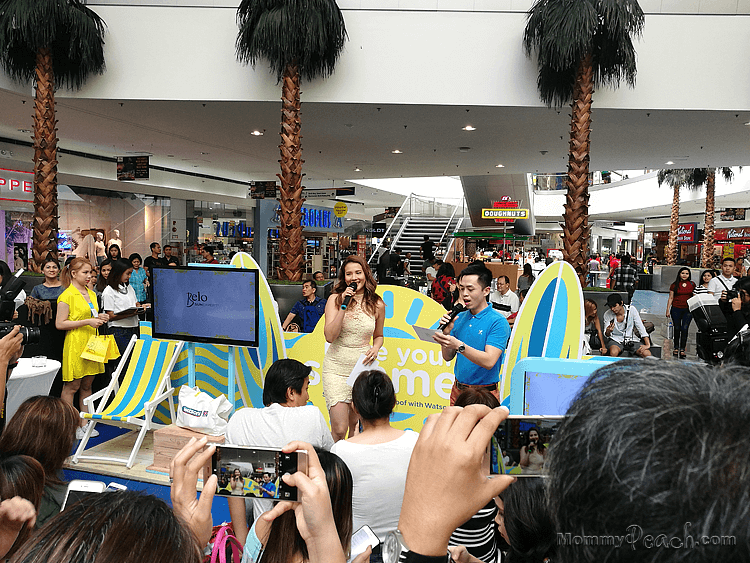 Of course, attending super fun and shopping events like this won't be fun without your friends. So here are 4 minus 1 Kumare for Watsons #MakeYourSummer campaign.
To make your Summer and shopping more exciting, check out this this super exclusive treat for all SM Advantage Card Members. Get a chance to explore the wonders of the Philippine islands with getaways for four to Batanes, Boracay, Cebu, Davao, and Palawan.  Just buy the participating products. For every ₱500 single-receipt purchase, you get 1 e-raffle entry. So, go to any Watsons store or The SM Store Beauty Section now and get summer ready because the promo is from February 23 – April 26, 2017.
And if you're not yet a SMAC member, now's a great time to join. The new "MEMBERS GET MORE" program makes shopping more rewarding than ever before.