After getting settled into our room, (read: after ng picture taking galore) swimming na agad. You know how sis and the kids are, kebs sa ang init ng araw. Buti na lang #MakeYourSummer wonderful ang drama ko because I have lots of sunblock from my sunblock-shopping spree at Watsons the second week of March.
Anyway, Camp Netanya boasts of a 25 meters infinity lap pool with 3ft-12ft depth variety.
It even has this bowl-like pool for toddlers. That's why Twinkle had the time of her life — super tampisaw to the max!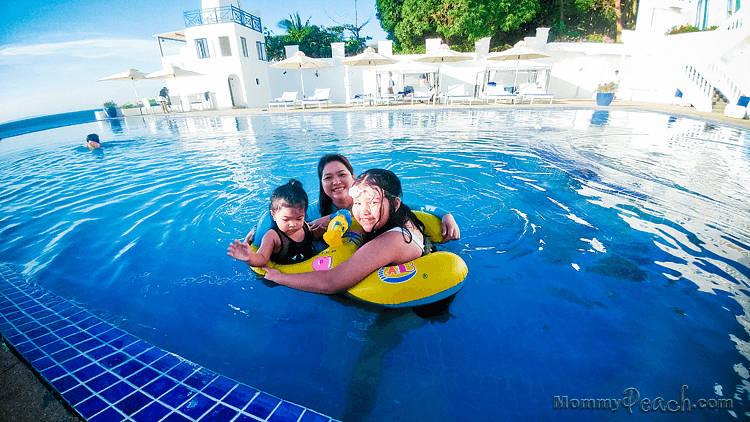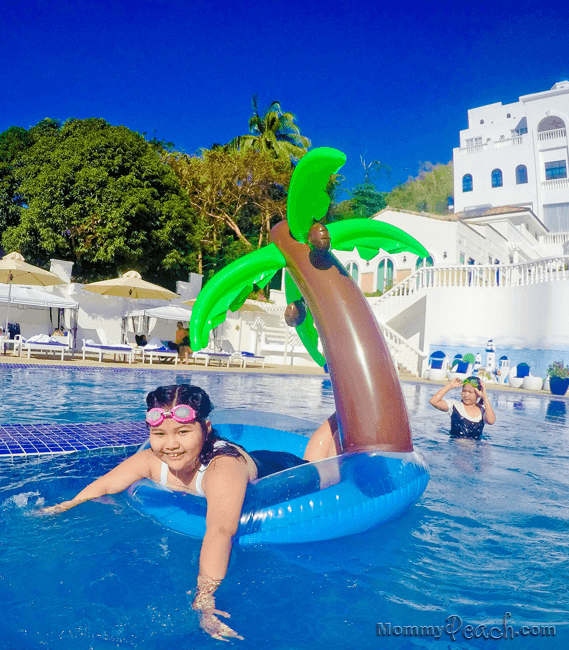 Dinner
Night came and everyone was tired and hungry, of course! We thought of going out for dinner since we found the food really expensive when we looked at the menu of Camp Netanya's restaurant earlier.
But we changed our minds when we saw that there were no lamp posts outside and it's too dark to drive in unfamiliar roads.
We ended up having dinner at Camp Netanya's Greeka.
I had the Pita Bread with Tzatziki and Kalamata Hummus (₱270 + 10% service charge + VAT). Hummus serving is very small and this plate supposedly comes with tzatziki but I was surpised that it came with garlic mayo the same size as the hummus.
Ykaie and peanubutter♥ had the Grilled Pork Chops (₱330 + 10% service charge + VAT) which are thin slices of pork chops with mashed sweet potato, a few french beans, fresh cherry tomatoes, four marble potato halves, cranberry sauce smears, and droplets of pesto.
Sis ordered the Fisherman Soup (₱170 + 10% service charge + VAT) which she didn't like and the Garlic Baby Squid (around ₱340 + 10% service charge + VAT)
Not in the photo was the C.N. Half Fried Chicken (₱390 + 10% service charge + VAT) and Four Steamed Rice (₱35 + 10% service charge + VAT).
What we looked like during dinner. peanutbutter♥ was an unhappy camper. He really wanted to go out and have dinner at OMG! (Olvida & Myra's Grill) which was about 5 minutes away from Camp Netanya.
Breakfast
We ordered the next day's breakfast in advance because we wanted it to be delivered to our room and have breakky at the veranda. Breakfast prices are around ₱250 each.
peanutbutter♥ had the Daing na Bangus with sunny side up eggs (Filipino Breakfast). Sis had the Sausage, Toast and poached eggs (American Breakfast), I had the Ham, Toast and poached eggs (American Breakfast)… but I didn't eat the ham. And the kids shared the Continental Breakfast which had cereals, breads, and marmalades.
This is how we look like when well-rested and well-fed…. LOL!
Swimming time again after breakfast!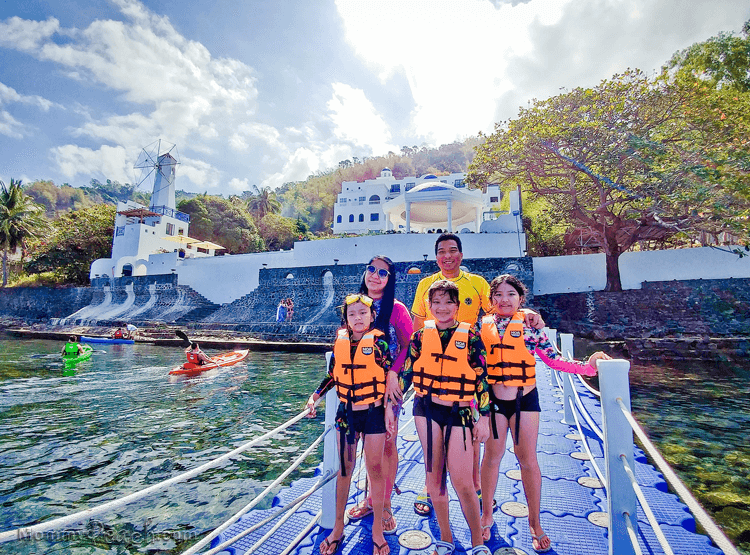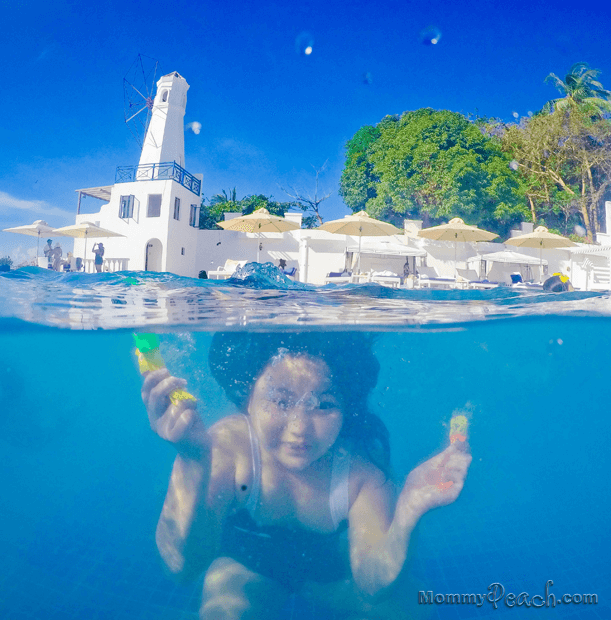 Our over all experience at Camp Netanya is good because the staff are friendly and I love our room! I wish there's an elevator though because the swimming pool is located way down below and our room on the third floor and the lobby way up three more flights of stairs. Lawit dila na by the time maka-akyat ka sa lobby from the pool area or even the rooms. Not for the senior member of the family at the moment.
Here, let me leave you with our video so you can watch how crazy we are…