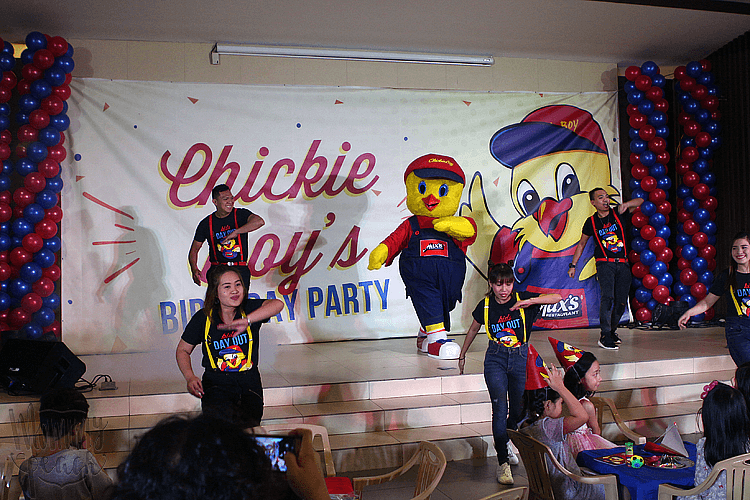 I grew up loving Max's Restaurant because of their well-known fried chicken and my new favorite Sizzling Tofu. When it comes to celebrating Christening and Weddings, Max's Restaurant also comes on top of our mind because we all know that they throw the perfect baby celebration and the party you've always imagined.
A couple of weeks ago, it was my first time to experience a birthday party ala Max's. It was the birthday celebration of Chickie Boy!
Chickie Boy is Max's restaurant cute chicken mascot and his birthday is one of the best birthday party that we've attended. It was filled with games, activities, and different kinds of booths for all the kids to enjoy!
It also showcased some of the kiddie party themes that Max's Restaurant is offering like the Princess Palace and Super Racer.
Dessert Buffet
Ice Cream Station serving vanilla ice cream topped with chunks of Max's Caramel Bar and caramel syrup
Ykaie and Twinkle absolutely enjoyed the party!
If you're looking for a place to celebrate your little one's birthday, why not do it at Max's Restaurant?
There are five party themes to choose from: Chickie Boy Party, Carnival, Super Racer, Outer Space, and Princess Palace.
Max's Party also comes with three sets of Max's menu to choose from. They also have hassle-free premium packages available (refer to the photo above).
Amenities include:
• Three (3) hours use of venue
• Mascot appearance
• Use of party banner
• Party room decor
• Party host
• Party kit
• Giveaways
• Game prizes
• Birthday themed cake
You may also choose to have party add-ons and party enhancers.
To know more about Max's Kiddie parties or to book your now, drop by https://www.maxschicken.com