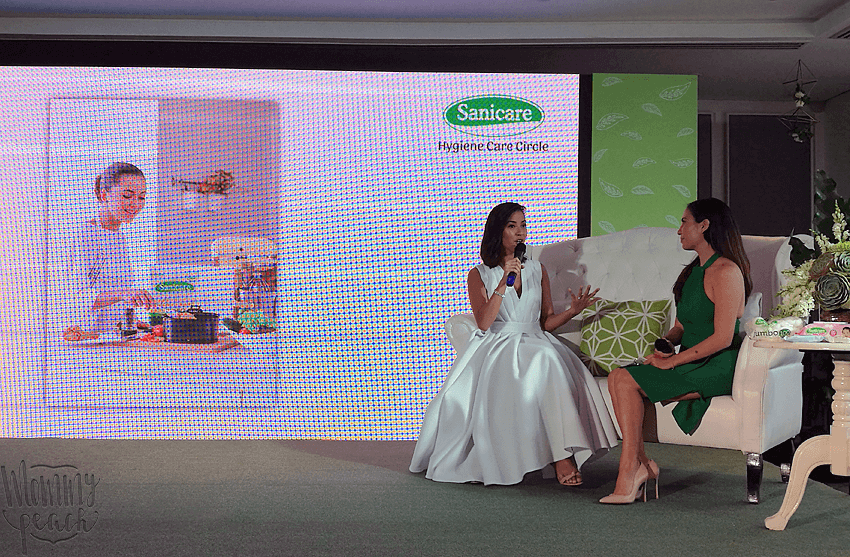 Sanicare has been a part of our lives for more three years now. I've been a fan of the Sanicare 2ply Bathroom Tissue line which is upsized by 10%. I feel like it's really sulit because it's upsized by 10% which means more paper for the same price! And the Kitchen Jumbo Towel.
When we had Twinkle, I discovered Sanicare Baby Wipes and Cleansing Wipes — I love them because they're safe to use on our babies. Then the rest is history and we've come to depend on Sanicare when it comes to our baby Twinkle's needs. Even if you ask peanutbutter♥, he'll tell you that Sanicare is The Perfect Hygiene Partner.
Last July 25, 2017 was one of the many firsts for Sanicare as they gathered the country's top mom bloggers to talk about cleanliness and hygiene for the family in an event dubbed as the Sanicare Hygiene Care Circle event. It was held at The Makati Diamond Residences.
The highlight of the event is of course the launch of Sanicare's First Brand Ambassador – host and mom Bianca Gonzales-Intal.
During the event, we were able to learn about different hygiene hacks and the different lines of Sanicare products beginning with Sarah Tirona and the Baby Care station. Since I have a baby, I already know all about the Sanicare Baby Underpads and I couldn't be happier now that it is out in the market.
Baby Care Line
Sanicare Baby Underpads– perfect to use for diaper changes at home and when you're on the go! With silky soft surface that won't irritate your baby's skin and a leak proof barrier to contain all the mess from leaky diapers. These disposable underpads are your changing table and diaper bag essential!
Sanicare Baby Wipes 80s and 15s– soft and cloth-like texture for thorough cleaning, no perfume, gentle, alcohol and paraben free, no methyparaben and methylisothizolinone, and has skin loving ingredients.
Sanicare Jumbo Cotton Balls– perfect for babies. Made from 100% soft and pure cotton. Extra large in size for more surface area coverage.
Sanicare Cotton Buds – comes in Mini Cotton Buds that is used to pull the filth out of the baby's nose to avoid damage on the lining of nose which might cause bleeding. And Large Cotton Buds with a big tip or safety rim acts as stopper to prevent eardrum piercing or to limit penetration.
The second were kitchen hacks from Frances Sales at the Kitchen Care station. She gave lots of useful tips and tricks on how to keep your kitchen clean!
Kitchen Hygiene Line
Sanicare Kitchen Towels in jumbo and regular sizes has moisture locking technology that makes it super absorbent. It is made from 100% virgin pulp with no artificial whiteners and elemental chlorine.
Sanicare Lunch Napkins– elegant lunch napkin with border design embossing.
Sanicare Mood Dinners Napkins– available in white and black that has cloth like feel, luxuriously soft and strong. Perfect to make your everyday meals extra special. Made from 100% Virgin Pulp using the latest lamination technology for table napkin.
Last but not the least, was from Shari Macainag at the Personal Care Station. Her perosnal hygiene tips were really useful!
Personal Hygiene Line
 Sanicare Facial Tissue (Boxed and Travel Packs)- 3ply facial tissues made from 100% Virgin Pulp (less chemicals, less process). Every sheet has no artificial whitener or Fluorescent Whitening Agent that causes cancer and is elemental chlorine free (elemental chlorine is banned in the US). Perfectly hygienic and safe for your family's use.
 Sanicare Cleansing Wipes (80s and 15s)- Soft and cloth-like texture for thorough cleaning, enriched with Aloe Vera and Vitamin E, gentle, alcohol and paraben free, no harmful ingredients like methylparaben, methylisothiazolinone, safe for children, lightly scented, and refreshes while cleansing.
 Sanicare Cotton (150s)- made from 100% soft and pure cotton. Gentle and won't stress the skin which can lead to premature lines. Perfect for everyday use.
Sanicare Ecolayer Bathroom Tissue– In a move to promote care for the environment and personal hygiene, Sanicare developed the Sanicare Ecolayers tissue rolls, a breakthrough product in the Philippine tissue manufacturing industry, which combines two tissue paper layers made from virgin pulp and one from recycled-grade paper pulp, to form one durable tissue paper product.
Sanicare Interfolded Hand Towel– comes in 1 ply 175 pulls and 2ply 150 pulls. It is made from 100% virgin pulp with no artificial whiteners and elemental chlorine.
 Sanicare Disposable Toilet Seat Cover– its purpose is to protect the toilet's user from germs that may be resting on the seat by creating a protective barrier. Thus, reducing the passing of germs, bacteria and viruses to keep you and your children healthier; especially in dirty public restrooms and bathrooms.
Sanicare Handipack 40p– bathroom tissue in interleaved form making it more hygienic and easy to carry.
Bianca Gonzalez-Intal and The Sanicare Team
According to Sanicare Marketing Director Ms. Lea Sio Pacis, Bianca is the perfect choice to represent the brand and not just because she is a long-time Sanicare user. "Bianca represent the moms of today. She is independent and hardworking but her priority is always caring for her husband and baby"
As for Bianca, she was very excited at being chosen as the first Sanicare Brand Ambassador. As a new mom, she has heightened appreciation for keeping a hygienic environment for her baby.She knows Sanicare is a trustworthy brand when it comes to hygienic care for Filipino families.
To know more about Sanicare, you may check out Sanicare Facebook Page.