World Vision Acquisitions Manager Cherry Anne Valencia talks about the 2,000 Children in 1,000 Hours campaign
International humanitarian organization World Vision introduced its new child sponsorship campaign in a press launch last August 22, 2017. Entitled "2,000 Children in 1,000 Hours," the new campaign stresses the urgency of World Vision's cause by posing a challenge to everyone who supports child advocacy; that is, to help World Vision secure a better future for 2,000 children within 1,000 hours.
World Vision currently supports 2,000 unsponsored children who are living in dire situations due to lack of access to clean water, full meals, and education. The new campaign aims to draw support from potential sponsors as soon as possible to help provide basic needs to these children and their families and to bring lasting change to their communities.
World Vision Ambassadors Tippy Dos Santos, Jasmine Curtis-Smith and Joyce Pring
The organization also launched "Sama-Sama," a music video, to help raise awareness about World Vision and its activities. Among the artists featured in the video are World Vision Ambassadors, Advocates and Sponsors Ogie Alcasid, Tippy Dos Santos, Bianca Umali, Christian Bautista, Jed Madela, Sam Concepcion, Richard Supat, Christian Perkins, Jesse Perkins and Gloc-9.
Tippy Dos Santos and fellow World Vision Ambassadors Jasmine Curtis-Smith and Joyce Pring were present during the launch to show their support for the new campaign.
World Vision National Ambassador Tippy Dos Santos has been supporting World Vision projects and doing volunteer work since 2010. "It's been said time and again that children are our future, and it still rings true. Children can grow up to make a huge difference in the world if they are brought up in ideal circumstances. We encourage everyone to sponsor a child if they can. You can help us bring hope to a child's future by donating just PHP 25 a day," said Tippy.
"What World Vision is offering now is the chance to change children's lives," shared Joyce Pring. Joyce joined World Vision this year as Ambassador for Child Sponsorship and recently celebrated her birthday with sponsored children from Navotas. "A lot of children feel like education is a luxury they cannot afford. Organizations like World Vision are a symbol of hope to these children because they show that social and economical disadvantages do not define a person. That given access to the right opportunities, they can rise up and help themselves and the communities they are a part of," said Joyce.
World Vision Resource Development Director Jun Godornes welcomes guests to the press launch
Jasmine Curtis-Smith has been National Ambassador for the organization since 2013 and is currently sponsoring three children through World Vision. "As a sponsor, I have been receiving emails and progress reports from World Vision about my sponsored kids and their communities. It's really great to see the changes in these children's lives and to know the programs they're engaged in. Through these reports, you get to see how World Vision does not only help these children by providing access to education and basic needs, but also by integrating values formation and community involvement in their activities," she shared.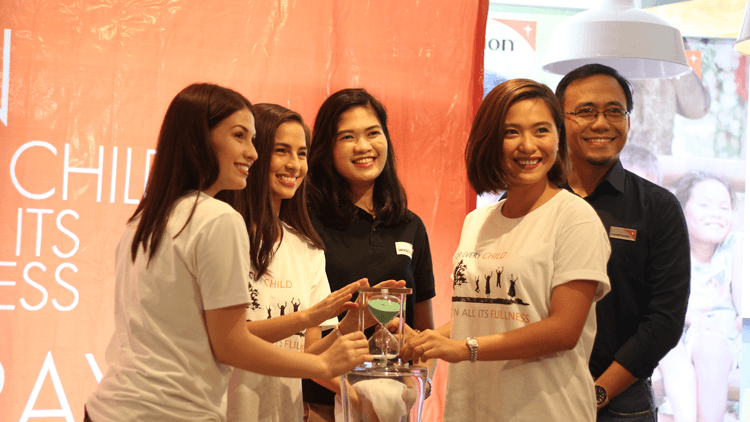 "We are all truly grateful to everyone who showed their support for this campaign; the musicians and ambassadors who gave their time and talent for the cause, and everyone who attended this launch," shared World Vision Resource Development Director Jun Godornes. "The most vulnerable communities do not have the luxury of time on their side. Our main goal for 2,000 Children in 1,000 Hours is to equip these communities with the right tools to build a better life for themselves and their children. By signing up to donate PHP 25 a day, you can help us achieve this goal" said Godornes.
To find out more about 2,000 Children in 1,000 Hours, please visit www.2000children.org or call the World Vision hotline number at 372-77-77.