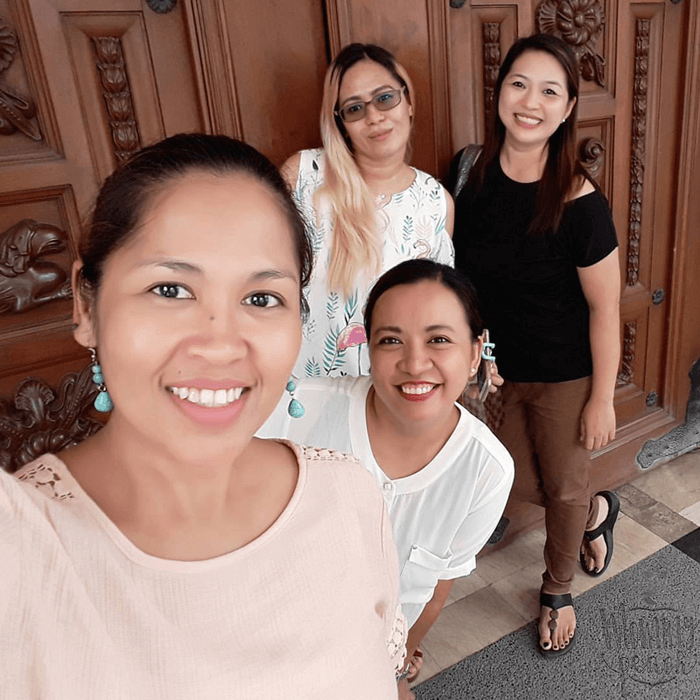 Sa wakas! Nakumpleto rin ang Kumares!
I think that was what we were all thinking about last October 1, 2017 when we attended a Christening. (Yes. Binyag. kumareng-kumare kaming apat!).
Of course we wouldn't miss this event! It was the christening of Baby Zoey Farah Espinoza, the first good luck baby born inside Fun Ranch.
Before we go to the christening part, let me share with you her amazing birth story.
For mommy Joy Espinoza, it was just a normal day of going to the doctor and routine check-up then joining her family in celebrating her niece's birthday at Fun Ranch Pampanga.
She gave birth to Baby Zoey during a visit to the ladies' room of Fun Ranch last August 12, 2017.
According to her "My husband noticed the number of times I visited the ladies' room in less than an hour since we arrived. I put it aside thinking that it was normal for a pregnant lady to frequently visit the bathroom. On my fourth visit, I felt the baby coming out and caught it by myself. Two kids happened to enter the ladies' room, and I asked them for help."
The nurse-on-duty and staff of Fun Ranch responded to the emergency and found the mom with her newborn baby.
If you were wondering if how was she able to deliver her baby and if she experienced any sudden labor pains…
Joy further related, "I used to work as a Nurse Aide, and I know how to catch a baby. I never imagined though that the day will come when I'd do it to my own child. My due date was really August 29, and on August 12, I went to my doctor for a routine check-up in the morning. There were no signs that I would give birth that day. I did not feel any labor pains or contractions. That's why I decided to join my family in celebrating my niece's birthday at Fun Ranch Pampanga."
Mommies, I know you can't relate kasi ang sakit mag-labor, diba?. Can you imagine not feeling any labor pains and contractions… just the baby coming out? And ang galing ni mommy Joy for having presence of mind while delivering her baby.
This is Baby Zoey Farah… ang cute-cute nya no? Her first name Zoey was given by her parents and her second name, well, it was one of the suggested name by netizens who immediately learned about Zoey's birth through social media. "Farah" is a a combination of the words Fun and Ranch.
Zoey Farah is the first baby to be born inside Fun Ranch, and management believes in the old adage that her birth will bring good luck. Fun Ranch is happy to sponsor baby Zoey's baptismal reception, and she will be given "free unlimited play" in all Fun Ranch branches until the age of 12.
Her Christening took place at the Metropolitan Cathedral of San Fernando. Family and friends joined her and her family to welcome Baby Zoey Farah in the Christian World.
The Kumares with Baby Zoey Farah and her parents
After the Christening, we immediately went to Fun Ranch Pampanga for the the baptismal reception which was held at the Festival Room.
Ms. Ana May Del Rosario hosted the event.
Beef Mechado, Sweet and Sour Fish Fillet, Pork Barbecue
Fired Chicken with Gravy, Pancit Canton, Fresh Fruits
The food was delicious! I love Fun Ranch Pancit Canton.
The giveaways were Fun Ranch Mini pillows and Chocolate Cake
The reception ended with the Fun Ranch Mascots dancing to Baby Shark and the kids going to the play area.
To know more about Fun Ranch:
facebook.com/funranch/
www.kidsrulehere.com
Instagram: @funranch