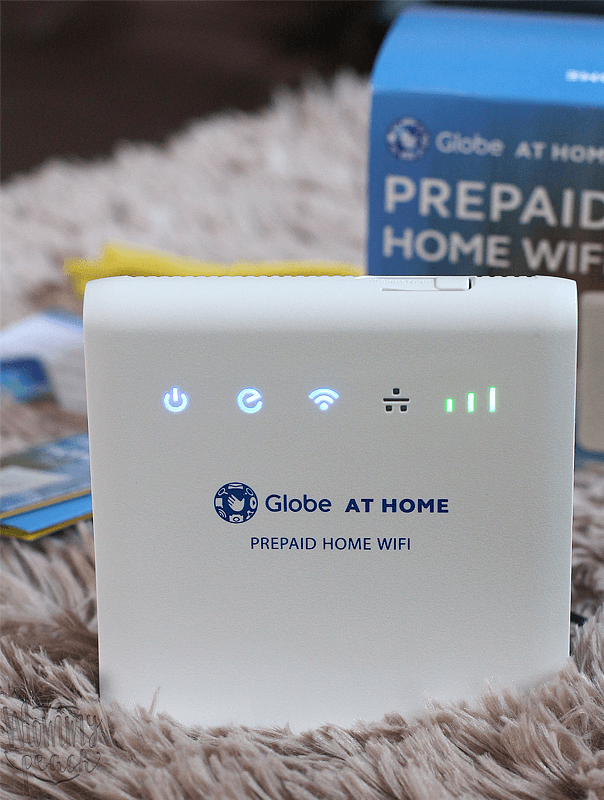 It's so hard going  back to your normal routine after such a long holiday. I feel like both my mind and body is still on vacation mode and they aren't cooperating with me when I told them it's time to get back to work. I opened my laptop only to stare at it for a few minutes, then closed it again. I needed something new today — a new drink maybe, a new dessert, or maybe I should work on a new area here at home. But the thing is, my internet connection can only reach the second floor. Whenever I'm at the rooftop or at the room on the third floor, I have zilch connection.
Good thing friends from Globe sent me this Globe At Home Prepaid Home Wifi. I think this is now the chance for me to have internet connection at the third floor. Well, I gave it a try today and let me share with you my experience.
Unboxing Globe At Home Prepaid Home Wifi
The Globe at Home Prepaid Home Wifi Kit costs ₱1,999 and it comes with a FREE 10GB  data worth ₱349.
The kit contains: Globe At Home Prepaid Home Wifi Modem with SIM installed, Power Adapter, LAN Cable, warranty card, and the Step-By-Step Easy start guide and Reloading Guide.
It is so easy to use! To set it up, you only need to plug the power adapter to the modem and to your electrical socket and wait for the indicator lights.
Once it's on, it's time to access the device and activate your FREE data.
Connect with the modem by scanning your Wireless Network Name and keying in the Wireless network password, both of which can be found at the bottom of the modem
Enter 192.168.1.1 on the address bar through any web browser
Log in the username and password, also found at the bottom of the modem.
Click the SMS tab, and text FREE10GB to 8080. Wait for the confirmation message and you can now start browsing.
It's so easy, right??
I tried browsing through my laptop and even did a speedtest. Guess what? Download is at 3.18 Mbps and upload is at 17.32 Mbps!
To Load the Globe At Home Prepaid Home Wifi, just buy a prepaid load from any Globe loading station. Log in to 192.168.1.1 and key in your Username and Password. Register to any GoSURF promos by texting the keyword of your preferred offer and send to 8080.
I love that this is also written at the back of the modem so you'll never be able to forget it.
Globe At Home App
If you're wondering, what if you want to access Globe At Home Prepaid Wifi through mobile? Well, you just have to download the Globe at Home App through Playstore or Apps.
The Globe At Home app is a convenient tool to help monitor and manage your Globe At Home Wifi account. With this app, you can easily check your prepaid balance, track data usage and top-up or Share-A- Promo to your Prepaid Wifi account.
What I love about Globe At Home Prepaid Wifi
I love that the modem is compact and sleek. I can use it anywhere — this time, at the rooftop.
I love that it is so easy to install and that since it's prepaid, it has no monthly fee.
I love that it comes with 10GB FREE data.
I love the strong connection — fast download and upload.
In short, there's no reason why you shouldn't get it!
Get 50% Stronger WiFi with FREE 10GB Data with Globe at Home Prepaid Wifi.
If you want one for yourself, you may get your Globe at Home Prepaid Wifi via https://shop.globe.com.ph/products/broadband/globe-at-home-prepaid-wifi.