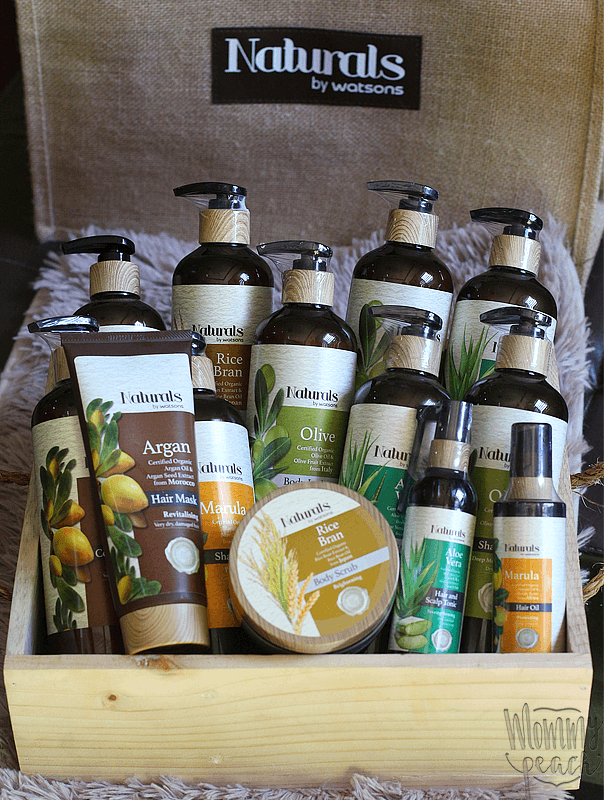 As much as possible, we always want to use face and hair products that are made from natural ingredients. We want it so our skin and hair gets the best tender loving care and our skin won't be harmed.
I'm so glad that Watsons just launched their new Naturals by Watsons products. These are products that are made without Parabens, Mineral Oil, Silicone, SLS and Isothiazolinone.
Mineral oil, often called liquid petroleum, can clog pores. Parabens act as preservatives in our beauty products and are suspected to have harmful effects on the body with long term use. SLS help our shampoo become bubbly but they can make your hair and scalp dry. Silicones can congest your pores and cause acne. Isothiazolinone can cause allergies.
For its Naturals line, Watsons has harnessed Certified Organic ingredients from the best sources globally.
For example, Paw Paw is obtained from Australia. Marula is from Africa, Olive from Italy and Aloe Vera from the United States and the United Kingdom.
The Watsons Only Naturals campaign aims to help people learn more about the power of natural products by telling the public where they came from and what their benefits are plus the lowdown on what harmful ingredients to avoid.
During the launch at Le Petit Souffle at Century Mall, Watsons introduced seven ranges formulated with Certified Organic ingredients Olive, Argan, Marula, Aloe Vera, Paw Paw, Rice Bran and Macadamia.
Olive moisturizes the hair and hydrates the skin.
Argan, which comes from Morocco, has been called liquid gold. It has revitalizing and moisturizing properties. This is what I'm using right now and I like how the conditioner keeps my hair soft but not greasy.
Marula restores hair moisture and tames frizz.
Aloe Vera soothes sensitive skin and scalp. It also strengthens hair from roots to tips.
Paw Paw keeps skin healthy with its repairing properties.
Rice Bran from Japan whitens skin without drying it.
Macadamia brings back vitality to hair and scalp.
Naturals by Watsons are reasonably priced from ₱99 to ₱259. The line is exclusively available at Watsons and the SM Store Beauty Section. If you are a SMAC member, you can get 25% off on your favorite Naturals by Watsons products from October 26 to November 22, 2017.