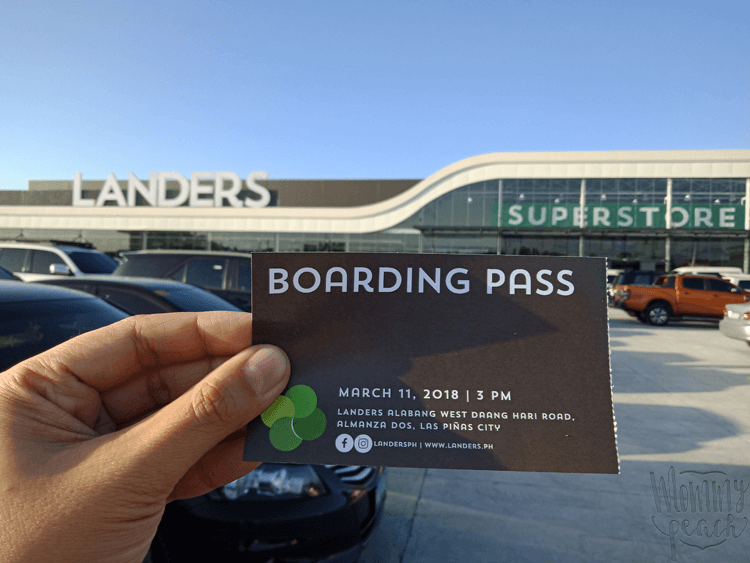 Good news Southies! The most awaited superstore has finally come to the south as Landers Superstore Alabang West officially opens tomorrow, March 14, 2018.
I was there last sunday with the family to get first dibs on what to expect (Media Preview). Syempre ang Twinkle nakasimangot na naman… hihihi, bagong gising kasi…
I also met with my southies Kumares Levy and Badet para mas masaya mag-shopping! This groupfie is taken with my Oppo F5 Youth which has A.I. Beauty Technology that gives natural and awesome selfies. O diba, ang gaganda namin?
Check out our Christmas Shopping at Landers Otis here.
The launch was graced by celebrities. We caught up with Nico Bolzico, Landers Superstore endorser and his BIL, Erwan Heusaff.
..and was catered by Aperitif.
After the Ribbon Cutting Ceremony, we were welcomed inside the huge superstore. It has everything that you could ever need and want.
Landers Superstore has not only become a membership shopping superstore that houses top-notch imported goods such as Italian Gelato, Siviero Maria, Badia Spices, Huer Candies, And Cafe  de Lucca Wafers to name a few. It has also developed into a lifestyle destination where people can experience exclusive services.
Inside, you can take advantage of its delectable dining choices. It has a cafe named Doppio, a bakery called Dough & Co., which bakes Landers' pastries every day and a diner named after an iconic train station, Landers Central. It offers New York's finest pizzas, juicy hotdogs and burgers, and best of all refillable drinks.
Here's what to expect when it opens tomorrow….
During the media preview, we were able to see what's on SALE and how BIG are the discounts… Here's what I saw..
Liquor Section
Even the furnitures are on sale and you can get as much as 29% off…
At itong dalawa, ayaw ng umalis sa toy section. The big doll houses and the play kitchen are on sale! So if you're planning to buy your kids doll houses, go na sa Landers Alabang West!
Towels, pillows and bedsheets are all on sale too!
Nuts and Trail Mix
This one is not one sale but I find the packaging really cute!
Chicharon!!
Organic Medjool Dates
Organic Unsweetened Almond Milk
Kirkland Milk Chocolate Almonds
Sanders Milk Chocolate Sea Salt Caramels
Frozen Fruits for smoothies
Mommies and Daddies, Lechon de Leche is available, should you want to cook your own at home…
Sausages are also on sale
Of course, their pastries are on sale too!
Federal Barbers
Landers also boasts of having a barbershop called Federal Barbers which gives FREE haircut to all members. Aside from tat, since it has its own CALTEX GAS STATION, Landers also offers fuel discounts of ₱2.00 off per liter for gasoline and ₱1.50 off per liter for diesel to all its members.
MEMBERSHIP
If you're interested in becoming a Landers member, you can avail of its membership promo of 50% off until April 30 whic allows you to get the Premium membership Card for only ₱400.
Landers Alabang West is located at Daang Hari Road, Almanza Dos Las Piñas City.
Branches
You can also shop at Landers' first superstore at 1240 EDSA Balintawak, Apolonio Samson, Quezon City or come visit the second store, Landers Superstore – Otis at 1890 Paz Guazon St., Paco, Manila.
To know more about Landers Superstore, visit http://landers.ph/