I am very low maintenance when it comes to skincare. I really don't try out a lot of products, instead I stick with what works for my skin. Basically, it's anything that doesn't dry it out, moisturizes it, and keeps it healthy. Now, when I became a mom, that's when everything changed. I became more conscious of the products I use — especially those that I use for my babies because it might harm them. Alam mo naman tayong mga mommies, the health and well-being of our babies comes first more than anything else. That's why I was glad when I found out that there's  now a Cetaphil Baby line for kids.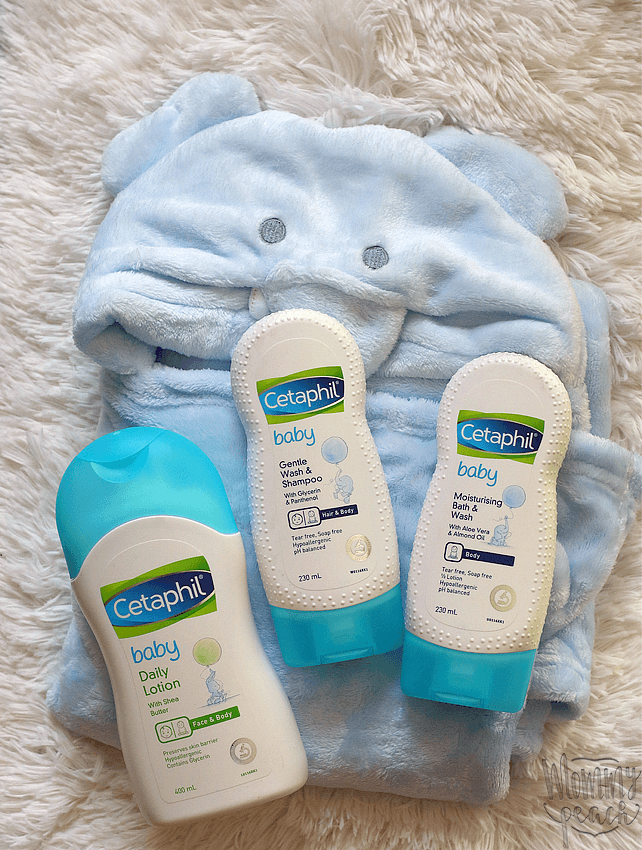 Cetaphil is a known skincare line that works for all skin types– even sensitive ones. So I'm absolutely sure that their new baby line will provide only the gentlest, mildest, and most nourishing care for our babies' skin. I was really excited to try it out on Twinkle, especially because bath time is one our favorite bonding time.
Twinkle is a certified water baby. She gets excited when I tell her it's bath time and she gets kilig when she sees the bath tub filled with water. I always give her time to play there and it seemed to relax her and make her happy.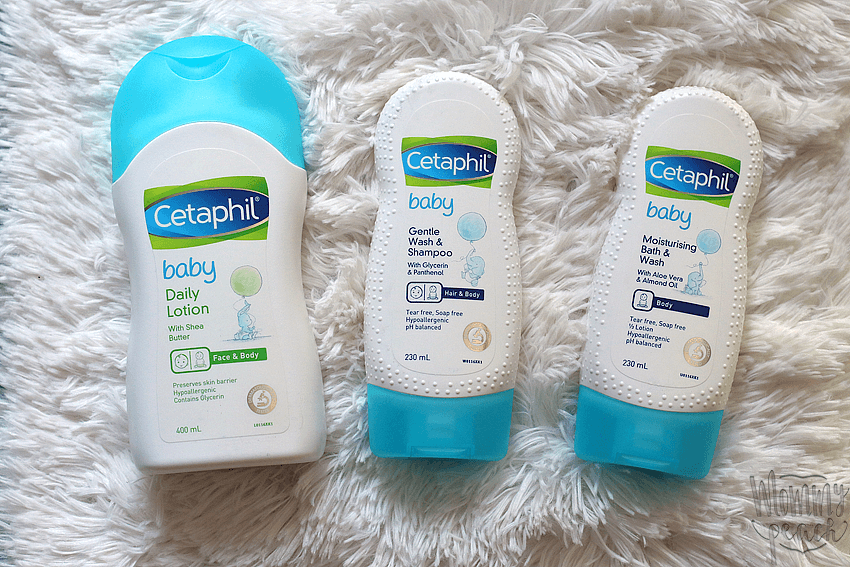 She's currently using Cetaphil Baby Gentle Wash & Shampoo, Cetaphil Baby Moisturizing Bath and Wash, and Cetaphil Baby Moisturizing Shampoo. And here's what I think about them.
Cetaphil Baby Gentle Wash & Shampoo
Cetaphil Baby Gentle Wash & Shampoo is enriched with glycerin and panthenol to help nourish our babies skin without drying it. It's tear free, soap free, hypoallergenic, and ph balanced. Gentle enough even for a new born's skin. It has a fresh and clean scent that's not overpowering and complements Twinkle's natural smell. I love that it doesn't have artificial color and comes in a non-spill container. You actually have to squeeze its container for it to come out. You can use these for both your baby's hair and body but I also love using Cetaphil Baby Moisturizing Bath and Wash for Twinkle.
Cetaphil Baby Moisturizing Bath and Wash
Cetaphil Baby Moisturizing Bath and Wash comes in the same non-spill squeeze container. It contains 1/3 moisturizer and soothing aloe vera to moisturize and cleanse the skin gently. Just like the gentle wash and shampoo, it's also tear free, soap free, hypoallergenic, and ph balanced. What I love about it is that it lathers richly and Twinkle's skin seemed to love it. I also love the fresh, clean, almost floral scent that makes Twinkle smelling so good after bath that I always end up kissing her non-stop until she falls asleep.
Cetaphil Baby Daily Lotion
Cetaphil Baby Daily Lotion is so gentle it can be used both for the face and body. It has shea butter and glycerin that keeps skin moisturized and supple. What I love about it is that it's not greasy and is easily absorbed by the skin. I tried it on myself and it feels so good so my skin. It didn't only moisturize my skin but it also softened it.
We love bath time now more than ever. It has become our bonding time where lots of laughter, giggles, and splish splashes of water is exchanged. I love massaging her skin with the moisturizing bath and wash and I know she loves it too. Cetaphil Baby has made bath time more fun simply because I don't have to worry about over washing her and drying her skin in the process.
Mommies (and daddies!), have you tried Cetaphil Baby line? How do you find it? What are your bath time rituals? Share it with me on the comment section. I would love to know what's your bath time bonding time with your little ones.