My one word for the year is BALANCE.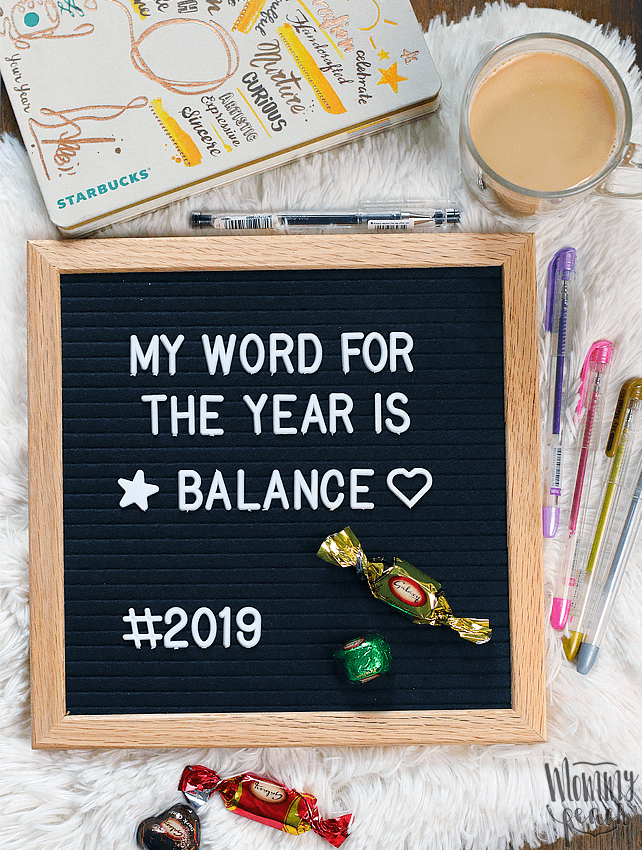 It was just a normal day and we were in the car going home from somewhere when it hit me. MY ONE WORD FOR THE YEAR WOULD BE BALANCE. Since I wasn't in the mood since Christmas, I didn't really think about having new year resolutions, #lifegoals, nor my one word. But that day, I had a sudden change of perspective.
So I decided I'd ring in the New Year a little late. Today, I decided to sit down with a cup of coffee and reflect on this past year. I came up with a list of goals and lifestyle changes I'd like to work on in 2019 with the word BALANCE to guide me all throughout.
The Merriam-Webster Dictionary defines Balance as..
mental and emotional steadiness
a means of judging or deciding
 stability produced by even distribution of weight on each side of the vertical axis
Balance is something I'm having a hard time achieving — throw in the natural demands of life — and I often find myself in either of the opposite side of the scale but never in the middle.
#TheBetterMeProject
Along with my One Word to guide me, I'm throwing in #TheBetterMeProject which is a 365 day project dedicated to taking care of myself and being mindful so I could become the better version of myself at the end of 2019.
So first thing's first. First in my list is of all the things I want to have balance is my health. I'm actually pretty happy with it because I was advised not to take one of my maintenance meds anymore.. so Yaaay! What I'm not happy about is the 25lbs I gained towards the end of the year because of nightly food trips with the fam. So I am back to working out and healthy eating until I lose all the weight I gained. Then I'm hoping I could all balance it out.
I want to be able to balance work and family. I know, I know … this is one of the hardest thing because I work at home and all the members of my family's at home too!
Get  hours of sleep. I only get 5-6 hours of sleep daily because I'm having a hard time sleeping. I hope I can squeeze in 8 hours of sleep from time to time.
I'll try out the popular LCIF. Low carb but not high fat ha… It'll be the death of me if I eat a high fat diet.
Achievement unlocked last December is that I finally edited my own video. It was liberating. And because of that I also want to do a lot of VLOGGING this year, aside from BLOGGING.
Cook healthier meals and Bake more…
Get Twinkle to eat more variety of food and Ykaie to not eat too much sweets.
I'd like to be able to give back more this year.. because of all the blessings I received the past years.
In 2019, I'd like to commit to living a more sustainable lifestyle. I'd also like to be more present. I hope joy, love, positivity, and creativity flow to me with ease in this upcoming year.
I know there are more of these where they came from, I just can't bring them all upfront at the moment.
Now I wanna hear yours. What are your new year's resolution? life goals? Are you gearing more on health, family, career? C'mon, we're in this thing together.
Cheers on a year that's full of love, adventure, and challenges. Bring it on 2019!