We had lots of art works at home when Ykaie was younger. She started drawing and painting our walls at the age of two… just splashes of colors. A doodle here and there…
… naku, pati plastic chairs ng nanay at tatay ko, hindi nakaligtas kay Ykaie! Hala, puro sulat….
And she really loves colors ha…. Imagine, pati nailpolish for kids ipininta sa kilay nya! Buti na nga lang at for kids at madali i-peel off.
Kidding aside, I've sensed Ykaie's love for colors, drawings, and anything arts and crafts while growing up. She loves to draw and basically create anything she can from trash. And I've supported her passion by encouraging her to do it and buying her the supplies she needs to be able to create whatever it is she is interested in creating.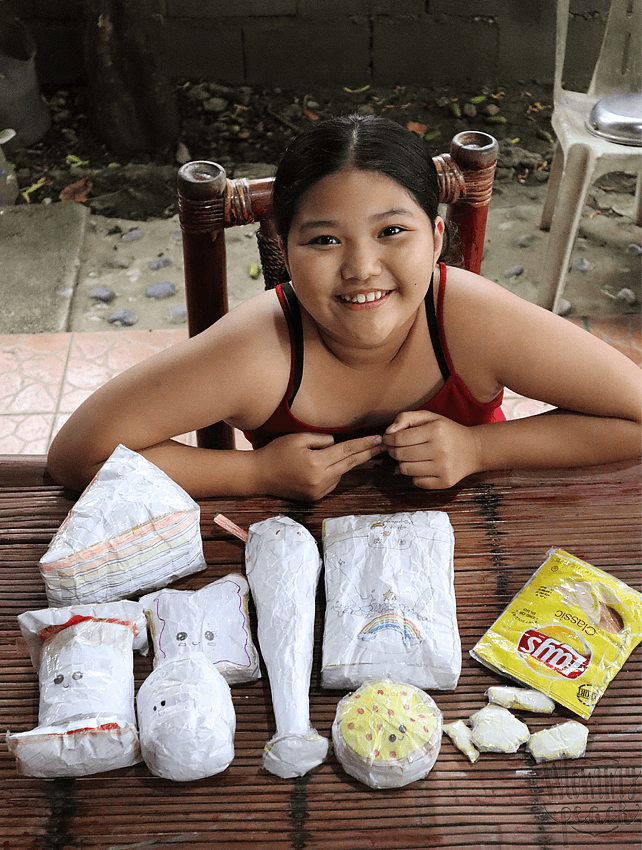 These days, she's into making homemade squishies using foam, paper, and plastic tapes…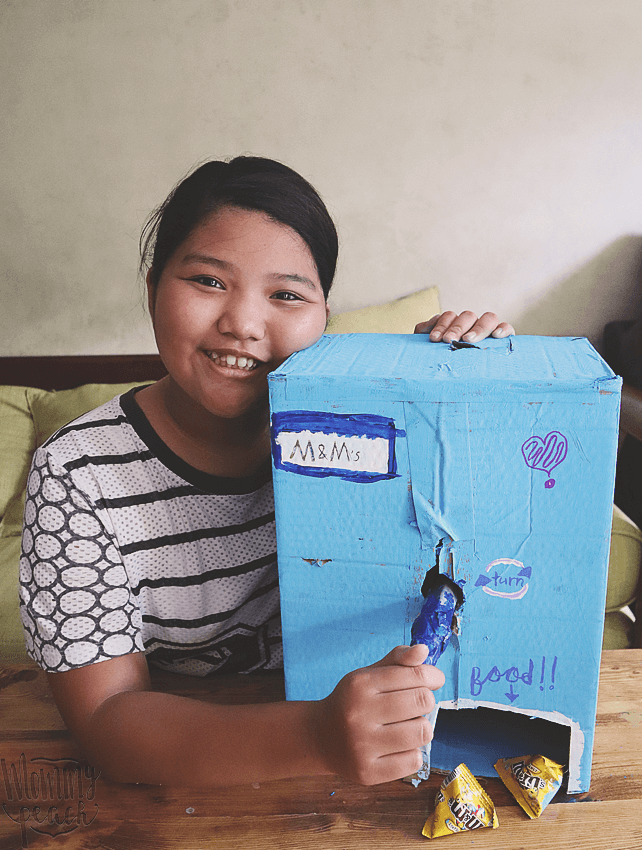 She also makes little "vending machines" from cardboard boxes and springs. Her latest vending machine is the one above dispensing triangle m&m's. Just turn the knob and you got yourself some candy.
And her newfound interest is painting with watercolors and calligraphy.
To continue encouraging her and nurturing her passion, She is joining the Art Camp of Promil iShine Four Talent camp 7 on May 2-7 at papemelroti in Quezon City. I know enrolling her into Promil Four I-Shine Talent Camp 7 will enrich her imagination and help her enhance creativity. It will also make her happy because it's something that she loves to do.
You might ask what is Promil 4 iShine Talent Camp 7 ?
Well, it's a summer talent development program in partnership with experts to help kids 6-11 years old become their very best.
As Promil Four stays true to its mission of nurturing the gift, the next generation of awe-inspiring kids will be guided to reach their full potential in the fields of performing and visual arts through mental, physical and social stimulation workshops.
How about you? Are you enrolling your kids to the Promil Four I-Shine Talent Camp 7? What camp will he/she be in? We hope to see you in the Art Camp!