We had a rainy first day in Taiwan and a stronger rain on our second day. What we had planned on our second day was go on a Hop On Hop Off tour on a Double Decker Bus which sis booked through Klook. Since it was raining, we bought a plastic rain coat for Twinkle and a few umbrellas to avoid being wet.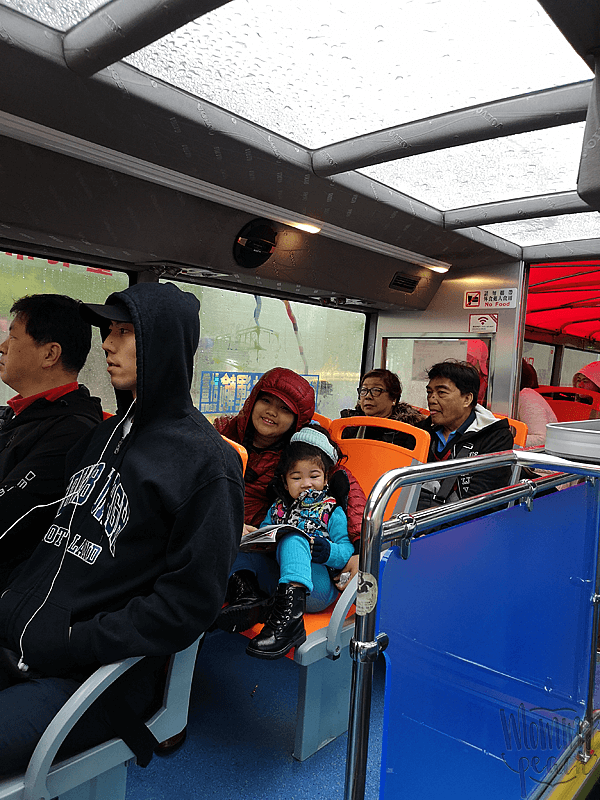 The bus is said to have 23 bus stops across two routes and you can get off on those places that you'd like to visit and take photos of like Taipei 101, National Palace Museum, Chiang Kai Shek Memorial Hall, Ximending and many more. Then you can wait for the next bus that would come along and get on again for the next stop.
Well, we weren't able to utilize this properly because we weren't able to get off on some of the popular spots because of the rain.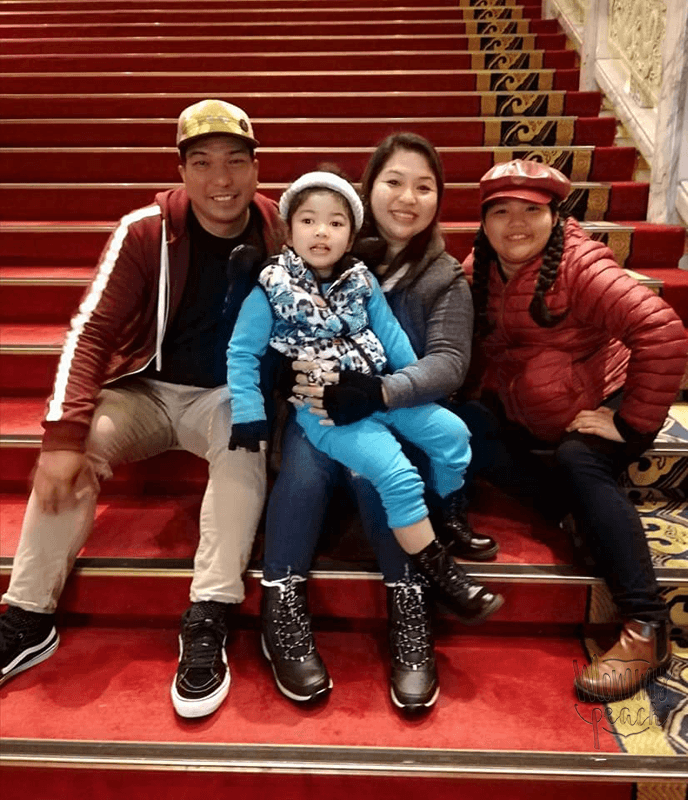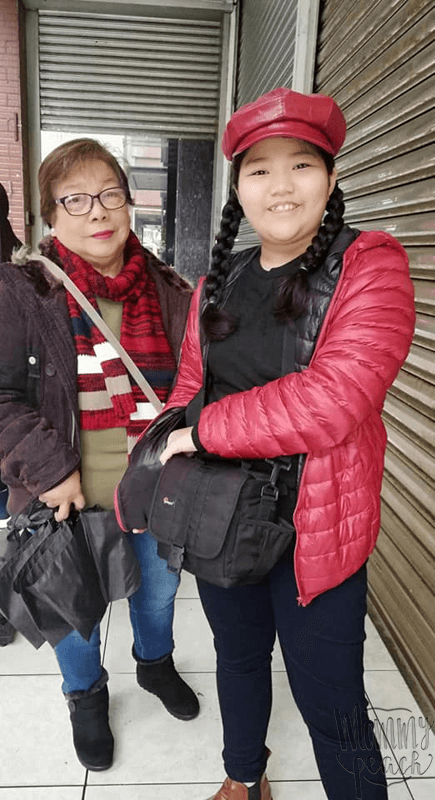 In the end, we decided not to go through all the spots and just go home.
We had lunch at the subway. I had their usual meal of Minced pork over noodles, steamed veggies, with white bittermelon clear soup on the side.
On the way home we passed by a few street food and this pick-you-own-sushi store. Each one is wrapped individually so you can customize your own box and pick your favorites. Each one costs NT$10.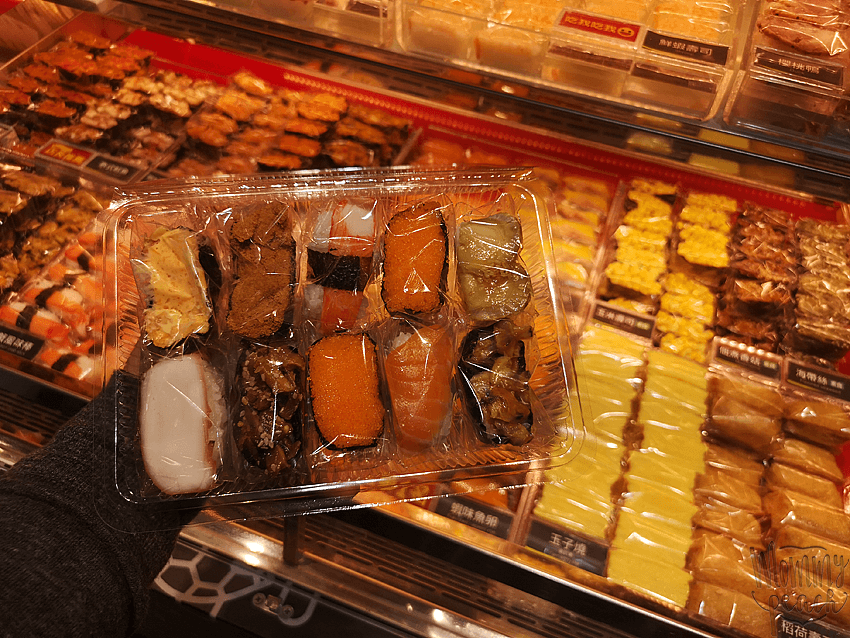 Sis bought these sliced pork ears and gizzard….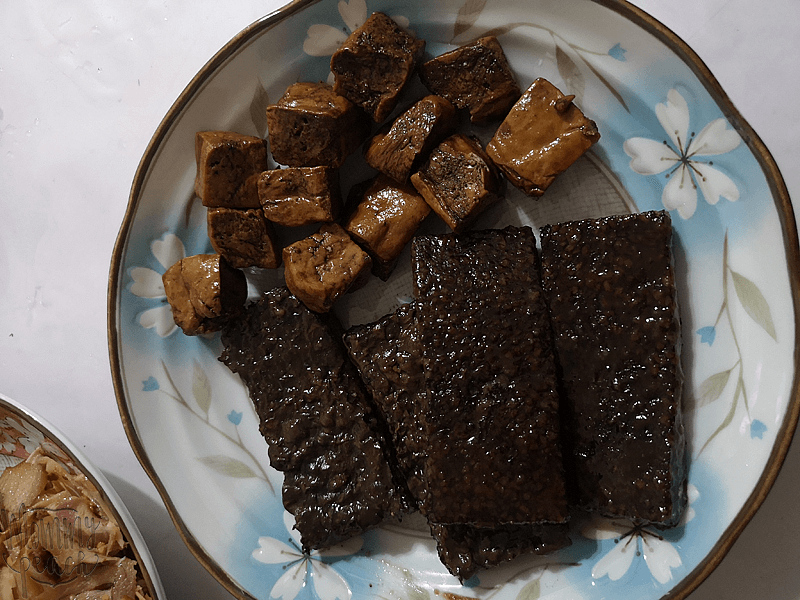 … pork blood and caramelized tofu…so we could also try them. We've been seeing a lot of these on the street.
Come night time, dinner was out on a nearby night market. Since it was a rainy night, very few stalls were open.
Two of the food we tried were these shellfish and grilled octopus. The shellfish meat was minced, seasoned, and mixed with butter and cheese then tucked back inside the shell and grilled.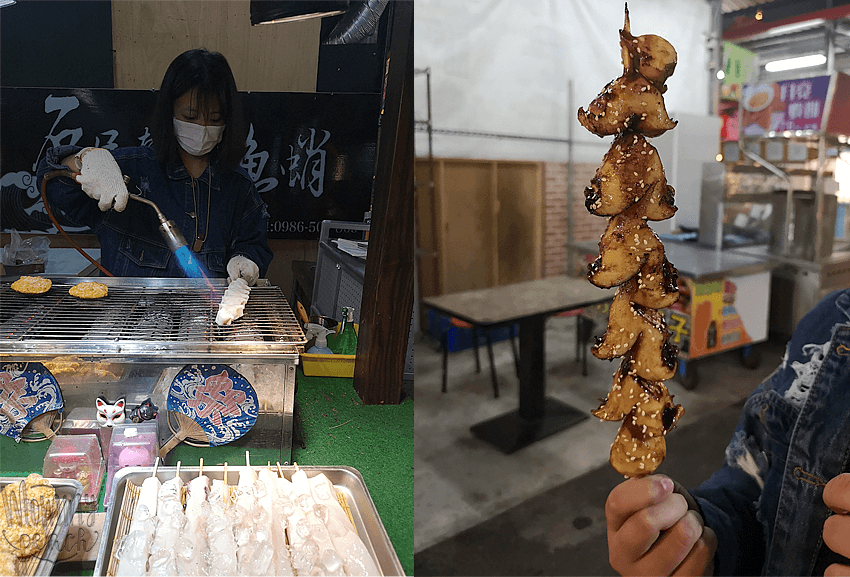 The octopus is grilled and brushed with a sauce then sprinkled with sesame seeds. We had fun sharing one stick…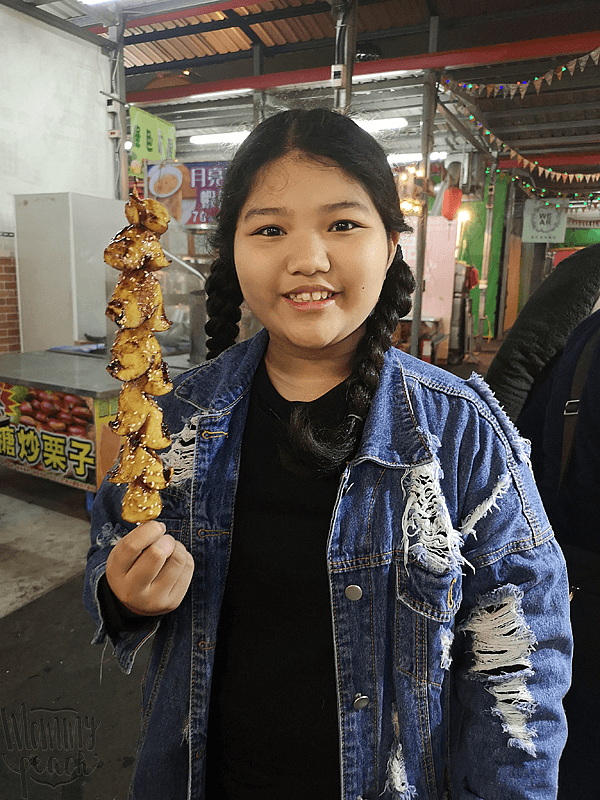 Well, one stick is enough for sharing.. Look at how big it was!
I also had Milk Tea #2 there. It's nice that put fresh milk instead of the usual powder creamer but still I wasn't satisfied with the taste.
So, walang nangyari sa second day kundi puro kain lang… Oh well, buti na lang mahilig talaga kami kumain and trying out something different or something new is always one of the best experiences for me.