As a new mom you want to be sure that you are doing the best for your baby, but there can be a lot of conflicting information out there. This is especially true when it comes to advice about co-sleeping. There are studies that say there is an increased risk of cot death if a baby co-sleeps with their parents, but there are other studies that say the opposite is true. If you are considering co-sleeping with your baby, then you may find the following tips useful as they will help to ensure your baby is safe.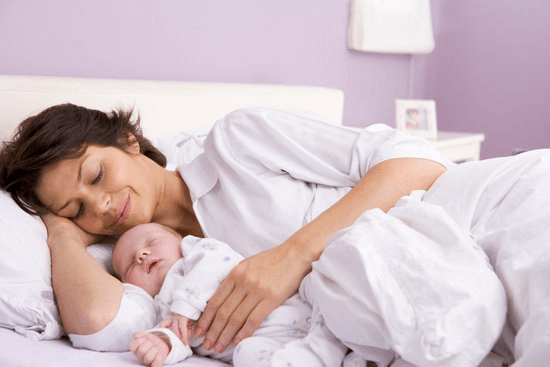 Make Sure The Baby Can't Fall Out
You will need to make sure there is no way that the baby can fall out of your bed if you are co-sleeping. You could place them between you and your partner or between you and the wall. If there is space between the wall and the bed, then this will need to be filled with blankets and towels, even if the gap is only small.
Do Not Co-Sleep If You Have Been Drinking Alcohol
If you have been drinking alcohol then you are less likely to wake up during the night, which means you could be unaware of any problem. This also applies if you have taken any drugs. If either of these apply to you then you should not bring your baby into bed with you.
Think About The Sleeping Patterns Of You And Your Partner
Before you choose a co-sleeping position you should think about the sleeping patterns of you and your partner. If your partner is a heavy sleeper then you may be better placing the baby between you and the wall. You will also need to consider where you are going to place the baby if you need to get up in the night.
Don't Co-Sleep On A Very Soft Bed
It is safer for babies to sleep on their backs when they are very young and a bed that is too soft makes it easier for them to roll onto their front. Any movement from you and your partner when the bed is too soft could cause the baby to roll and this could potentially be very dangerous. You should not co-sleep on a water bed under any circumstances.
Make Sure The Bed Is Large Enough
You need to ensure that your bed is big enough for you, your baby and anyone else that shares it. If it is too small then there is the risk of an adult rolling onto the baby while they are asleep. If your bed is too small then you may want to consider using a crib where the side can be removed and placing this right next to your bed. If you have older children that also co-sleep then you need to make sure that there is enough room for everyone.
Lack of sleep is one of the biggest challenges of being a new mom. There is no doubt that co-sleeping can increase the amount of sleep that both you and your baby get. However, the most important thing is to always make sure that your baby is safe and these tips will help you with this.