Visiting new places is one of the most enjoyable things about travelling. However, when that new place is a city all the way across the other side of the world like Singapore, it can help to do a little research beforehand. Happily, I've done the grunt work for you here, so all you need to do is check out the guide to Singapore I have written below. Your Welcome 😉
How do I get there?
Unless you are an outstanding swimmer and have a good 6 months free you will be getting to Singapore by plane. A Long haul flight to be precise, and you can expect to be onboard for at least 15-16 hours in total including a short stopover at a city airport in Europe such as Zurich or Frankfurt.
Of course, long haul flights tend to be two things, expensive and exhausting, so it's imperative you do your due diligence before you book and before you board. Before you book, you need to make sure that you are comparing the prices on flights that are available, something that you may be able to reduce if you book well ahead of your departure date. The reason being that flights tend to be most expensive at the time of the year where everyone is booking the holidays, so if you can get in before that you can often grab a bargain.
When it comes to preparing yourself to survive the flight itself, it's worth putting in a little extra effort too. For one you should dress in relaxed and comfortable clothing that you don't mind sleeping in, taking a chance of clothes in your carry on if you want to arrive at your accommodation looking smart.
Additionally, make sure that you have your glasses rather than contacts so you can take a nap, and some earplugs are a great idea to block out any noise or crying babies on the flight as well. You can even get self-heating lavender scented disposable eyes mask to use when travelling now, something that can help you create a calm and relaxed environment even if you can't afford to travel in first class.
How long should I go for?
Unless you find yourself in that part of the world already, Singapore isn't a place that you will be heading to for a short or weekend visit. After all, 15 hours on a plane means you will need a significant amount of time to rest and recuperate before you are ready to head out and enjoy what is on offer. To that end when visiting from the UK, a 7-10 day trip minimum is recommended, with 2-3 week often being the norm.
What should I pack?
There are a few things that you need to remember when packing your case for Singapore. One is that it is a city and therefore you are likely to be doing a fair bit of walking during your visit, so that means you need plenty of comfortable shoes that you don't mind stomping around in.
The second thing to remember is that the climate in Singapore is tropical. That means it is not only hot, but humid as well, and this can be something that people from the UK can struggle with. Luckily, you can make this a little easier on yourself why staying away from clothing items made from polyester, and other man-made fibres and packing instead loose linen clothing that wicks the moisture away from the skin and drys quickly in the heat.
It's also wise to pack an umbrella that can fit in your day bag as well because they do have a monsoon season from December to March, and if you do get caught out in it, such a device will undoubtedly come in handy.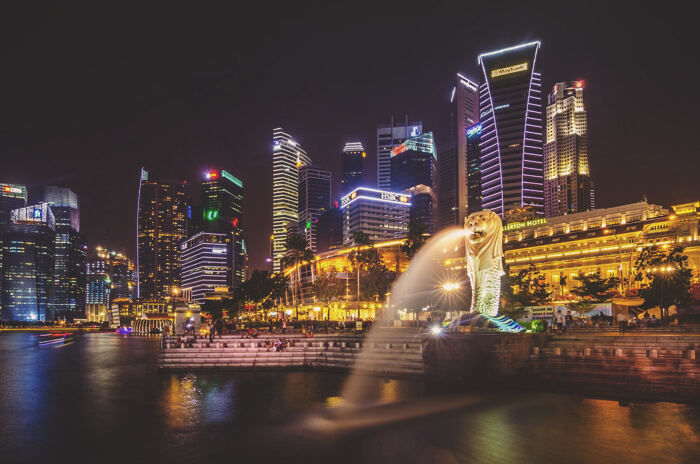 Where should I stay?
Just like any large and popular city the area a whole range of accommodation option open to visitors in Singapore. Of course, if money if no objects why not spoil yourself and stay in one of the high-end hotels like the Marina Bay Sands? In fact, this particular building has become iconic in Singapore, and the large infinity pool on the roof is a landmark to many tourists. Not least because of the fantastic vista of the city you can take in while having a swim.
Of course, top hotels aren't everyone's cup of tea, or in everyone's budget either, but that is no problem in Singapore because there are plenty of other options available. In particular, renting a room in one of the new city-wide HDB blocks like Zedge can be a good choice.
The reason being that you will find as they are often reasonably priced especially if you plan on an extended stay, while also giving you access to a swimming pool. You can even get more Zedge details you can access by clicking on the link. In fact, many of these blocks provide access to additional residential facilities that other Airbnb type places may not.  
Where should I visit?
Wow, deciding where to visit when in Singapore can be overwhelming because there's so much to see and do. In fact, to help you I have broken it down into a few different categories. The first is essential building and site which include the aforementioned Marina Bay Sands hotel, as well as the Solar Trees located close by. Then there is the famous Marlon situated in the bay which you can take a duck boat ride out to see. Something that is also a fantastic excuse to get a great view of the city from the water as well.
Of course, there are plenty of neighbourhoods and regions that are well worth a visit in Singapore too including Little India, Chinatown and even Orchard Road. A place where you will find the high-end shops and restaurants for when you want to treat yourself.
Lastly, if you are up for some serious fun than a visit to Universal Studios is a must, as there you can not only see live shows and meet your favourite film characters but also ride some pretty hair-raising roller coasters like Human vs Cylon too. Luckily, there are also plenty of tamer options for little ones as well, which make it a must visit location whether you are travelling to Singapore alone or with your family.