Everybody sweats. It's a normal body function that helps us regulate our body's temperature. We sweat when it's too hot or when we are working out. Sometimes we also sweat when we are nervous or excited. But there are people who sweat excessively even when they are doing nothing or even when they don't feel emotions that could trigger sweating. This condition is known as Hyperhidrosis, a common medical condition that affects a lot of people. I know because I am related  to four people who suffer from it. I don't want to name them because they might get embarrassed but let me share their stories.
To keep her hands dry, one of these people always keeps a hanky ready. For sweaty feet, they regularly buy foot powder and put it in their socks right before wearing it to keep their feet dry and to keep their shoes odor-free. At first, we thought it was just a normal condition — sweaty hands, sweaty feet, and sweaty underarms. There comes a point that this condition becomes too uncomfortable and embarrassing for them but the people who are suffering these condition rarely talks about them. They either think it's normal or they simply aren't aware that there's a solution.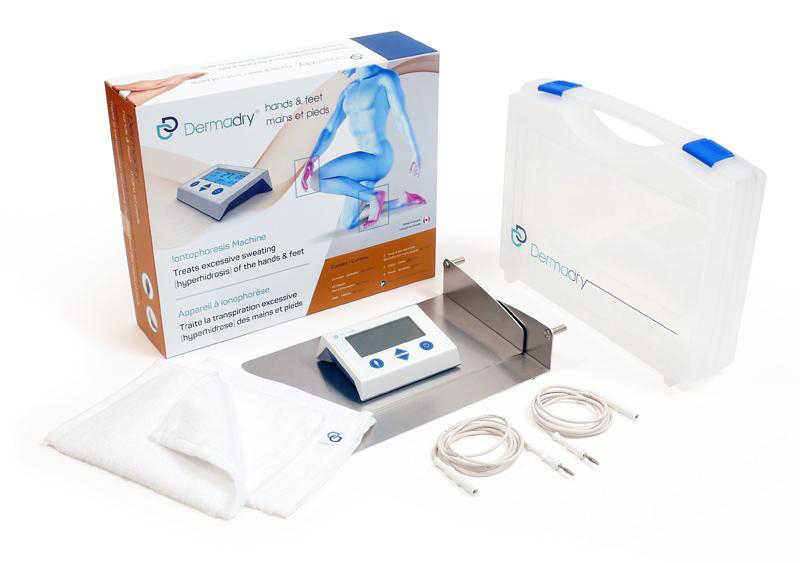 The solution is provided by Dermadry.
Dermadry is a home-use tap water iontophoresis machine. This technology works by directing a small current through the skin, effectively neutralizing the connection between the nerves and the sweat glands.
You Should Use Dermadry if:
You are constantly avoiding hand shakes because your hands are sweaty. Pens are flying when you're writing because your hand are slippery.
You are tired of sweaty stinky feet and wet shoes and socks! OR You are tired of hoarding foot powder!
You're tired of underarm sweat stains on your clothes — it's embarrassing and sometimes it can be smelly.
There are three DERMADRY devices and you can choose which one is right for you.
Hands and Feet – solely for the treatment of excessive sweating of hands and feet.
Underarms – used to treat excessive underarms sweating.
Total – This is the device for you if you suffer from Hyperhidrosis in your hands, feet, and underarms.
Why Use Dermadry?
Dermadry's iontophoresis machine is a non-invasive, drug-free, and needle-free treatment option that effectively treats excessive sweating.
Tap water iontophoresis is a 

safe and effective treatment

for both palmoplantar (hands and feet) hyperhidrosis and axillary (underarms) hyperhidrosis in the pediatric population, with minimal side effects.
Treatment sessions are 15-20 minutes only and devices ensures maximum comfort during treatment. Plus it can provide up to 6 weeks of dryness
Clinically proven Studies have shown iontophoresis success rates for treating excessive sweating  can reach 93%, 98.5% and even 100%.
No-hassle 60-day full refund satisfaction policy. If you are not satisfied, they will give you a full refund and they will even pay for return shipping.
If you want to see how this to use this device, check out this video…
For more details about Dermadry, you may visit:
You may also order online through their Facebook Page.