If you think that because I have a food blog and I love to eat, I spend most of my time in the kitchen. Well, that's where you're wrong. I actually spend more time with my family now more than ever (especially because peanutbutter♥ now works at home.)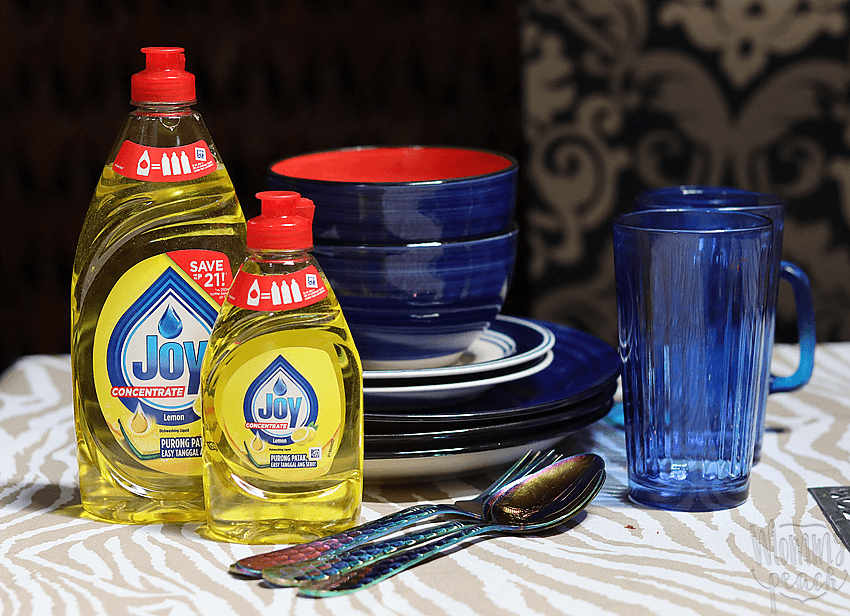 Yes we love to eat . Yes I love to cook for my family. Yes we love to cook as a family.  AND Hell YES I always end up with a sinkfull of dirty pots, pans, dishes, glasses, spoons, — everything. But when it comes to washing them, I never worry. I don't worry that there will be sebo or grease left after washing. I'm sure you know why — because we use Joy Dishwashing Liquid.
Let me tell you a short story which happened the last time I did the grocery. As usual, I bought a big bottle of Joy but I was wondering why the takip was red — it used to be white. I thought it must be on sale…LOL! You know how they put a red tag price on everything on sale at the supermarket, diba? It turns out it wasn't. We immediately used it on our plates after the next meal and washing the dishes was a breeze. Everything was rinsed off immediately — No sebo left at all.
It wasn't until when Joy sent us samples when I found out that we are already using the new Best Ever Joy! Kaya naman pala washing the dishes is now easier, better, and faster. Pati si Ykaie , who is assigned to wash the dishes after lunch , now washes faster….
Sa totoo lang, what makes Ykaie wash the dishes easier and faster makes me have #ZeroWorries already — LOL! Just kidding! Diba minsan ang hirap utusan ng mga anak maghugas ng pinggan?
Anyway, you might be wondering what makes me chillax and have zero worries kitchen days?
When it comes to cooking, I always make sure I have all the ingredients I need. I begin with a complete palengke and grocery list at the start of the week so I don't have to run back kapag may kulang na ingredient. Sa init ngayon, talaga namang ayaw mo na lumabas at gusto mo sa loob na lang ng bahay.
When it comes to cleaning, delegation is the key. May kanya-kanyang tokang gawain ang lahat ng miyembro ng pamilya. Basically,  I do the menu planning, grocery/palengke shopping, and cooking. peanutbutter

♥

does the cleaning — mga mopping ng floor and cleaning other areas of our small home. Ykaie washes the dishes at si Twinkle naman ang taga-kalat! LOL!
We also make sure we choose quality products for our home — especially when it comes to dishwashing liquid. For me, it's Best Ever Joy, especially because of its new formula that locks in grease better and prevents it from attaching again to dishes when rinsing plates, sponge, sink and hands. ZERO SEBO = ZERO WORRIES
If you don't believe me, try it out for yourself!! The new Best Ever Joy comes in a limited offer of only Php99 for the 495ml bottle. Joy is available at all supermarkets, grocery stores and convenience stores nationwide.