Most people see cleaning as exhausting instead of being therapeutic. I am one of those people.. LOL! I am not as domesticated as I wanted myself to be. I don't like cleaning the house… partly because it's physically tiring and time-consuming BUT I want my bathroom and floors to be immaculately clean….. Kasi naman diba, kadiri ang maduming bathroom at sahig?
And for cleaning the bathroom and mopping our floors, we use Pine-Sol. Our favorite is the Lavender Clean Scent because it's very relaxing!
Recently ko nga lang na-discover that Pine-Sol pala is a Multi-Surface cleaner (sorry na, di masyado nagbabasa). It means that you can use it not only in cleaning your bathrooms and mopping your floors but also in the kitchen — countertops, cabinets, appliances, and walls.
As a mom, nothing beats keeping my family from dirt and bad odor. Of course, that's what I also teach Ykaie since lumalaki na sya. She has to help out in cleaning. It makes it more enjoyable too!
And you know what else makes cleaning enjoyable? Listening to music and dancing  to a beat! Who would have thought that dancing to a beat while cleaning can make the most dreaded chore enjoyable?
Pine-Sol, the leading brand for household cleaning products, has started the Pine-Sol Dance Challenge. Its line of Multi-Surface Cleaners helps a lot in making cleaning and tidying up more enjoyable. It is effective in cutting through grease, grime, and dirt, while leaving your surfaces germ-free, smelling fresh and fragrant.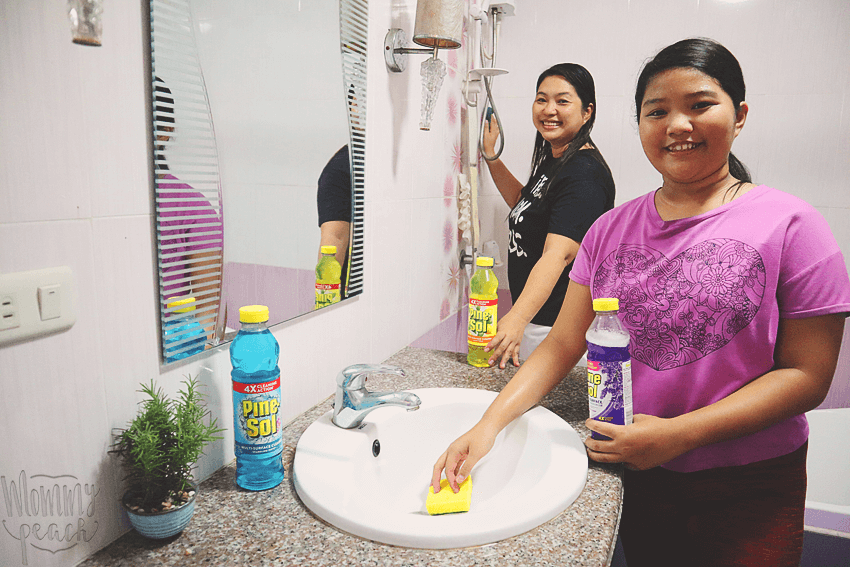 Pine-Sol Multi-Surface Cleaner can be used to clean hard nonporous surface of the house and workplace—from floor tiles, walls, stovetops, countertops, and glass.
To make your cleaning extra fun, join the PINE-SOL CLEANING DANCE CHALLENGE and get a chance to win exciting prizes! The Pine-Sol Cleaning Dance Challenge from the US is now in the Philippines and we want to see those awesome cleaning moves.
To submit your entry:
Go to Pine-Sol Dance Challenge page pinesol.com.ph/mycleanmoves/
Verify your e-mail and submit your entry on the website. Your Pine-Sol dance photo should showcase cleaning any part of your home with any Pine-Sol variant and is subject
Upload your entry on Facebook upon receiving validation and add the official contest hashtags #PineSol and #MyCleanMovesPH. Make sure your post is in public setting.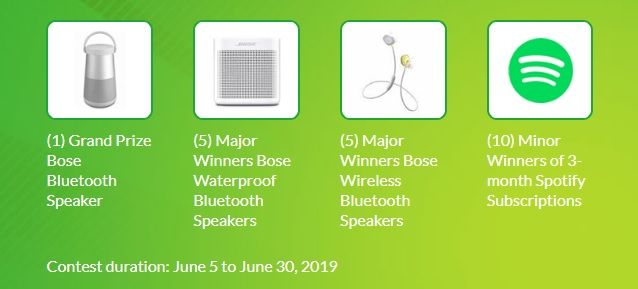 Exciting prizes await the winners; a BOSE Bluetooth Bucket Speaker, BOSE Waterproof Bluetooth Speakers, and BOSE Wireless Earphones. The 10 most liked and shared posts will also receive 3-month Spotify subscription each.
Contest runs from June 5 to 30, 2019 and winners will be announced on July 12, 2019. To know more about Pine-Sol, you can visit their official Facebook page https://www.facebook.com/PinesolPhilippines/. For the full mechanics of the Pine-Sol Dance Challenge, go to www.pinesol.com.ph/mycleanmoves/mechanics.html.
Pine-Sol is available in leading supermarkets and retailers nationwide. It comes in longer-lasting scents – Original Pine, Lavender Clean, Lemon Fresh, and Sparkling Wave.