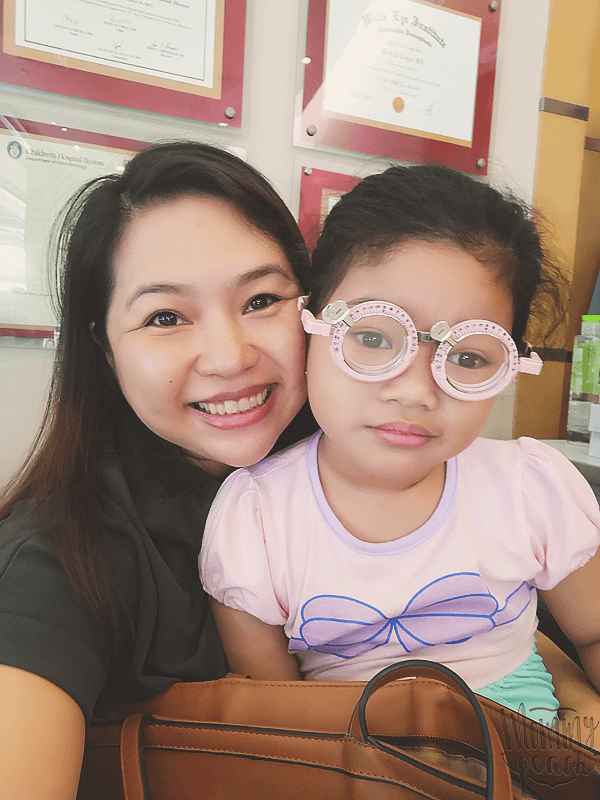 Yay! We were finally able to have Twinkle's eye checked two weeks ago. And one of the happiest moment of our lives is that we were finally able to give her a clearer vision.
To tell you honestly, we weren't aware that she has a blurred vision up until recently. When she was around two years old, we noticed that she has a misaligned eye. Her left eye is "banlag". We wanted to have it checked (and corrected, if kaya) but since she has delayed speech and is avoiding eye contact and conversation especially with strangers, we were also worried that she wouldn't respond to doctors. So we waited until she's ready.
Naghinala lang kami na malabo nga ang mata nya because sometimes she squints when watching tv or she goes near the tv.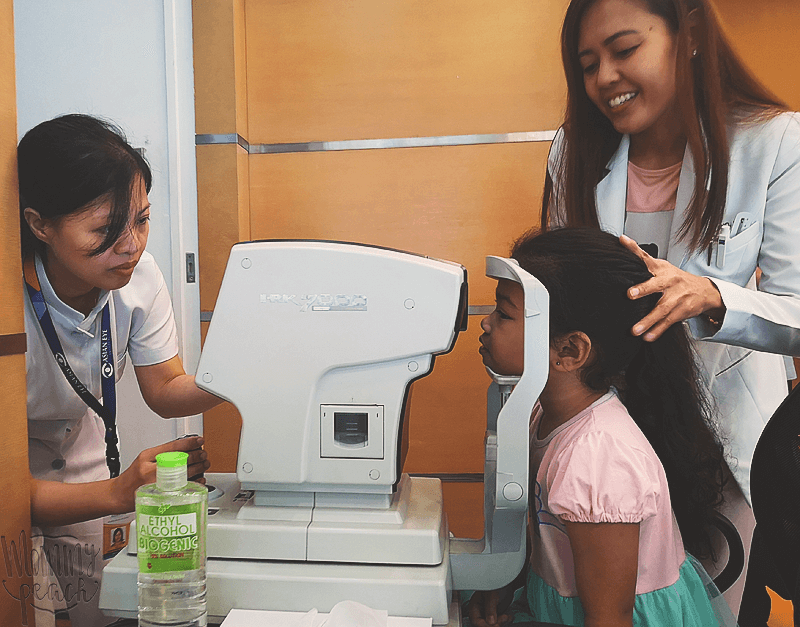 Finally last week, we were able to have her eyes checked at Asian Eye Trinoma. We went on a thursday but we found out that the Pediatrician Opthalmologist was scheduled on Fridays only at 10am -1pm. You can't schedule a consultation, it was on a first come, first serve basis. So what we did to be one of the firsts on the list is peanutbutter dropped by early in the morning. After nyang ihatid si Ykaie sa school ng 6:30am, gora na sya sa Trinoma at nagpalista. Akalain nyo, Number 2 pa kami! May nauna pang nakapagpalista — nag-jogging yata sya at nagdaan na dun … heehee.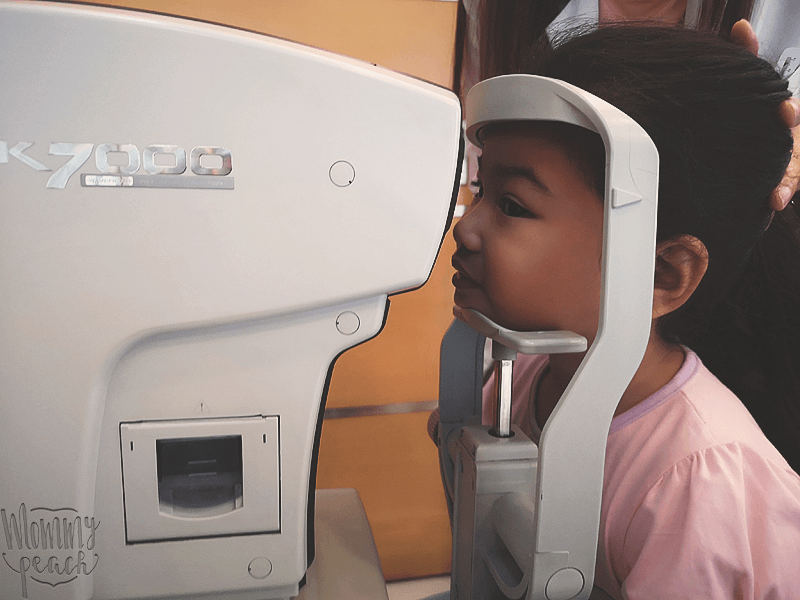 We were already there and waiting at 11am. The doctor wasn't there yet but there was an opthalmologist that did preliminary testing.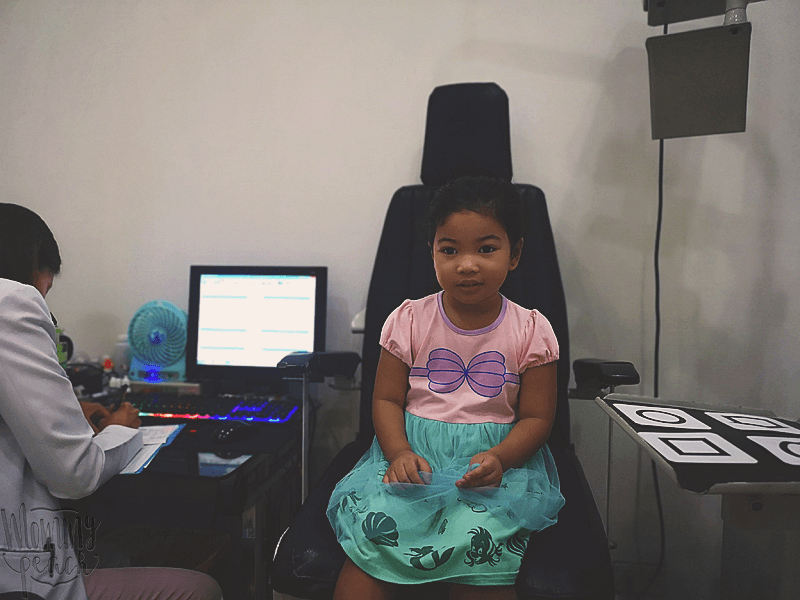 I can tell Twinkle's a bit nervous but she knows that this is for her eyes… so behave naman sya.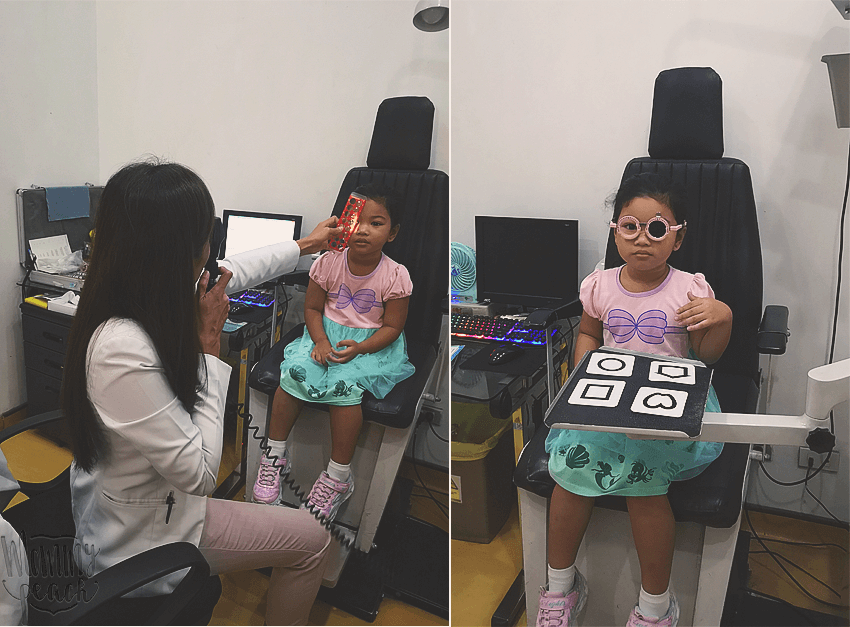 Her eyes were checked first and then she was tested using different kinds of shapes. May heart, square, triangle, and circle… Ti-nest if she can tell what shape is on the wall. May big shapes, may small shapes. Kapag small shapes na, she couldn't tell and she calls me… pero pag big shapes, ang bilis sumagot.
That means she can only see pag malalaki yung objects, pag small na at malayo, she can't.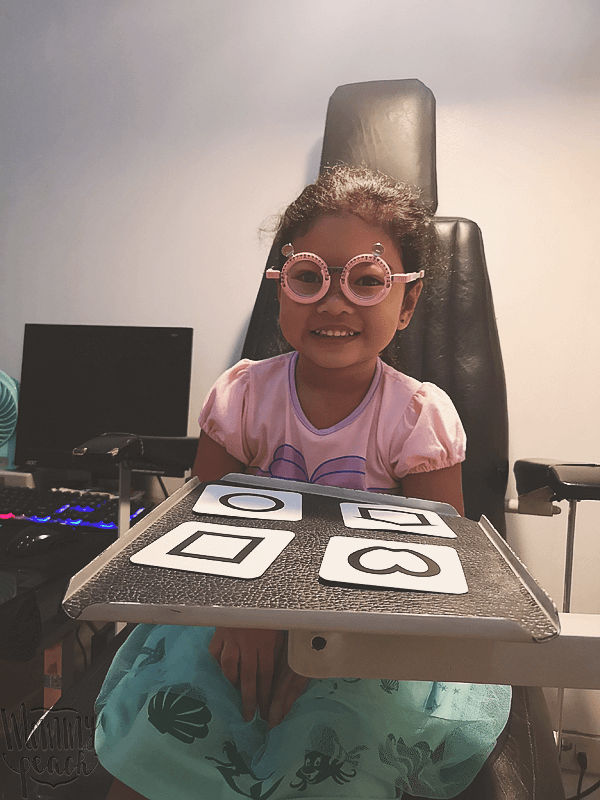 She was given these test glasses and hinayaan lang sya to walk around to see if she's comfortable. When the doctor arrived later, she was given eye drops and then tested again after 30 minutes.
The doctor prescribed glasses but he didn't guarantee the correction of her eyes. Sabi nya, maari daw or hindi na ma-correct yung banlag ni twinkle. It's a case to case basis but the vision definitely won't be corrected anymore since it's genetic. Syempre habang tumatanda daw ang tao lumalabo ang mata….
But the glasses, of course, will help her.
We let twinkle choose the frames and of course, we chose the lenses. There were two choices yung regular lenses and the more expensive one na lighter and mas impact resistant. Of course, we chose the more expensive lens. Ayoko naman na mag-complain si Twinkle na mabigat yung glasses nya and later ayaw na isuot. Since bata sya, it also helps na impact resistant. Alam nyo na, baka mahulog nya or malaglag while she's playing or running around. The glasses are also UV resistant and has screen protector from gadgets.
Hala, butas ang bulsa ni mommy. Here are my expenses:
Consultation Fee – ₱1,800
Eyedrops – ₱400
Frame & Lenses – ₱6,300
But it was so rewarding to know that Twinkle would be able to see clearly in a few days. We let her pick the frame for her glasses and picked it up after two business days.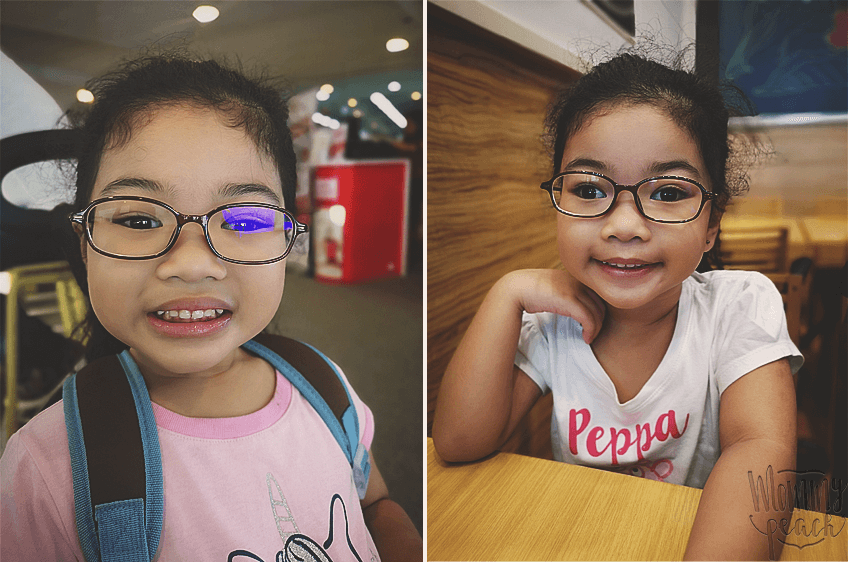 Grabe! Ang saya ni Twinkle and it was as if she is seeing Trinoma for the first time nung mag-mall kami … LOL! She was pointing at faraway objects and says "mommy, wook!"
Pero syempre mas masaya ako! Knowing she can now see clearly.
When she woke up the next day, her first words were "mommy, glattet"… Yun agad una nyang hinanap, which means she likes the feeling and experience of being able to see clearly.
In a span of a little over a week, I think having a clear vision also changed her behavior. She now wants to write more, color her coloring books, and play with physical toys. Unlike before when she didn't have glasses, she prefers to play with celfone games and watch you tube lang.
We'll be back at Asian Eye for consultation after two months. I'm crossing my fingers that the glasses help correct her misaligned eyes.