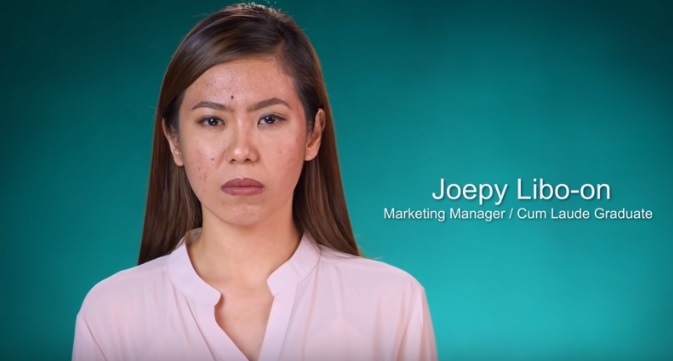 "Nakulam ka ba… Naagnas ka na" Joepy Libo-on, a cum laude graduate who is now working as a marketing manager, still remembers some of the most painful things people have told her. "Before n'ung sobrang lala talaga ng pimples ko, there was a time na sobrang bumaba ng self-esteem ko."
Personally, I wasn't able to experience having a lot of acne. I'd have a pimple here and there, sometimes, two or sometimes three. There were times when they were at the most visible part of my face — sa noo, sa gitna ng ilong, o kaya sa pisngi. Dun pa lang minsan nahihiya na ako dahil pinapansin na ng mga kakilala ko.
How much more if you have a lot of acne? I know how judgemental people can be and sometimes nagiging tampulan ka ng tukso. No matter how strong you are — it will hurt. And it will cause your Self -Confidence to plummet.
That's what happened with Joepy Libo-on. She started shying away from performing in theater and stopped going out with friends because of low esteem. But even with low self -esteem, she didn't stop fighting. She continued to look for a solution to her acne problem. That's when she found Maxi-Peel and is now starting a 60-Day journey.
She is envisioning two things after this journey. First is for herself — she wants to end this battle against acne. Second is she wants to inspire other women, not just women but those people that have their own acne battles din.
"Wag sana nila masyadong sukuan ung process and finding the right product for them. Matagal talaga siya pero one day makakahanap sila ng product for them. I want to inspire them na aside from the judgment people give them, maging strong sila and they can stick with that and achieve ung goals nila against acne."
This is what I admired about Joepy. Her "Wag Mong Isuko Ang Laban" attitude which I know will help her reach her goal and gain her self-confidence back.

I am happy that Maxi-Peel is aiming to open up our eyes and minds to the truth behind acne through the journey of real stories of real people like Joepy.
That removing pimples is not just about being beautiful, or achieving smoother skin, or to gain more followers, those are just the aesthetic effects. The real purpose of the brand is to help Filipinos treat and cure an actual skin condition, boost their self-confidence, revive their self-belief, and empower them to have a fighting chance against prejudice and discrimination.
This fight isn't just about the face, this fight is about facing challenges head on, and acknowledging that it's only just a phase. Never quitting, never stopping.
At katulad ni Joepy Libo-on, hindi rin sumuko ang tatlong ito sa kanilang mga pagsubok na pinagdaanan.
Last week, I asked my followers over at Mommy Peach Facebook Page about their own battles and how they overcame it. Three journeys of three strong women stood out to Maxi-Peel.
We salute you for not giving up:
Maria Catherine Matugas
Shary Alberts
Lynmar Estebal
(Please PM me your delivery address, We will be sending Maxi-Peel Gift Packs.)
To everyone who shared their stories, hugs to all of you and thank you. You are all inspiring!
Let's follow Joepy Libo-on's 60 Day Maxi-Peel Journey. Update ko kayo with her latest photo in a few days
To all Filipino women out there who have lost their confidence, hope is not lost. You can get past this, in your fight against acne and all its inherent negativity, "Wag Mong Isuko Ang Laban".