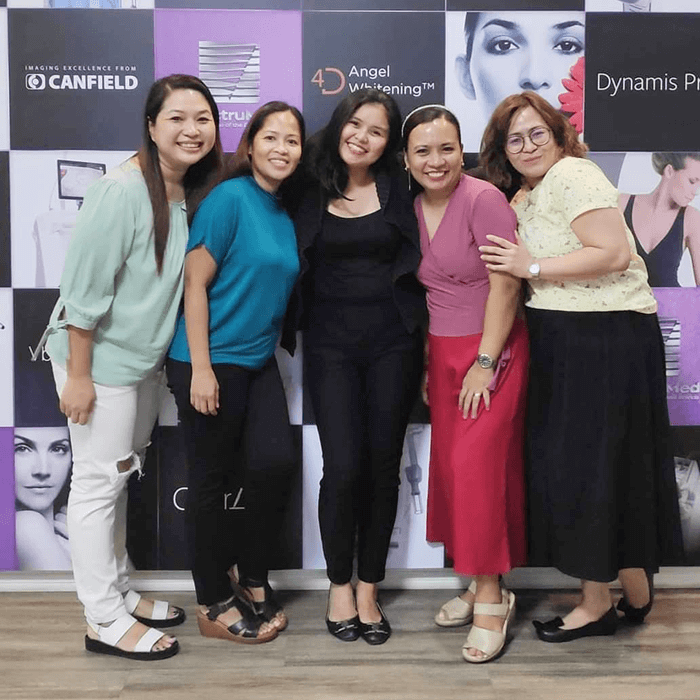 A few weeks ago, I was invited to have a talk about feminine wellness at the Spectrumed Inc. office. You know me, I'm pretty shy about talks like this and this time about feminine wellness pa! Good thing I was with my kumares #KumareBloggers so I am pretty much calm about it.. LOL! I was excited pa nga because I am with my favorite people..
Feminine health is very important but nobody talks about it before because nobody is comfortable talking about it. But with Pinays being liberated and more empowered these days, we are now concerned on how we can be healthy down there.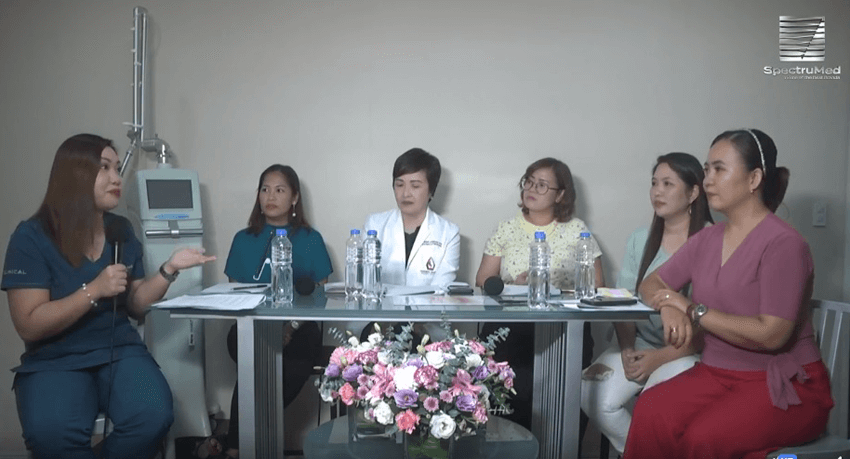 Our talk was an FB Live talk about feminine wellness with Dr. Catherine Howard, an OB-GYN at Cardinal Santos Medical Center. (Here is the link, if you haven't seen it yet https://www.facebook.com/spectrumedinc/videos/1150050358519316 )
What I used to think about having a healthy vagina is that as long as it doesn't hurt, it doesn't itch, it doesn't have a discharge with unusual odor or color, it's healthy. Here's what I learned after the talk.
Illness such as Diabetes or if you're taking antibiotics, sudden weightloss or weight gain,  can affect vaginal health.
To keep your vaginal health, use plain water to wash your feminine area.
Use of contraceptives affects hormones and may cause the vagina to be dry and then later may cause discomfort.
Aging and giving birth may bring about SUI or Stress Urinary Incontinence.
Stress Urinary Incontinence (SUI) occurs when an activity such as coughing, sneezing, or exercising causes a small amount of urine to leak from the urethra. It is one of the problems experienced by women.
But there is a solution called FEMILIFT.
What is Femilift?
Feminine comfort and satisfaction should be a priority for all women. It's time to restore feminine health. You can do this with the help of FemiLift. FemiLift from Alma Lasers is the revolutionary solution for various feminine issues like vaginal laxity and dryness, Stress Urinary Incontinence (SUI), recurring infections, and more. This non-invasive treatment can restore feminine health without pain and downtime.
It uses CO2 laser technology to rejuvenate and restore feminine health. The treatment causes a deep thermal effect that helps with vaginal tissue remodeling. FemiLift is completely safe, virtually painless, and has no downtime. Above is the photo of the machine they use for this treatment.
What are the Benefits of Femilift?
IMPROVES INTIMATE PLEASURE
One of the many reasons for decreased intimate pleasure is vaginal dryness. When the vagina isn't lubricated enough, a woman may feel pain during intimate moments. Some women even experience tearing along the vaginal area due to dryness.
FemiLift improves lubrication by stimulating healthy tissue production. This reduces the dryness and increases the sensitivity of the vaginal area. The results can help improve your intimate experience with your partner.
STRENGTHENS PELVIC MUSCLES
After a FemiLift treatment, you no longer need to worry about wetting yourself when you laugh, sneeze, cough, or exercise. FemiLift restores the strength of your pelvic muscles so you won't involuntarily release urine when pressure is applied to your abdominal area.
Involuntary leakage can be linked to childbirth or the natural aging process of the body. These stages in life can affect the strength of your pelvic muscles, causing the lack of bladder control. With FemiLift, you can restore the strength to pelvic muscles for better control.
HELPS WITH POST-DELIVERY ISSUES
After childbirth, some women feel unhappy about their bodies. Their hormones can make them feel this way. Though there may be other reasons for unhappiness after childbirth, worries about feminine health can be somewhat relieved with FemiLift.
Treatment using FemiLift helps tighten the intimate area and lessens the feeling of looseness that some women feel after childbirth. As it reduces laxity, the treatment helps restore the youthfulness of the feminine area, so you feel confident and sexy again.
RESTORES YOUR CONFIDENCE
Some people worry about the involuntary release of urine. So much so that they avoid people fearing they will end up embarrassing themselves. This results in a loss of confidence. FemiLift helps improve pelvic muscle strength through a deep thermal effect.
The treatment is also suitable for women who have an active sex life. It can be used to treat dryness, laxity, and recurring infections for healthier feminine life. When you are no longer conscious of feminine issues, everyday activities can become enjoyable once again.
So if you're gonna ask me if I'm open to try Femilift, my answer is YES!. I will consult my OB-GYN first but I'm open to doing it.
After our talk, Spectrumed Inc treated us to a hydrafacial and other facial treatments. Alam nyo naman ako, bihira naman ako magpa-facial so this  was really relaxing and  rejuvenating for me.
It was such an enjoyable experience! Thank you Spectrumed Inc.!
To check where you can avail these treatments, visit SpectruMed FB page /www.facebook.com/spectrumedinc