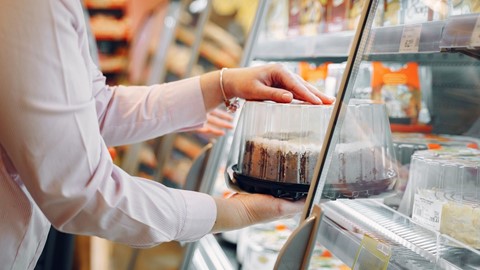 You can always count on cakes to make anything better! Whether it's for a birthday party, for a gathering with friends, or just as a little treat after a long day of work, cakes are sweet little additions that are guaranteed to put a smile on your face.
While it's not the best idea to have cakes every single day with every meal, it's nice to be able to treat ourselves to something sweet occasionally. Which brings us to the next question, which is what cake should we choose? There are so many types of cakes and a wide variety of flavors available so choosing just one can be tough, especially when everything looks so good.
If you still can't make up your mind, then look no further than Red Ribbon cakes because if there's one thing Red Ribbon Bakeshop knows, it's cakes! The bakeshop has been baking mouth-watering cakes and pastries for Filipinos for over 40 years and they're still dedicated to baking treats that will surely satisfy your sweet cravings.
Red Ribbon cakes come in all shapes and sizes and of course, a range of delicious flavors so you'll always find one that suits the occasion and your tastebuds. Keep scrolling to get a peek at the best-sellers from Red Ribbon to get some inspiration for your next order.
1. Ube Bloom Cake
It doesn't get any more Filipino than ube. It's widely loved locally which is why the Ube Bloom Cake is one of Red Ribbon's best-selling cakes. The base of the cake is an ube chiffon which is soft and moist and made with real ube halaya so it's guaranteed to have the pure ube essence. The chiffon is then coated with creamy white frosting and partially covered on the side with ube crumbles to add more ube goodness. The round cake is topped with an ube glaze and a flower decoration.
2. Black Forest Cake
The classic flavor of a Black Forest cake is so memorable, you can probably already taste it when the term 'Black Forest' is mentioned. There's no denying that Red Ribbon's Black Forest Cake is just as memorable as the flavor itself which is why it's another one of the bakeshop's best sellers. The round cake has layers of decadent and moist chocolate fudge cake with alternating layers of fluffy cream and a delectable filling of chocolate and cherry. If that wasn't enough, to top it all off, the cake is then coated with more cream, more chocolate, and more cherries.
3. Rainbow Dedication Cake
Here's one for the kids! With a medley of colorful cakes and a sweet chocolate filling, this will surely put a smile on the faces of every child at a birthday party. The square cake looks like your average chocolate but cut into it and you'll see layers of bright colors, sure to amaze everyone, both kids and adults alike. The cake layers are chocolate-flavored with alternating chocolate filling. The cake is topped with chocolate frosting and decorated with chocolate rosettes, colorful sugar confetti, and lollipops. This cake comes in three sizes: junior, regular, and large so you can always get one with enough serving to feed every single mouth at the party. Like other dedication cakes from Red Ribbon, you can get a personalized message written on the cake to add a little more sweetness.
4. Triple Chocolate Roll Cake
Calling all chocolate lovers! Here's the cake to satisfy all those chocolate cravings. This roll cake consists of a moist, chocolate chiffon and a fudgy, chocolate filling. It's also topped with a layer of rich chocolate icing and toppings that a made with, guess what? More chocolate! It's decadent, moist, and filled to the sides with chocolate so you'll get a burst of chocolatey goodness in every bite.
5. Butter Mamon
Whether it's a treat after lunch or a quick option for breakfast, a mamon is a delightful little snack that's perfect at any time of the day and I'm sure that most Filipinos would agree. The butter mamon from Red Ribbon is one of the bakeshop's best sellers and there's no wonder why. Their butter mamon has the perfect blend of fluffy white chiffon and pure, 100% butter that just delicately melts in your mouth the moment you take a bite. The mamons from Red Ribbon are also individually packed so it's ideal for lunch boxes and makes a great, grab-and-go snack for those rushed mornings.
Regardless of your choice, Red Ribbon has got your covered with the cakes and don't forget to check out iPrice's listing for Red Ribbon cakes for more deals and great savings on these delectable desserts.