Doing the laundry is a life skill that everyone should have, but do you ever feel like your clothes aren't as clean as when Nanay washes them? You might think that it's enough to just get a washer-dryer and let it do all the job, but you can accidentally ruin your favorite shirt or shrink your jeans if you don't know how to do laundry properly.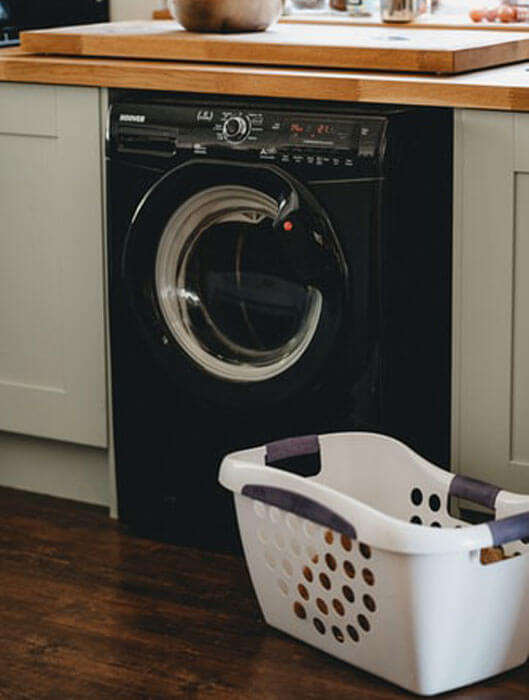 Washing your clothes is about more than just keeping them clean. Laundering also takes proper care of your clothes, so that they can look presentable and be usable for longer. There are many instructions for dealing with different fabrics and stains that you can check if you have a particular concern, but for everything else, Nanay's laundry advice is timeless.
Treat Stains as Soon You Find Them
Ever notice how Nanay always has to bring a big bag wherever she goes? It's so that she is ready for anything, including treating stains. Laundry pens and stain sticks are good to bring around in your bag for emergency spills because they can treat the fabric stains immediately. After all, the longer the stain is on a fabric, the harder it becomes to remove.
If you didn't notice the stain until just before doing the laundry, make sure to pre-treat it first before putting it into the wash.
Care for Your Delicates Properly
Hand washing is best, or at least it is for delicate items like bras, bathing suits, tights, and sweaters. These types of clothes are often made of materials that can be easily stretched and torn, so it's best to gently wash them by hand instead of the machine. You should also hand wash any items that have special embellishments like lace, beadwork, and embroidery to preserve their designs.
Some washers do have a hand wash setting you can use instead, so it is also a good idea to buy washing machine on sale that offers this very useful feature. Place the garments in a laundry net bag for more protection, making sure not to overfill the bag. Do not put the wet laundry into the dryer, though. Delicate items are best allowed to air dry.
Always Check Pockets
Besides finding the 20-peso bill that you forgot about, checking all pockets before washing protects your clothes as well as the machine. Tissue and paper add lint and can cause small stains if they are colored. Coins and keys can scratch the surface of the washing chamber or potentially cause damage to the machinery if they get stuck in a crevice. You also don't want to accidentally include pens, candies, and lipstick in your laundry load as these can ruin your clothes.
If you hear an unusual noise while the machine is running, stop the cycle and inspect the load for items that you may have missed. If the sound continues, it's a good idea to have your machine checked by a qualified technician before the problem worsens.
Don't Use Too Much Detergent
You must have thought that Nanay was just being thrifty, but she really is always right. Adding more detergent than you need is actually counterproductive for washing dirty clothes. The excess suds can trap the dirt and cause it to re-adhere to the fabric. Too much detergent is also difficult to rinse out from clothes and may require more water to flush out. If the soap is not properly removed, the leftover traces can make your clothes feel stiff and smell bad.
Putting too much soap can also damage your laundry machine in the long run, so make sure to always use the recommended amount or just enough to clean your clothes.
Using Fabric Conditioner Reduces Wrinkles
Wrinkled clothes look untidy even if they are clean. But if you don't have the time to iron clothes, consider adding fabric conditioner to your laundry. Aside from making your clothes feel softer and smell better, it coats the fabric with a light layer of conditioner, thus making the cloth smoother and more resistant to wrinkles.
Drying in the Sun Helps to Whiten Fabrics
Nanay may have kept some bleach to deal with tough stains, but her favorite method for whitening fabrics was to simply put them in the sun. Sun-drying takes advantage of natural UV light to kill bacteria and brighten the look of white fabrics, plus it doesn't require any chemicals. Do make sure that you wash white garments separately from colored ones to prevent them from looking dull or yellowish.
Not All Clothes Need to Be Washed Right Away
Anything that has been covered in sweat should go straight to laundry, but if your clothes were only worn briefly and aren't that dirty, it may be a good idea to wear them again before tossing them into the hamper. Reducing the laundry frequency of these garments can help preserve the fabric for longer. Reuse your shirts on a different day or wear them at home. Bras last longer when they aren't washed often, and the dark wash on jeans can be maintained for many years if you only wash them when they get really dirty.
If you're worried about smelling funny, putting clothes in the freezer for a few hours is a great way to refresh the garments. This should also remove any odors.
Though she may not have been aware of it, a lot of Nanay's laundry wisdom seems to be backed by science. Following these Nanay-approved tips makes doing laundry a little easier, and can help prolong the lifespan of your clothing.