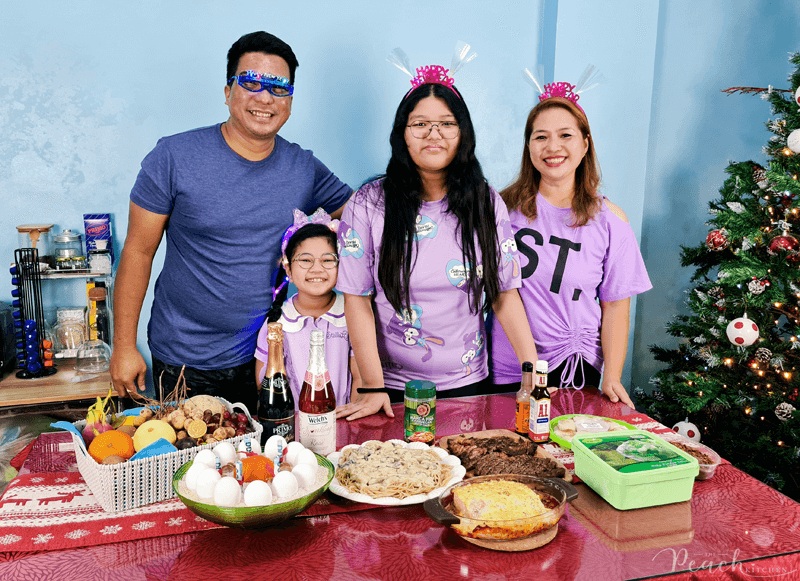 Happy New Year! I hope you guys had a great start of the year. It's 10 days into the new year and I'm just now writing my new year post. We were one of those who had a bad start of the year because of the "flu" which turned out to be Covid 19. I was planning to blog about our New Year celebration on January 2 but that's when my symptoms started — I had fever, sore throat, coughs, and colds. Come January 3, sumunod na rin si Daddydoodledoo. We're thankful that the kids didn't have it.
So up until now, nagpapagaling pa rin kami by drinking lots of water, eating healthy, getting some sunlight, and distancing ourselves from the kids as much as possible. We are also wearing masks at home para hindi namin mahawa si Ykaie at Twinkle.
…..At dahil Very Peri daw ang Pantone Color of the Year — ayan naka- Purple kami nung Dec 31!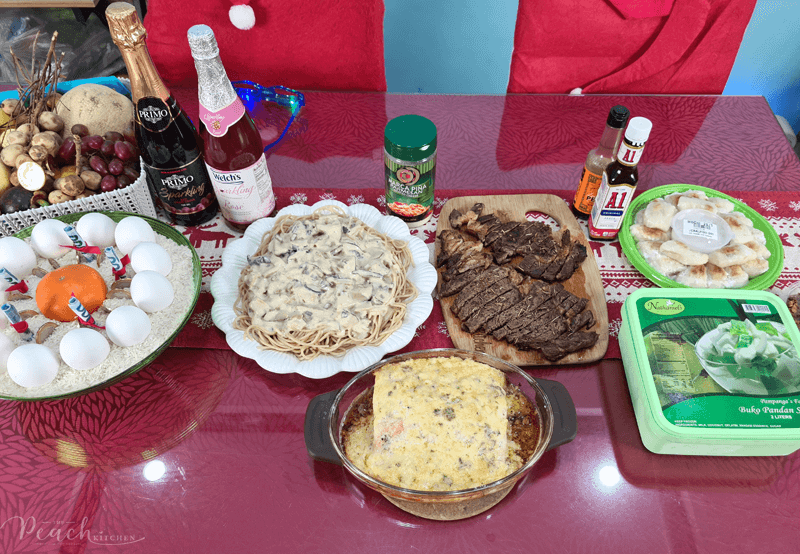 To celebrate the incoming 2022, I prepared a small feast of Truffle Mushroom pasta, Steak, and Cheesy Baked Salmon. Desserts were bought from Nathaniel's — we had Buko pandan, Mochi, and Ube Halaya. Syempre hindi naman mawawala sa table and Prosperity Bowl at Fruit Basket to  bring luck in the incoming year.
Unlike last year na wala talagang nagtitinda ng lusis, this year nakahanap naman kami. Pero syempre hindi naman kami bumili ng marami. We had sparklers, lusis, and one fountain.. yes, isang fountain lang. Naki-nood na lang kami sa neighbors the rest of the night.
Ayan, kami lang ni ChocNut ang may picture because medyo stressed si Coffee and Onyx.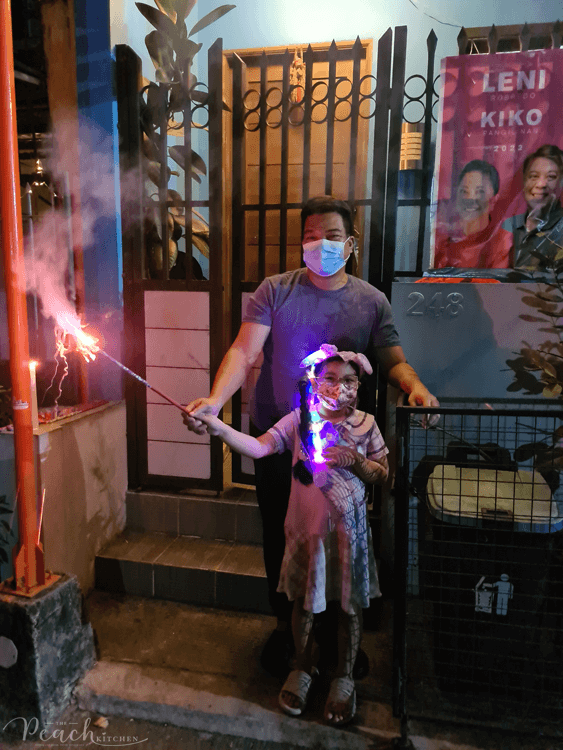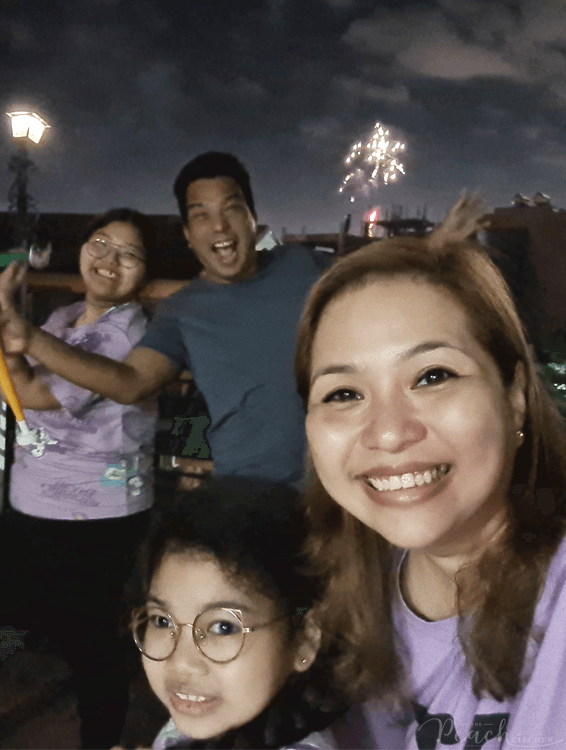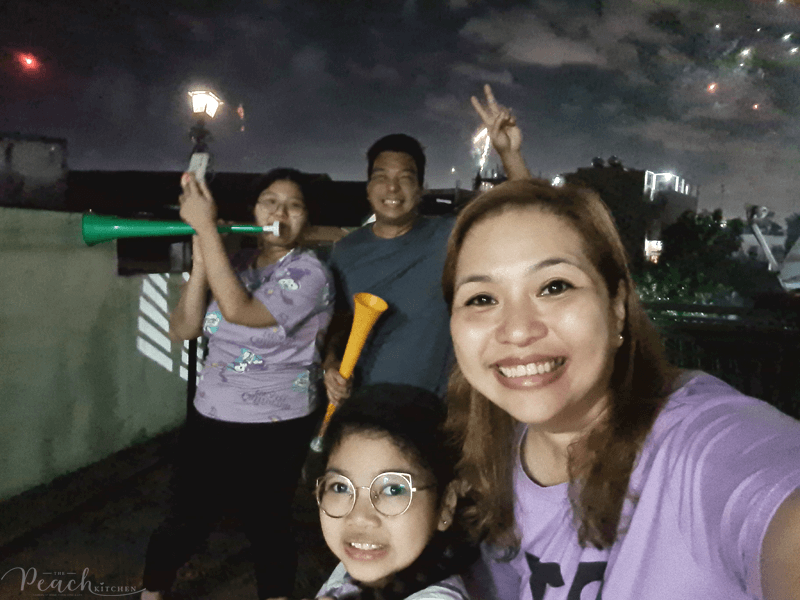 15 minutes before midnight, umakyat na kami sa rooftop to watch the fireworks and blow on our trumpets and greet the world a Happy New Year!
The start of the year has been a real downer because Covid is still here and we got Covid. I am actually so down that I don't want to list down life goals. Pero naisip ko kung hindi ako maglilista ng life goals for this year, lalo lang akong mawawalan ng motivation. Sabi nga nila "life without goals is like a race with no finish line; you're just running to nowhere". I don't want to run to nowhere and waste my 2022. I'm still hoping for this year to be the best year of my life.
So here they are..
My 2022 #LIFEGOALS
Have an active lifestyle. Exercise for at least 30 minutes a day. Would you believe I started exercising mga December 26? I started again because I felt the need to really prioritize my health.
Commit to healthier eating for the whole family – healthier both for body and soul. Aim for balance.
Meditation and positive affirmations every morning.
#HOUSEGOALS : Declutter (pa rin!) There are so many things to throw away to make room for new things and to have positive energy flowing.
#HOUSEGOALS : New sofa and a large plant. New dining set or new chairs for our dining table.
#HOUSEGOALS: Fix Ykaie's bedroom and our bedroom
#BLOGGINGGOALS: 3-4 blogs per week. 3-4 VLOGS per week
#FAMILYGOALS: More travel time for our family.
I pray that joy, love, positivity, and peace flow to everyone with ease this 2022. I wish good health and a bountiful year for everyone.
How about you? What are you praying for this year? What are your goals and resolutions?