In the Philippines, where most households experience a warm tropical climate all year round, having comfortable and well-appointed outdoor living spaces is an important consideration for homeowners. Whether it's a sprawling backyard or a cozy balcony or azotea, such spaces serve as an extension of the home, providing an oasis of relaxation and entertainment while also allowing the homeowners to embrace the beauty of their surroundings.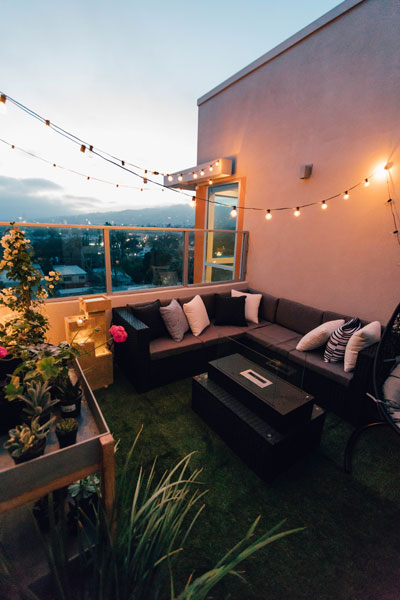 If you live in the Philippines and you're lucky enough to have a small part of the outdoors to yourself, you're in luck. We will explore some design ideas and practical tips for creating inviting outdoor living spaces that can be enjoyed throughout the year. Whether you're starting from scratch or looking to revamp an existing space, this article will provide you with the inspiration and guidance you need to create the perfect outdoor living area.
Prepare a Relaxing Seating Area
You won't be able to make the most of your space if you can't relax in it. A comfy seating area will transform your space into a cozy oasis and encourage you to use it more often. Depending on your taste, you can buy a hammock, an outdoor sofa, or high-quality outdoor chairs for sale, which are all wonderful options for fitting out your outdoor living space. If you're up for the added maintenance, colorful cushions and an outdoor rug can help tie things together and make the space feel more inviting.
Add Some Greenery
If you live in the Philippines, you'll find thousands of tropical plants that can be used to enhance your outdoor space. Whether you opt for a potted, hanging, or vertical garden, plants can liven up any space, add a touch of nature, and even improve your home's air quality. If you don't have time to garden, choose hibiscus, bougainvillea, ferns, and other tropical plants that thrive in the Philippines' humid climate, as these stunning plants require relatively low maintenance in local conditions.
Install Outdoor Lighting
Good lighting makes it possible to enjoy your outdoor space at all hours of the day. Thankfully, we now live in a time where solar-powered lighting is highly accessible, making it easy and economical to light up your space whenever you want. Whether you're looking to create a romantic ambiance or a festive atmosphere, you'll be able to find economical outdoor lighting options to achieve it.
Hang a Vertical Garden
If you live in an apartment or a small detached home, a vertical garden can be a great way to add some greenery while conserving land area or floor space for other activities. Notably, provided that you can drill studs to attach trellises on the walls, a vertical garden is a great way to add a lot of greenery to a small balcony or terrace. While there are ready-to-use vertical garden solutions out there that you can buy, if you're handy, you can also use recycled materials like used pallets, old planters, or rain gutters. 
Add a Pond or Fountain
Water features can attract local wildlife like maya and different species of paruparo, provide a home for pet fish and turtles, and create a soothing effect in your outdoor space. What's more, many people find that the sound of gurgling water can help drown out background noise and reduce stress. If you like bird or butterfly watching, water features are a must-have as these can attract a variety of small animals, adding plenty of interest to your space.
Install a Shade
The heat and humidity can make it difficult to enjoy the outdoors for too long. If you have lawn furniture, the harsh tropical sunlight will also tend to degrade it fairly quickly. Installing a pergola, canopy, or even an outdoor umbrella in your space can provide you and your outdoor furniture relief from the sun's rays, keeping you cool while you enjoy your home's little slice of the outdoors.
Incorporate Natural Materials
Philippine vernacular design is well known for its use of natural materials like bamboo, wood, and stone. Using these materials in your outdoor space can give it a localized, organic feel that harmoniously fits in with the rest of the surrounding environment. Incorporate these materials into different parts of your outdoor living area to create a congenial and inviting mood.
Set Up a Dining Area
Add an al fresco dining area in your space by including a durable table and a set of outdoor dining chairs. Outdoor dining areas are absolutely perfect for entertaining guests or for holding barbecue parties with your family. You can complete your dining area's look with a few outdoor-friendly candles as well as other types of chic all-weather decor.
Install a Mini Garden
Also called outdoor terrariums, these have gained a bit of a revival due to an increase in people working from home during the pandemic era. A mini garden, as the name implies, is a miniature version of a regular garden, featuring small plants, stones, and other decorations. Apart from their obvious advantages in smaller spaces, a mini garden in a container or a small plot of land can be used as a focal point within a larger garden.
Create a Play Area
Playing outdoors can give children a boost to their confidence and it can also help them appreciate nature. With just a few readily-available outdoor toys like swings, slides, or sandboxes, you'll have a fun space for your kids—or your pets—to enjoy. If your only outdoor space is a balcony, though, make sure that it is properly child-proofed.
These suggestions are just a few of the countless ways you can enhance your outdoor space. The best part is that you can find whatever you need to fit out your space in most Philippine online stores and marketplaces for not a lot of money. By incorporating these 10 design ideas into your balcony, terrace, or garden, you can create a fun and functional outdoor space that you and your family can enjoy for years to come.