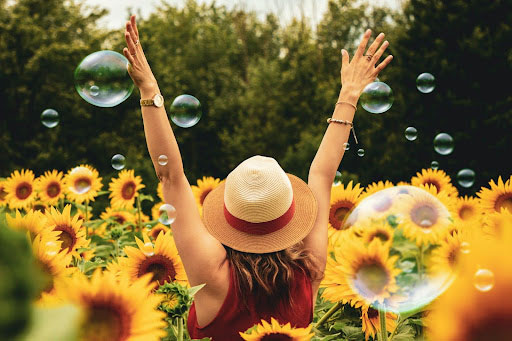 It's important that you take good care of yourself if you're going to be the best version of yourself. It requires a dedicated effort on your part to practice self-care and to ensure you feel at ease most days.
Looking and feeling great can be done with the right approach and a positive mindset. Here you can learn some ideas for what you can be doing to look and feel great year-round. This way you can give yourself a better chance of reaching your goals and putting a smile back on your face.
Try A New Hairstyle
One way to look and feel great year-round is to make sure you groom yourself. This includes anything from taking care of your nails and teeth to attending to and treating your hair. For example, you may want to consider a new and different hairstyle to mix it up and regain your confidence. If you're looking for some ideas then one is to get a silk press to ensure your hair shines and looks put together. You may want to consider going to a local salon and working with a professional hairstylist as well who may have more ideas for you.
Workout & Eat Right
It's also essential that you get exercise daily and move more to keep healthy and well. Look and feel great year-round by sticking to a workout routine whether it be in the morning or at lunchtime or in the evening hours. Consider joining a gym and getting outside for a walk or run when the weather is cooperative. Also, think about eating out less and cooking for yourself at home instead. You'll save money and calories this way and cooking can be therapeutic for you as well.
Meditate
Meditation and self-reflecting can be tricky to do at first but it does work. There are apps you can use on your phone to help you get started. It can be tricky to clear your mind but know that once it's done for the day you'll be in a much better place. Find some quiet time to sit and reflect on your life and goals and your thoughts. Keep in mind that any emotions that do arise will pass in time so it's best to acknowledge them and then let them go. Meditating is not only good for your mental health but also for your physical wellbeing.
Spend Time Outside in Nature
Nature is yet another way to ease your tensions and reduce stress in your life. Look and feel great year-round by spending time outside in your backyard or doing various outdoor activities. For example, maybe you are someone who enjoys gardening or being out on the water. Regardless, being out in nature is a great way to keep your mind and health in good shape. Be appreciative of the sounds and smells that you notice when you are in nature for the best overall experience with it.
Be Grateful
Practicing gratitude for your blessings and what you do have is a great way to look and feel your best this year too. Being grateful daily puts your mind in a whole different and better perspective. You'll notice that negative emotions and thoughts start to dissipate as well when you practice gratitude for what you do have. Counting your blessings can be challenging when life gets tough but it can also be a way to have a breakthrough and to start seeing the glass half full instead.
Find Hobbies to Do
Hobbies are also an excellent way to pass the time instead of sitting around being bored or watching TV. For you, it may be going to concerts, running or jogging, reading, or taking up photography by attending classes. Do what interests you and make sure that you incorporate these into your daily routine. It's important that you have balance in your life and aren't always working and feeling stressed out. Hobbies are also a great way to become a more social person and step outside of your comfort zone.
Conclusion
You now have some ideas and tools for how you can transform into the best version of yourself and look and feel great year-round. It can be tough to get started but once you do you'll be glad you followed through on these. You'll soon start to notice that you get more done and are more productive and less distracted when you live simply and take good care of yourself. Most importantly, be kind to yourself and give yourself a pat on the back for at least trying to better yourself and re-center so you can feel happy and more carefree.