Rainy season is already here, so there are a lot of health risks. These problems include dengue, colds, and even skin problems.
Health, wellness, and beauty retailer Watsons is your partner in staying healthy and well during the rainy season. Watsons has a wide range of health products, services, and offers that will help you be in good health all year round. You can get your pneumonia, flu, and HPV vaccines at Watsons. Watsons has reliable pharmacists as health experts and beauty advisors as beauty partners who will assist you as you shop.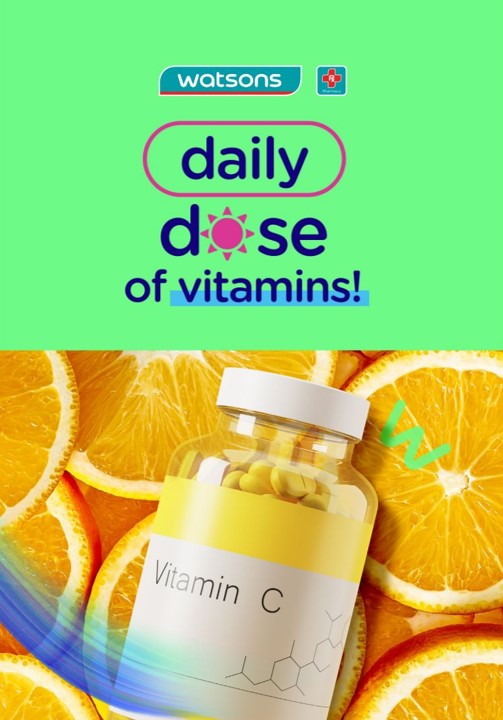 For an immunity boost and a healthier body
You need to take care of your body by taking vitamins and supplements to avoid diseases during the rainy season.
Health Aid Bifina S Probiotics is a probiotic supplement that improves gut flora, increases immunity and metabolism, and improves digestion or bowel movement. It is up to 50% off from August 15-20.
Mega Mangosteen has antioxidants, xanthones, vitamins, minerals, and healthy phytonutrients from mangosteen and malunggay for an energy boost.
Enervon C has vitamin-B complex and vitamin C to help promote increased energy and enhance the immune system while Conzace has Zinc, Vitamins A, C, and E to help improve the immunity, skin, and hair.
For Enervon C, it's 30% off for members and 10% off for non members. For Conzace, it's 30%off for members and 10% off for non members when you buy 30 capsules.
Mega-Ampalaya has 500 mg of pure ampalaya or bitter gourd, which is known for their value to help balance blood sugar in the body.
Nature-C Berries Extract helps strengthen the immune system, is good for the heart and helps reduce inflammation.
Phytopain is a dietary food supplement that helps relieve pain and reduce morning body stiffness and improve agility.
Fluaid is a quality and safe affordable flu medicine.
For healthy skin
Always keep your skin moisturized and protected with body lotions like Cathy Doll Fresh Citrus Whitamin Vitamin C Body Lotion (up to 50% off from August 7-20), Cathy Doll Hyaluron Vitamin E Milk Protein Body Lotion, Vaseline Gluta-Hya Serum Burst Lotion Dewy Radiance (on a Buy 2, Get 40% off offer), and Vaseline Gluta-Hya Serum Burst UV Lotion Flawless Glow (on a Buy 2, Get 40% off offer).
No matter what your skin type or budget is, you'll surely find something perfect for your skincare needs at Watsons. Worth trying are Cathy Doll Hya Cushion Facial Foam Cleanser, Megan Apricot Face & Body Scrub, Cathy Doll Water Splash Essence with L-Glutathione, Cathy Doll Whitamin C Cleansing Gel, Megan Sunflower Soothing Gel, and Megan Sunflower Oil Serum.
You can also get good deals on other personal care products. Bic Twin Lady has free Carefree Pantyliners while Colgate Toothbrush and Toothpaste are at 20-50% off on August-September. Sparkle Toothbrush and Toothpaste is on a Buy 1 Take 1 offer for August.
During the rainy season, our immune system is compromised, which results in various diseases. Make sure you are protected by shopping for your essentials at Watsons. With Watsons in your life, you are able to embrace overall wellness and achieve a happier, healthier, and more beautiful you!
Start your journey to wellness through downloading the Watsons app now: http://bit.ly/WatsonsMobileApp. With a minimum purchase requirement of Php700, you can enjoy P100 off on products. Terms and conditions apply.
You may also visit any of the 1000+ Watsons stores nationwide or pick up your orders at your nearest Watsons store in 30 minutes or less via Click & Collect. Another option is to have your purchases delivered to you in 3 hours through Express Delivery*.
For more information, follow @watsonsph on Instagram, like @WatsonsPH on Facebook, and follow @watsonsphilippines on TikTok