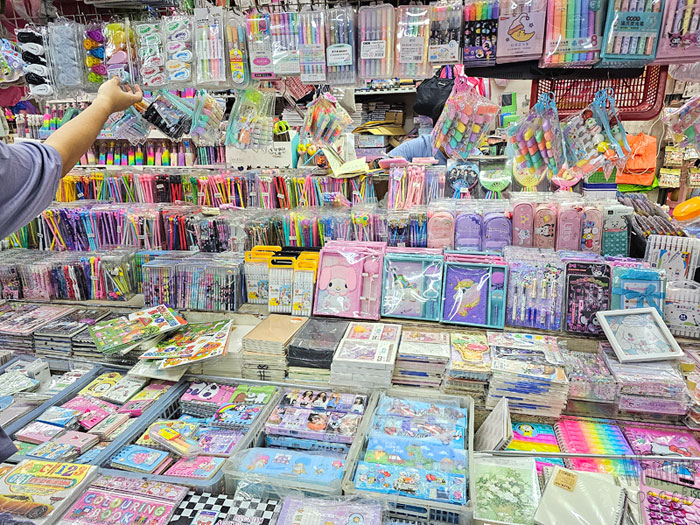 Twinkle started her school last July and Ykaie will start hers in two weeks. So we already bought Twinkle her school supplies. And today, we went to Divisoria to buy Ykaie's school supplies. When it comes to purchasing school supplies for our kids, syempre we always to look for a store or stores kung saan tayo mas makakamura.
Sometimes naman, we buy school supplies according to our kids favorite cartoon characters. Like Twinkle's Lunch Box above. She likes Cinnamoroll, so her lunch box this year, pencil case, pencils, and crayons are all Cinnamoroll.
In case your kids likes Cinnamoroll also, here's the link kung saan ko sya nabili:
Let me share with you several options where you can buy school supplies:
Divisoria – Divisoria is big! There are several places in Divisoria where you can buy school supplies from uniform to shoes to notebooks and bag but you have to scout for the stores. We bought Ykaie's school supplies at 168 Mall.
National Book Store – This is the largest bookstore and supplies chain here in the Philippines, with branches throughout the country. We bought Twinkle's school supplies here. What I love about NBS is that you don't have to look for different stores because they carry everything.They offer a wide range of school supplies, including notebooks, pens, pencils, art materials, and more. Lahat na yata nandito na.
SM Stationery Section – SM Department Stores have a dedicated section for stationery and school supplies. You can find a variety of affordable and quality items for your kids here. And there are many cutesy stuff here.
Office Warehouse: -This chain of office supplies stores is another great option for purchasing school supplies. They offer a wide selection of products, including notebooks, pad papers, pens, and other supplies at reasonable prices.
Book Sale – Book Sale is a second-hand bookstore that also sells school supplies. You can often find discounted items here, making it a budget-friendly choice.
Popular Bookstore – Popular Bookstore is another well-known bookstore chain in the Philippines that carries a range of school supplies. They have branches in major shopping malls nationwide.
Online platforms – You can also consider buying school supplies online through e-commerce platforms like Lazada and Shopee. These platforms offer a convenient way to browse and purchase a wide variety of school supplies from the comfort of your home.
Just remember mommies, compare prices and check for any ongoing sales or promotions to get the best deals.