Having a newborn is truly a magical experience. The smell of their tiny heads, the sound of their giggles, and those adorable baby outfits you can't help but splurge on (guilty as charged). But let's keep it real – with the arrival of your precious bundle of joy often comes a whirlwind of clutter, baby gear, and, dare I say… chaos! If you're anything like most of the moms out there, you're craving some semblance of order in this new chapter of life. So, we're sharing our top tips to keep your home organized, even with a newborn in the mix.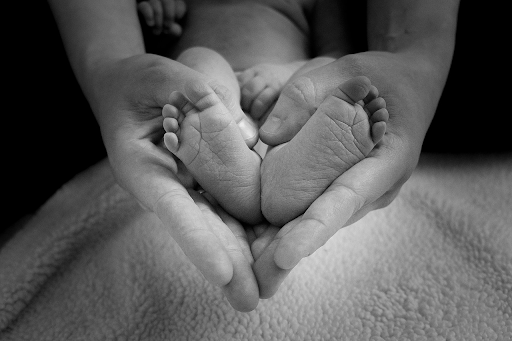 1. Declutter Before the Big Day:
Before that baby graces your doorstep, let's engage in some good ol' decluttering. I mean, why pile on baby gear atop that stack of old magazines you swore you'd read or those shoes you haven't worn since 2015? Here's a tip: Try the three-box method – 'Keep', 'Donate', and 'Toss'. And darling, be ruthless. You'll feel a hundred pounds lighter and ready to welcome baby clutter with open arms. After all, isn't preparing the battlefield half the victory?
2. The Magic of Multi-Functional Items:
Now, this is where your inner interior designer meets a savvy mom-to-be. Hunt down pieces that are chic yet serve multiple purposes. We're talking about changing tables that masquerade as sleek dressers or ottomans with hidden storage compartments. And can we have a moment for those modern cribs that are not only drop-dead gorgeous but also transform into toddler beds? Talk about blending style with longevity!
3. Baby Stations – Your New Best Friend:
Think of this as having mini convenience stores scattered around your home. And trust us, you'll be grateful for them at 2 a.m. when the very idea of going to the baby's room feels like a trek up Everest. Keep essentials – a couple of diapers, wipes, a pacifier, and an outfit change – in cute baskets or totes in your most frequented rooms. It's all about having what you need right where you need it.
4. Sky's the Limit – Go Vertical:
When floor space is premium real estate, it's time to look up! Walls can be both functional and fashionable with the right touch. Opt for floating shelves, pegboards or stylish hanging pockets. They're perfect for those bedtime storybooks, soft toys, or even baby care essentials. It's like turning your walls into a piece of evolving art sprinkled with baby charm.
5. Baby's Wardrobe – Less is More:
Alright, confession time: We're all suckers for baby clothes. Those tiny socks? Can't even. But reality check: babies grow faster than you can say "Aww!". Instead of hoarding an arsenal of outfits for every conceivable occasion, stick to essentials and a handful of showstoppers. This not only makes outfit decisions simpler but also prevents the dreaded avalanche when you open the wardrobe.
6. The Toy Rotation Revelation:
Hold the phone because this one is a game-changer. Picture this: a world where your living room isn't a minefield of squeaky toys and rattles. Dreamy, right? Here's the trick – instead of having all of your kiddo's playthings out and about, keep a select few in rotation. Store the rest in a dedicated box or cute storage bin. Every couple of weeks, play swap-shop. Not only does this keep your space looking more like a 'chic living room' and less like a 'toy store explosion', but it also makes each toy feel new and exciting for your little cherub. Win-win!
7. Digitalize, Darling:
Now, we all love a good scrapbook moment or a photo album binge as much as the next gal, but let's talk modern mommy efficiency. Thanks to the wonders of tech, memories can be stored without taking up an inch of physical space. Consider making digital photo albums or using cloud storage for those oh-so-precious baby milestones. It's eco-friendly, space-saving, and ensures that even if that sneaky coffee spill happens, your memories are safe and sound in the virtual realm.
8. Baby-Proofing with Pizzazz:
Alright, love, the time will come when your tiny tot becomes a curious crawler, and safety becomes paramount. But guess what? Baby-proofing doesn't mean sacrificing style. Seek out elegant baby gates, stylish corner protectors, or even furniture that's already designed with baby safety in mind. It's all about blending function with aesthetics, and there are some seriously chic options out there. Your home can be both a safe haven and an Instagram-worthy space!
9. The Gift of Acceptance (And Help!):
Lean in close because here's a not-so-secret secret: It's okay to not do it all. Seriously. When your bestie offers to tidy up, or grandma wants to whip up a meal, or even if the neighbor drops by with some store-bought (or home-baked if you're lucky) goodies – graciously accept. Embrace the village vibe. It doesn't make you any less of a supermom. In fact, it just means you're a super smart mom who knows how to delegate!
10. Grace in the Baby Chaos:
Last, but oh-so-crucially, be gentle with yourself. There will be days when the house looks more like 'tornado aftermath' than 'Pinterest perfect', and darling, that's perfectly fine. Amidst the diaper changes, late-night lullabies, and endless baby giggles, cut yourself some slack. Embrace the mess, cherish the moments, and always remember: This phase is but a chapter in the beautiful book of parenthood and a new you waiting to blossom once again.
Alright, my fabulous nest-builders, there we have it: our ultimate guide to mastering the mamahood mess while keeping the chic in your crib. As you navigate this incredible, sometimes chaotic, chapter, always remember that each hiccup, each mismatched sock, and every toy underfoot is just a fleeting moment in the grand adventure of parenthood. Let's embrace it with all its unpredictability. So, go forth, sprinkle some organizational fairy dust, but most importantly, soak up every giggle, cuddle, and heart-melting moment. Here's to turning our homes not just into glossy magazine spreads but into heartfelt stories of love, laughter, and a little bit of organized chaos.